Autobot Ratchet
Transformers - Studio Series #04

Transformers Studio Series Deluxe Class Toy
Item No.: Asst. E0701 No. E0744
Manufacturer: Hasbro
Includes: Buzzsaw, Display Backdrop
Action Feature: Transforms from Hummer H2 to robot
Retail: $19.99
Availability: April 2018 (preview launch in February)
Other: Yes, Another One

PREVIOUS
RSS
NEXT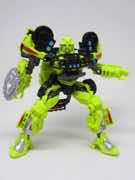 When it comes to scale, Transformers tends to be all over the map. Studio Series wants a line of scale robots, and comes close with deluxe Autobot Ratchet. You've had a crack at several deluxe ratchets in the past, including some really good ones like a Japanese redeco of the Dark of the Moon toy last year. It had a lot more paint and generally looked better, but Hasbro wanted a new mold so here you go. I was also pretty happy with my old Deluxe Ratchet from Revenge of the Fallen, which I bought on clearance because he could intermingle with my beloved Lockdown figure. This new one is OK - it answers some collector issues but not others.
Based on Transformers, Ratchet has a Mission City backdrop and a buzzsaw weapon that doesn't quite spin. He does a good job hiding most of his kibble in vehicle mode, but the lack of paint probably won't make this a fan favorite. Given the price increase and level of complexity, it would have been nice if Hasbro just dropped the buzzsaw and gave the wheels and head a little more paint.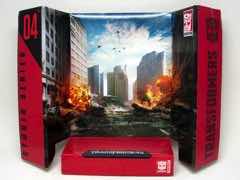 Comparing him to his ancestors, he's OK. He's not exciting, but he's not terrible. The robot has a lot of articulation and neat details, like separately sculpted fingers that are a little more than 5mm around so weapons can spin a tiny bit. 21 points of articulation await you, mostly in the arms and legs with a swivel neck on top. He has no problems standing and looks decent with a lot of green plastic, and the sculpted bits add a lot of detail to a figure lacking in paint. The grill has some lights - a plus! - and some fake kibble up top helps to lock the arms in position. It's clever, and the robot has more pieces in what appears to be a movie-accurate position than many early releases. It's easy to armchair-quarterback the design choices after a dozen figures, but Hasbro did a decent job with everything here minus the paint. I especially like the wide heels that improve stability.
He's tall and has some plastic meat on him, similar in height to Swoop and taller than Bumblebee and Stinger from this assortment. I would love a more satisfying accessory and more paint, but he's not bad.
Transformation is interesting, with lots of tabs and slots from either mode. There's a definite right way to do things, so you don't really need to worry about weird kibble hanging off a figure in some arbitrary way like Stinger or even Bumblebee. You can tell if you're doing it wrong - well, maybe minus the articulated chest piece. That can spin and that helps both modes look great.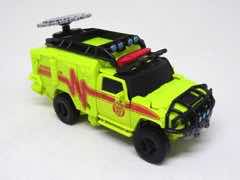 The Hummer is decent, with unpainted wheels and a smattering of vehicle stripes and markings. It's not beautiful, but it's good, compact, and mostly fits together well. The roof rack doesn't quite tab into place on mine, and I may try to bend the plastic into a more pleasing position to make this work. It's not necessarily huge, but the Hasbro people were going for robot scale and not vehicles. Maybe Jada will deliver a line of scale vehicles across the board.
It's a Ratchet, and it has been a few years since one made it out. For this reason, kids might be interested and so might newer collectors, although I can't imagine all that many people are looking to buy a new one. If you have one you're happy with, well, maybe you don't need this one - if you don't have one, this is probably a decent go-to. You may want to add some paint to it, though.
--Adam Pawlus
Sample courtesy Hasbro.
Additional Images


Click here to see more Hasbro figures in Figure of the Day.
Click here to see more Transformers figures in Figure of the Day.

Want to buy this figure? Check Transformers availability at our sponsors:
Entertainment Earth