Tailgate
Toy Version

Transformers Generations Power of the Primes Legends
Item No.: Asst. E0602 No. E1159
Manufacturer: Hasbro
Includes: 1 of 12 Collector Cards
Action Feature: Transforms from Car to Robot
Retail: $9.99
Availability: February 2018
Other: Appliances Are People, My Friend!

PREVIOUS
RSS
NEXT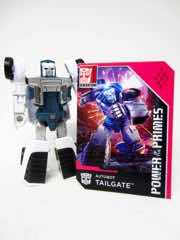 Basically a nobody until James Roberts got his hands on him, Tailgate became the na•ve cinnamon roll of Cybertron in More Than Meets the Eye comic books. Thanks to having no real character beyond obliviousness, the character was reinvented as a time-displaced baby trying to figure out who he is and lying, becoming superpowered, and being buried alive along the way. Having had brushes with terminal diseases and a... let's say friend or "friend" made for a more developed character than you usually get in a toy robot commercial, so we got a toy based on this comic look due to its extreme popularity. This figure eschews that comic design in favor of going after the 1986 toy look, which means basically nothing to nobody.
The robot mode is basically Windcharger with a new head. The white toy has painted white bits and some molded blue bits to leans heavily on the original toy's design, with a few modifications. The chest sticker is missing, but the other central details are all here from the silver face to the Autobot codpiece. The blue eyes are a departure from the original G1 toy, and it's a curious choice since the character usually has a unified blue visor and not separate blue eyes. The chest could benefit from a little more color, and I assume that ToyHax will be cranking out labels in the future.
It's decent and charming, although my sample was misassembled - certain parts had to be popped off and swapped. You won't know this until you open it and try to transform it, though. It didn't affect the toy at all as a 4-inch robot - it still had 11 decent points of articulation. And to think, in G1 we were lucky if the arms moved.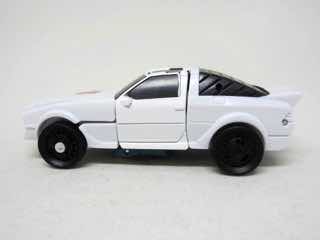 Transformation to a not-quite-Pontiac Firebird Trans Am sports car is pretty easy. It's the same as Windcharger, you can figure it out.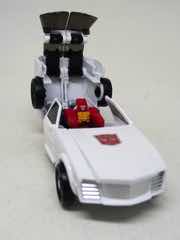 The resulting car is a white sporty little thing with a big silvery Autobot symbol on it. The wheels roll adequately, and mine has a paint scrape on it. Again, this isn't the kind of thing you can tell until you open it. Other than this, it's perfectly good - just like a white Windcharger. It doesn't do much of anything, but that's typical. You can pop it open and sit a Prime Master or Titan Master inside if you like.
While I certainly didn't need a new Tailgate, I got one. This leans heavily on the "toy" update, while many others pushed on making a more cartoony representation or something based on a specific more modern design. I wish the eye deco more closely matched the more common representations of his head, but other than that Hasbro did a nice job ensuring it walks the tightrope to something vaguely like his modern look while retaining his original toy design closely. If you missed the last one, get this one. If you want something that's a perfect representation of the comic, it might still be a few years.
--Adam Pawlus
Additional Images

Click here to see more Hasbro figures in Figure of the Day.
Click here to see more Transformers figures in Figure of the Day.

Want to buy this figure? Check Transformers availability at our sponsors:
Entertainment Earth