Starscream
Bigger Starscream Combiner Torso!

Transformers Generations Power of the Primes Voyager
Item No.: Asst. E0598 No. E1137
Manufacturer: Hasbro
Includes: Combiner feet, Null-Ray Cannons, Dinobot Enigma, 1 of 12 Trading Cards
Action Feature: Transforms from Robot to Jet to Torso
Retail: $29.99
Availability: December 2017
Other: Combiner torso

PREVIOUS
RSS
NEXT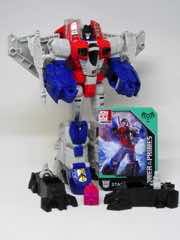 I don't love this toy. I love the idea and the concept, and the design for Starscream is pretty good. I'm not hard-up for Starscreams either, as we've been given ton in recent years. Hasbro has just been making some curious decisions as of late, and unfortunately I sometimes worry that I and/or other fans didn't register displeasure about some features early on and now we're stuck with them for another few years.
Before we get into the nitty gritty, let me say I mostly like the engineering - but it's tough to get the jet mode to properly fit together without gaps. The sticker/paint combo platter is sort of hideous - the mirrored stickers are ugly, and the toy is unpainted under them. To make matters worse, the stickers begin peeling pretty quickly. If you check some of your Voyagers and Leaders from Titans Return, you'll see them begin curling up without your having to have even touched it - and as of right now I don't know the best adhesive to make them stick down once again. A fully-painted toy (or even just not-stickered toy) would have been a lot better, because this sort of thing may affect how you interact with the toy or if you even play with it at all out of fear of damaging the stickers prematurely. I like the robot. The combiner torso is cool. It just needed some help.
The robot mode is a nifty, chunky take of the current modern Starscream in the comics with exaggerated, rounder hands and feet. These extremities house the connectors for the combiner mode, so it makes sense that they're a tiny bit bigger. I love the colors, i like the proportions, and the paint job is actually pretty great. The toy is mostly molded in color, with sculpted vents and grooves to give him some more detailing. The feet or cannons can plug into the shoulders. You can even plug them in to each other for bigger, goofier weaponry - I love this kind of option. Articulation is par for the course for a Generations Voyager, in this case granting you about 17 meaningful points of articulation on everybody's favorite deceitful Air Commander.
The stickers aren't terribly annoying in robot mode, but they are a little lumpy in places and weird in others. For example, his shoulder pylons have beautiful missile targets on the foil stickers. If you run your finger over them, you can feel there's some sort of sculpted texture underneath that you can't see which a) means the sticker doesn't stick as completely as it would to a flat surface, and b) it gives the toy a distorted look, as if something went wrong. There are also knee and foot stickers with similar problems, including a little curling already. The Decepticon sticker on the chest is just fine, though.
Hasbro tends to have problems with its stickers, from unclear positioning on instruction sheets to a label and a surface that aren't quite the same shape. Going over grooves or whatnot is just bizarre, and in this case I have little doubt that we may have had a better-looking toy with either tampographs or just a solid color. The stickers look sloppy on an otherwise pretty toy.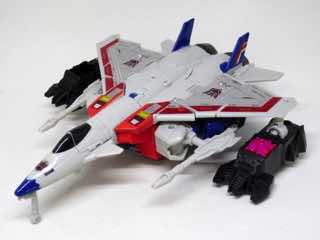 The Starscream jet mode seems like it should be good, and perhaps I'm having a problem putting it together properly. The areas around the canopy don't quite fold into place, and it seems we're dealing with some minor part tolerance issues. I can't get everything to fit together with all the tabs and slots as I would assume it should, and this may be unique to my sample - but the design betrays a lack of foresight as a 3-D toy. The jet does have a landing skid that can fold down, but Starscream's feet make up the back skids in either folded-up or deployed modes, and they don't seem to work very well either way. As always there are 5mm ports for the feet or cannons, resulting in a decent idea for a toy that doesn't work as well as it should.
I should also note, the back of the jet - the robot legs - don't hold together all that well either.
To make matters worse, the wings have giant foil stickers that show numerous imperfections after being applied to the factory. The flaw can't be placed solely on the stickers - the designs are good save for the Bayverse Movie Decepticon sigils - but the very concept is where the problem lays. The wings are largely unpainted under the stickers, but also have sculpted detail. It's not a flat surface that would be good to use with stickers, but rather a textured wing you were clearly meant to see, or perhaps see painted. I don't doubt the stickers were slightly cheaper, but their continued incursion on the smaller assortments just looks awful, particularly when you consider the price increases we're going through right now. This is not an improvement - less deco and no sticker would look better than a bad sticker.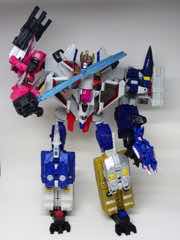 The big Starscream robot torso is based on an idea we've seen in comics before, but this particular model is new and pretty interesting. Things fold and flip to make you an even bigger Starscream, complete with crown. I don't believe this "King Starscream" has a name of its own, rather it's just a powered-up mode of the regular character and not a new sum of his parts.
The toy also has an Enigma of Combination - a Seeker Enigma. It's red with pink, and it basically fills a gap on the foot or the fist. It also fits in the combined robot's chest in a little compartment that opens up, reminiscent of Optimus Prime and his chest which holds the Matrix of Leadership. For storytelling purposes I really dig this idea - someone at Hasbro was giving this some thought and it certainly adds to the whole "power up" gimmick they're trying to play up in this line. You may also replace the Enigma with a Prime Master power, or a Titan Master head. It's silly, but so is the idea of "make believe" powers conveyed via 1 of 12 collectible trading cards in a line aimed at adults.
Starscream is a wonderful concept with bright colors and great sculpting marred by iffy tolerances and the worst stickers in the line so far. I rarely say "If Takara makes a sticker-free version for about this price, I'd buy it" but here we are. I love what they were trying to do, but something went wrong along the trip to the factory and the final product doesn't work as well as it should. What's painful is that we're still seeing a lot of these kinds of issues in 2018, and on things previous generations of toys solves. Hasbro largely got rid of stickers by Beast Wars and parts tolerances come and go, but with the likes of Jazz and Starscream I can't help but wonder if something is getting lost in translation. You're probably going to buy this toy regardless of what I say because, like me, you absolutely love the idea and the toy looks good from some angles. I doubt you're going to love it for long after you open the box. Grimlock is the overall stronger toy of the two Voyager-class toys from this wave.
--Adam Pawlus
Additional Images

Click here to see more Hasbro figures in Figure of the Day.

Click here to see more Transformers figures in Figure of the Day.

Want to buy this figure? Check Transformers availability at our sponsors:
Entertainment Earth