Thundercracker
Dark of the Moon - Studio Series #09

Transformers Studio Series Toys R Us Exclusive Voyager Class Toy
Item No.: No. #E2056
Manufacturer: Hasbro
Includes: 2 guns, removable head, Diorama Backdrop
Action Feature: Transforms from jet to robot
Retail: $29.99
Availability: March 2018 (street date of April)
Other: The Last Toys R Us Exclusive?

PREVIOUS
RSS
NEXT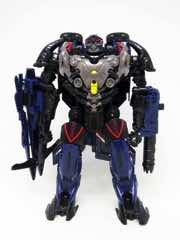 I found Thundercracker on a stroke of luck a few weeks ago - I might have been the second US sighting. The toy is Decepticon Nitro [FOTD #1,835] in new colors with a new head that resembles the Dark of the Moon Thundercracker... which is basically a movie Starscream head. Despite the character appearing in the Dark of the Moon line, to my knowledge, he's never appeared in a movie. Making him a numbered part of Hasbro's collector-centric Studio Series line was a surprise, especially as the obsessive collectoratti tend to get agitated if their numbered set has a gap in it, and if a toy deviates from the line's MO. In this case, the Studio Series was meant to be on-sale in April as a movie-accurate line using the CAD data from the movie effects shots as a reference to make the closest-to-the-movie toys possible given the price points and technology of the day. Thundercracker is basically "Expanded Universe" here.
The packaging is worth noting. The Voyager-size box is smaller than current Generations and The Last Knight offerings, but only barely. The intent was for it to be a unified line, so both Hasbro and Takara-Tomy logos appear on the packaging. I assume a sticker will go on the bottom, which is largely devoid of copy. There's a die-cut in the side so you can see a window showing an Autobot logo on the diorama, why I don't know. There are absolutely no co-sells of any kind, although the numbering implies that this is a part of a greater collection. Not showing them to potential customers seems like a mistake, but what do I know? Despite having four languages of text on the box, it's clean and generally looks more attractive than recent movies.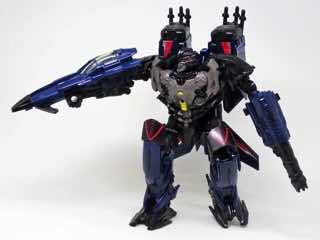 The robot is good - you know this, because you bought Nitro at full price or on clearance. It's worth it. Thundercracker's darker blue reminds me vaguely of the Rattler, which makes a little sense as designer John Warden was previously on G.I. Joe. He's a big guy with good articulation, a built-in crossbow on an arm, and a telescoping cannon on the other. You've got "INTAKE" markings on the knees, and a removable Titan Master-compatible head. The articulation is pretty superb, and the dark blue limbs look wonderful. The chest doesn't quite match, but nothing's perfect. I wish it had rocker ankles, but it's still quite excellent. If you like how it looks, it plays pretty well - but there are a ton of panels to flip around to make this work correctly.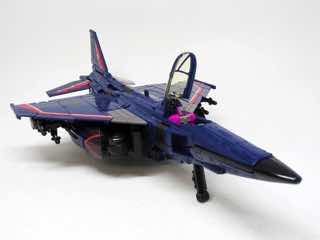 Transformation is a bit of a challenge, but you'll figure it out. Everything tucks in pretty nicely, and it's basically the same as Nitro except it's better. There are these fan intake things on the robot back that tuck under the wings, and if you have Nitro you know they pop off every dang time. They stay on here! I'm amazed. It might just be a QC tweak, but mine is just wonderful. I'm very happy.
The plane is a plane. I love that you can open the cockpit and plop in a Titan Master or Prime Master robot. If Hasbro did little humans, that'd be even cooler. There's a landing skid that folds down, but that's all it really does. It looks cool, I love the dark blue, and the Decepticon faces on the wings fade in because they're so dang dark. Red and silver stripes may remind you of every Thundercracker ever (minus Machine Wars and Action Masters) with just enough color to be interesting. It may not be realistic, but it's pretty.
I've been incredibly wishy-washy on Studio Series. I had a $20 store credit card to blow, so this was $10 and worth it. The diorama is a scene of explosions, so it's boring - but the toy itself is quite nice. It's a fun toy and I like this deco a lot - but Nitro was nice, too. Get the cheap one, whatever it is, and you'll probably be happy. Thundercracker's joints and parts are just slightly better as nothing pops off and the back cannons are molded in color rather than painted, so it just looks better too. Heck, just get this. You're welcome.
--Adam Pawlus
Additional Images

Click here to see more Hasbro figures in Figure of the Day.
Click here to see more Transformers figures in Figure of the Day.

Want to buy this figure? Check Transformers availability at our sponsors:
Entertainment Earth