Man-Thing
Build-a-figure

Marvel Legends Marvel Knights Action Figures
Item No.: Asst. C1517 No. n/a
Manufacturer: Hasbro
Includes: Nothing, but you build it from parts in Blade, Daredevil, Punisher, Bullseye, Elektra, and Jessica Jones
Action Feature: n/a
Retail: n/a
Availability: July 2017
Other: Because it's fun

PREVIOUS
RSS
NEXT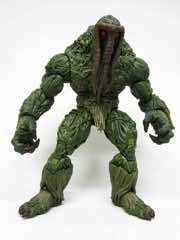 I assume the greatest marketing tool Marvel Legends has are its build-a-figures. For the same price as other figures - including Hasbro's own Star Wars: The Black Series - you get 1/6 of another action figure. Often these are the most compelling figures in the wave, like Groot, Gladiator Hulk, and Man-Thing. Since he's had precious few popular media appearances, this comic-based swamp monster is for die-hards only. Also people who enjoy the endless jokes about the comic book title "Giant-Size Man-Thing," which pays dividends decades later.
The 6-inch scale action figure is a man who has been corrupted or powered by dark energies turning him into a less sentient beast made of swamp muck. This is different from Swamp Thing, who is a pile of swamp muck that thinks he's a person.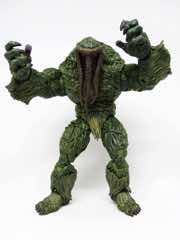 After snapping the joints in place, you get a big green pile of muck. It's lovely. It has 28 points of articulation including rocker ankles, bend-and-swivel wrists, and far more moving bits than I would have expected to get on an action figure when I was a child. Toy Biz had one of their own over a decade ago, complete with an awesome swamp display base and a leaping frog. It was a little thinner, while this take on him is a hulking monster with huge muscles and broad shoulders. The original Toy Biz model was creepy, muscular, but leaner. This new one can tear your head off, a look more consistent with a lot of his comic appearances. He's not the Hulk, but he looks like hey could give him a run for his money.
The figure has a black wash that brings out all the sculpted detail. It looks great, and the build is rather interesting - it smells rubbery, and it turns out the upper torso is covered in a rubbery moss suit. There's a body under there, but I'm not going to rip it open to see what torso is there or who it may share parts with. There's a small hexagonal hole in there too, presumably for a sidekick figure or plant accessory that never came to be.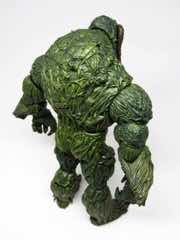 I'm not the biggest super hero fan, but I love cool figures and monsters. The big red-eyed creature has a surprisingly sympathetic expression with the eyes nested in the browning vines of his face. It provides a nice contrast from the mass of green weeds, moss, and swamp debris that make up his hairy, plant-covered form. It wouldn't stun me to see elements of the figure repurposed for a Sasquatch some day, but for now it makes a fine swamp monster toy. I hope you managed to put one together, too.
--Adam Pawlus
Additional Images

Click here to see more Hasbro figures in Figure of the Day.
Click here to see more Marvel figures in Figure of the Day.