Liege Maximo with Skullgrin Decoy Armor
Mini Pretenders!

Transformers Generations Power of the Primes Prime Masters
Item No.: Asst. E0566 No. E1112
Manufacturer: Hasbro
Includes: Claw tip, small robot, robot suit
Action Feature: Transforms from Suit to Blaster and Robot to Ingot
Retail: $5.99
Availability: November 2017
Other: Tiny Pretender and Targetmaster

PREVIOUS
RSS
NEXT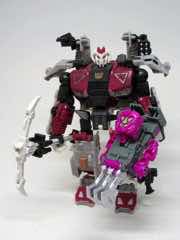 We got a larger, transforming Skullgrin a few years ago but it wasn't a pretender. This was the first one that got a big reveal last year, and it's a nice little figure. The inner Liege Maximo looks like Skullgrin's inner robot from the 1980s, and is about 1 1/2-inches tall. The armor is about 2-inches tall with jointed arms. It's a neat micro recreation of a classic toy, but it's really just a new thing.
As a weapon, it's a little smaller than the blasters - but it's neat. The claw thing fits nicely in the hand of a deluxe toy, although I was surprised to see it isn't a color match for the previous deluxe Skullgrin [FOTD #117] toy. The magenta is much brighter, the grey is a little whiter on the skull, and the grey legs are a darker grey. I like it, it's good.
The Skullgrin Prime Armor comes with jointed arms. Each arm has a 3mm fist on the tip, so you can pop off the claw on his back so he can hold his weapon. This take on Skullgrin looks more robotic, while the original toy looked more organic or maybe more like an illustration of a monster or a demon. The original felt more hand-crafted with a lot more round elements. This new one has several holes on its front side - the eyes and nose are both see-through, and there are two small holes on the pelvis for reasons I do not fully comprehend. Maybe it connects to a future toy, or maybe it's merely decorative. The other toys don't seem to have these, so I really don't know what they were hoping to accomplish here. It's a nifty, tiny monster toy and while it doesn't do much, neither did the original Pretender shell.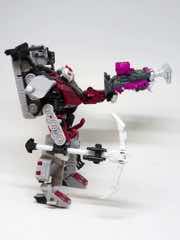 To make it into a claw weapon, just connect it to the figure's shoulders and flip it up. A handle between the feet rotates out, and you're done. Similarly, to remove the inner robot just pop down the front half of the figure - it's easy. So easy, you'll probably figure it out by accident.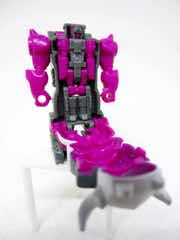 The inner Liege Maximo robot looks a little like Skullgrin. The size and colors aren't quite the same, but the details are similar. It's still a tiny robot, and it looks nothing like previously revealed versions of Liege Maximo in the comics - it's just a baby Skullgrin that can fold up into a little gem with a new Liege Maximo symbol backpack. The pink symbol with green features looks vaguely like a face, and thanks to sharing design elements with Titan Masters, you could probably pop this on the head of a Titans Return toy. It'd be a goofy looking head, but the series has had quite a few of those over the years. The 1.5-inch robot has 5 points of articulation and just a tiny bit of paint.
As a "micro" version of a classic Pretender, this is pretty awesome. As a modern-era take on it, not so much. For what you get and what you pay for it, it's a fun little toy - I'd have also liked it were it a new character entirely. I assume we'll have fans asking when full-size Pretenders will make a comeback, but it wouldn't stun me if it were years - or never. As a concept they'd be big and bulky, at least $20 for a fairly obscure character with what would probably be a simple toy due to cost. If you can accept a fun toy for what it is - rather than what it isn't - these are mostly well-made things that look cool, stand nicely, and offer some decent play value. The inner robot is kind of a bore, but the mini figure-turns-to-gun Pretender shell is basically a Targetmaster that won't fold at the middle. Give at least one of these a try.
--Adam Pawlus
Additional Images

Click here to see more Hasbro figures in Figure of the Day.
Click here to see more Transformers figures in Figure of the Day.

Want to buy this figure? Check Transformers availability at our sponsors:
Entertainment Earth