Punch-Counterpunch with Prima Prime
Amazon Prime Wars Trilogy Exclusive #3

Transformers Generations Prime Wars Trilogy Deluxe
Item No.: No. E1864
Manufacturer: Hasbro
Includes: Blaster, fist, Prima Prime
Action Feature: Transforms from Car to Robot to Robot
Retail: $24.99
Availability: September 2018
Other: Supposedly shares tooling with Combiner Wars

PREVIOUS
RSS
NEXT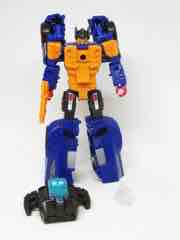 Of all the sets, Punch-Counterpunch with Prima Prime was the one I was looking forward to the most - and it's pretty good. Prima Prime is a redeco of the figure you get elsewhere, but that's fine because Punch seems to be completely new tooling. What's funny is I always assumed we'd see some Combiner Wars chest mechanism flips over to swap heads, so this figure with a two-sided head and a moving helmet was a real surprise. The design owes most of its look to the original 1987 toy and the animated appearances on The Headmasters, as Punch has a faceplate and the weapon looks more like what we saw in the cartoons. It also has only one blaster plus a hand/foot for Combiner Wars and Power of the Primes combiner robot, but here's the thing - you can't make a limb out of this figure. Its sole purpose is to be "Prime Armor," which I can say as a scholar of plastic robots is the absolutely worst gimmick in Transformers. It's a Gonzo journalism fist with two thumbs clutching a button that gives people mystic visions - although maybe that makes it cooler than it actually is.
The toy has three modes - the robot is basically the same one flipped over, changing out the helmet position, the fists, and the shoulder pylons. Points to Hasbro and Takara-Tomy for engineering something that gives you a little more bot for your buck.
Punch is great - colorful, with fake tampos and a lot of orange. Counterpunch is similar, but blue with a mouth. I like that Punch seems to have more going on, Counterpunch looks like a costume over the chassis. It's the same figure flipped around, and the one area the toy comes up short is the feet. It really doesn't have any - the Combiner Wars cars were pretty much the same in this respect. It can stand and balance just fine, plus the four fists can hold the orange blaster with no real problem.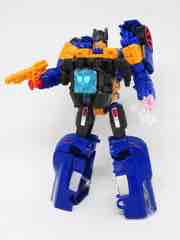 Transformation from robot to robot is pretty easy, but some pegs on Punch's shoulders fit in to slots of the car kibble extremely tightly. You will see stress marks. It's unpleasant. Similarly, the car mode is a little tight - you need to use some excessive force to fold it up, and I did not need to mod it as fans have been suggesting. It works, but it's tight, and maybe it's too tight. .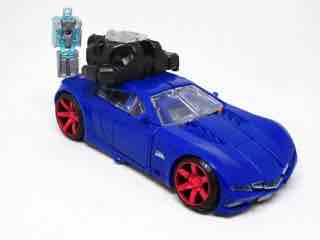 The car looks as good as or better than most of the other cars as of late. You get clear windows (minus the rear window), painted red wheels, and... admittedly, not much other deco outside the bumpers. The real car covers up some fake car kibble with a Decepticon symbol, giving you a fine blue car that's of not particular make or model. It's a delightful little car, but as always it doesn't do much. You'll find tiny pegs on the back for your Prime Masters and Titan Masters, plus a 5mm port on the roof for the Prime Armor fist or a gun or whatever. It's a car. What were you expecting?
This set also includes a clear blue Prima Prime, the same mold comes in opaque colors with Optimus Primal's throne set. This one has a lot more clear blue in it - I prefer that one. This one is nice if you like clear stuff.
I got my $25 worth here - there are more moving parts, more colors, and most important of all - it makes up for that Transformers Collectors Club version of Punch/Counterpunch that I missed due to business travels. It's better, and it's cheaper. I like it, and it's a bit of a departure from the rest of the Prime Wars Trilogy - the subline, and the last four years. I assume this one might be available at Amazon for a while, but as soon as it goes away it'll cost you. So get it now. It's good.
--Adam Pawlus
Additional Images

Click here to see more Hasbro figures in Figure of the Day.
Click here to see more Transformers figures in Figure of the Day.

Want to buy this figure? Check Transformers availability at our sponsors:
Entertainment Earth