Autobot Twinferno
Autobot Dragon

Transformers Robots in Disguise Warrior Class
Item No.: Asst. B0070 No. C2345
Manufacturer: Hasbro
Includes: 2 Flames
Action Feature: Transforms from Dragon to Robot
Retail: $14.99
Availability: September 2017
Other: Not Doublecross

PREVIOUS
RSS
NEXT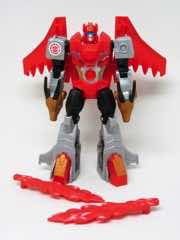 I don't know exactly when Autobot Twinferno hit. I saw and played with packaged and unpackaged samples at HasCon 2017, but at work we didn't get them until November. I don't think I saw them in stores until late 2017 or early 2018... and I waited a while to open mine. I don't know why Hasbro decided we needed a bunch of toys named Twinferno in the last year, but they're mostly pretty great - this one in particular.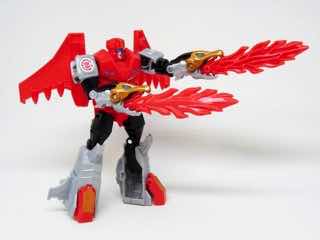 The engineering is not unlike Combiner Wars with the legs that can collapse over themselves, and a fairly simple build. Lots of tabs hold everything together, and you get dual-functioning flames. They can be plugged in dragon mouths, or in the back of the dragon jet as booster things of sorts.
With 17 points of articulation, depending on your level of being generous, it's a pretty good little robot. The top and bottom of the dragon jaw hands move, the legs have a decent range of motion, and it's about as good as most deluxe-class toys minus a waist. It's bright and cheery, plus it looks almost nothing like his G1 remake namesake. The blue visor eyes are about as far as it goes.
I love the bright red and grey, with the gold and blue giving the figure a quasi-G1 Dinobot vibe. Obviously this gold isn't the yellow color we saw on the TV show, but the overall feel shines through a tiny bit. I like the black horns, the blu eyes, and the surprising gold slathered on the toes. They needn't have painted it, but they did and it was cool.
Transformation is simple and tab-tastic. Swivel up the arms, fold down the wings rotate the head, and then make sure the lower legs eat the upper legs. Everything should tab in place, and presto changeo - you have a dragon jet.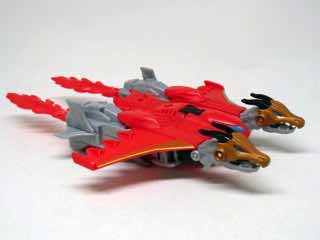 As alt modes go, this is one of the weirdest. We've had dragons, we've had jets, but I struggle to recall an American toy that mashed up vehicle and beast quite this well. If you take off the dragon heads, it looks like a space fighter of some sort. If you traded the canopy on the back and tweaked the legs a bit, you'd have a fairly convincing robot dragon. There's a texture on the back that's not quite scales and not quite metal, but it looks neat. It's a departure from the norm, and the gold stripe on the wings is appreciated. I'm sure more paint could have made this a real charmer, but as it is I would say it's a cute, weird stealth bomber. I am not exaggerating when I say I don't have anything else like this.
Robots in Disguise had a bumpy ride - then again, so did Prime. Domestic support would come and go, with some toys not even being offered to American stores with many never seeing release in the USA. These Warriors showed up overseas first, leading some to wonder if history would repeat itself yet again. As far as we all know, this is supposedly the beginning of the end - along with Bludgeon and Termidor, these should be the last of the Robots in Disguise Warrior-class toys. They were a little bit cheaper and simpler than Deluxes, but a lot more modern and pleasant than some of the other nearly-similarly priced toys during this era of simplification. Just because it's so unusual, and looks nothing like the Doublecross-remake Twinferno from a while back, I'd say you should get this. Unless they made a better one by the time you read this, which is entirely possible.
--Adam Pawlus
Additional Images

Click here to see more Hasbro figures in Figure of the Day.
Click here to see more Transformers figures in Figure of the Day.

Want to buy this figure? Check Transformers availability at our sponsors:
Entertainment Earth