Dr. Ian Malcolm
Box Says "Malcom"

Pop! Movies Jurassic Park Vinyl Figure
Item No.: No. 26733
Manufacturer: Funko
Includes: n/a
Action Feature: Jointed Neck
Retail: $8.99
Availability: April 2018
Other: Pop! Movies #547

PREVIOUS
RSS
NEXT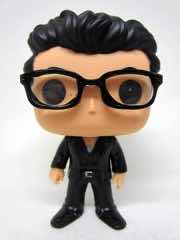 When I saw they were doing anniversary Jurassic Park toys, I was ready to snag Dr. Ian Malcolm. (The box says "Malcom.") It's a neat design with iffy quality control, so if you want one - and I assume you do - you might want to examine a few up-close.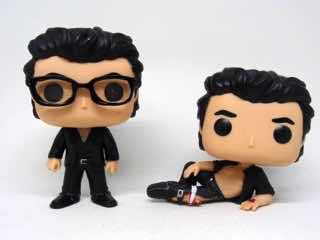 He shares sculpting details with the exclusive version, specifically the hair. The black outfit, the jewelry, the shiny jacket and shoes are all here. The chaos specialist looks pretty good, at least in terms of design. The sculptors did a nice job with a well-balanced figure with a jointed neck, while the factory botched it a bit.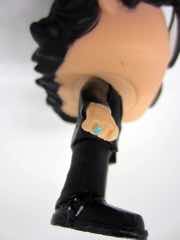 At about 3 3/4-inches tall, "Malcom" has a fair amount of slop. The black paint on the hair is a little off, with stray paint and unpainted areas. You'll find this elsewhere on the figure as well, plus the glasses are dirty with specks of black and glue on them. Also, they're not tinted as the art on the box shows. The glasses are especially poorly painted, with parts of the frames painted black and parts just plain missed by the factory remaining clear colorless plastic. Mine has stray, dry glue around the temples too - plus the plastic on the frames seems to be a little rough in spots.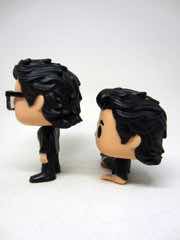 The Target exclusive one was good, and is arguably better overall. I wanted to like the regular version of Plastic Goldblum, and while I can admire what they wanted to do the rushed figure and typo-packaged final product. Funko could definitely fix this just by doing a slightly better QC check, and it's entirely possible I just got a bum one - at a distance, it looks acceptable. At close range, you can see the flaws and oh, there are flaws. For hardcore fans only, unless you find a good one, then you should let your delight make the decision for you.
--Adam Pawlus
Additional Images

See more Funko figures in Figure of the Day:
Day 1: Funko Force 2.0 Comic-Con Exclusive Batman
Day 80: Metallic Cobra Commander Wackly Wobbler
Day 120: Funko Gremlins Pop! Vinyl Stripe Vinyl Figure
Day 126: Funko Beetlejuice Pop! Vinyl Beetlejuice Vinyl Figure
Day 131: Funko Thor Pop! Vinyl Thor Vinyl Figure Bobble Head
Day 141: Funko Thor Pop! Vinyl Loki Vinyl Figure Bobble Head
Day 151: Funko Music Pop! Vinyl Ozzy Osbourne Vinyl Figure
Day 160: Funko G.I. Joe "Pimp Daddy" Destro
Day 207: Funko Disney Pop! Vinyl Mr. Incredible Vinyl Figure
Day 224: Funko Batman Blox Vinyl Batman Vinyl Figure
Day 249: Funko Marvel Universe Pop! Vinyl Iron Man Vinyl Figure Bobble Head
Day 293: Funko Disney Pop! Vinyl Mike Wazowski Vinyl Figure
Day 306: Funko Marvel Universe Pop! Vinyl The Hulk Vinyl Figure Bobble Head
Day 345: Funko Disney Pop! Vinyl Sulley Vinyl Figure
Day 427: Funko Marvel Universe Pop! Vinyl SDCC Exlusive Spider-Man Vinyl Figure Bobble Head
Day 748: Funko Land of the Lost SDCC Exclusive Glow in the Dark Sleestak
Day 981: Funko Planet of the Apes Pop! Movies Cornelius Vinyl Figure
Day 1,000: Funko Hikari Vinyl Freddy Funko (Creature from the Black Lagoon)
Day 1,036: Funko Entertainment Earth Exclusive Kill Bill Gogo Yubari (Bloody) Pop! Vinyl Figure
Day 1,069: Funko Planet of the Apes Pop! Movies Dr. Zaius Vinyl Figure
Day 1,150: Funko Guardians of the Galaxy Pop! Vinyl Entertainment Earth Exclusive Ravagers Dancing Groot
Day 1,155: Funko Hikari Vinyl Marvel Guardians of the Galaxy Planet X Groot
Day 1,163: Funko Universal Monsters Life Force Metaluna Mutant
Day 1,164: Funko Hikari Vinyl Ghostbusters Pink Stay Puft Marshmallow Man
Day 1,165: Funko Hikari Vinyl Universal Monsters Glitter Shock Frankenstein
Day 1,166: Funko Hikari Vinyl Masters of the Universe Mystic Powers Skeletor
Day 1,167: Funko Hikari Vinyl Transformers Metallic Optimus
Day 1,197: Funko Batman Ice Freeze Batman Reject
Day 1,221: Funko Hikari Vinyl Transformers Metallic Bumblebee
Day 1,225: Funko Bravest Warriors Pop! Television Impossibear Vinyl Figure
Day 1,226: Funko Planet of the Apes Pop! Movies General Ursus Vinyl Figure
Day 1,229: Funko Bravest Warriors Pop! Television Catbug Vinyl Figure
Day 1,241: Funko Hikari Vinyl Gigantor Power Vision Gigantor
Day 1,257: Funko Hikari Vinyl Antique Verdigris Metaluna Mutant
Day 1,281: Funko Planet of the Apes Pop! Movies Ape Soldier Vinyl Figure
Day 1,285: Funko Bravest Warriors Pop! Television Commander Catbug Vinyl Figure
Day 1,300: Funko Hikari Vinyl Marvel Metallic Hulk Vinyl Figure
Day 1,305: Funko Pop! DC Comics Super Heroes Orange Batman Vinyl Figure
Day 1,340: Funko Pop! Sesame Street Season 1 Oscar the Grouch Vinyl Figure
Day 1,338: Funko Pop! Animation Bob's Burgers Gene Belcher Vinyl Figure
Day 1,350: Funko Hikari Vinyl Predator Original Predator Unmasked
Day 1,355: Funko Pop! Animation Bob's Burgers Linda Belcher Vinyl Figure
Day 1,361: Funko Pop! Animation Bob's Burgers Louise Belcher Vinyl Figure
Day 1,365: Funko Pop! Animation Bob's Burgers Tina Belcher Vinyl Figure
Day 1,374: Funko Pop! Animation Bob's Burgers Bob Belcher Vinyl Figure
Day 1,382: Funko Hikari Vinyl Toy Story Original Buzz Lightyear
Day 1,390: Funko Pop! Movies Back to the Future Marty McFly Vinyl Figure
Day 1,396: Funko Pop! Television Last Week Tonight with John Oliver Vinyl Figure
Day 1,400: Funko Dorbz DC Comics Super Heroes Orange Batman Vinyl Figure
Day 1,540: Funko Pop! Movies Atomic Breath Godzilla Pop! Vinyl Figure
Day 1,620: Funko Son of Zorn Zorn Action Figure
Day 1,645: Funko Masters of the Universe Dorbz Skeletor
Day 1,650: Funko x Playmobil Willy Wonka
Day 1,657: Funko x Playmobil Teenage Mutant Ninja Turtles Black and White Raphael
Day 1,659: Funko Pop! Television Stranger Things Eleven with Eggos Pop! Vinyl Figure
Day 1,671: Funko Pop! Television Stranger Things Joyce Pop! Vinyl Figure
Day 1,685: Funko Pop! Television Twin Peaks Agent Cooper Pop! Vinyl Figure
Day 1,687: Funko Pop! Television Stranger Things Lucas Pop! Vinyl Figure
Day 1,694: Funko Pop! Television Stranger Things Barb Pop! Vinyl Figure
Day 1,706: Funko Pop! Television Stranger Things Dustin Pop! Vinyl Figure
Day 1,707: Funko Pop! Television Twin Peaks Audrey Horne Pop! Vinyl Figure
Day 1,710: Funko Pop! Television Twin Peaks Laura Palmer Pop! Vinyl Figure
Day 1,714: Funko Pop! Television Stranger Things Demogorgon Pop! Vinyl Figure
Day 1,717: Funko Pop! Television Twin Peaks The Giant Pop! Vinyl Figure
Day 1,722: Funko Pop! Television Twin Peaks Log Lady Pop! Vinyl Figure
Day 1,732: Funko Pop! Television Stranger Things Will Pop! Vinyl Figure
Day 1,736: Funko 9POA Twin Peaks Action Figure Set
Day 1,745: Funko Pop! Television Twin Peaks Leland Palmer Pop! Vinyl Figure
Day 1,753: Funko 9POA Batman 1966 TV Series Batman and Robin Action Figures with Batmobile
Day 1,761: Funko Pop! Heroes Wonder Woman Diana Prince Pop! Vinyl Figure
Day 1,766: Funko Pop! Television Twin Peaks Bob Pop! Vinyl Figure
Day 1,777: Funko Pop! Television Ash vs. Evil Dead Entertainment Earth Exclusive Bloody Ash Pop! Vinyl Figure
Day 1,793: Funko Pop! Television Stranger Things Mike Pop! Vinyl Figure
Day 1,832: Funko x Playmobil Doctor Who Fourth Doctor
Day 1,838: Funko Pop! Television Twin Peaks Black Lodge Cooper / Black Lodge Laura Pop! Vinyl Figures
Day 1,841: Funko Pop! Animation Glow in the Dark Reptar Pop! Vinyl Figure
Day 1,847: Funko Pop! DC Comics Super Heroes Retro Batman Vinyl Figure
Day 1,850: Funko Pop! Disney Coco Ernesto Pop! Vinyl Figure
Day 1,852: Funko Son of Zorn Office Zorn
Day 1,908: Funko x Playmobil Teenage Mutant Ninja Turtles Shredder
Day 1,927: Funko Pop! Movies Star Trek Beyond Captain Kirk (Survival Suit) Pop! Vinyl Figure
Day 1,938: Funko Pop! Movies Jurassic Park Dr. Ian Malcolm (Wounded) Pop! Vinyl Figure
Day 1,939: Funko Pop! Games Portal 2 Chell Pop! Vinyl Figure
Day 1,957: Funko VYNL The Life Aquatic Steve and Ned Vinyl Figures
Day 1,984: Funko Pop! Movies Jurassic Park Dr. Ian Malcolm Pop! Vinyl Figure
Day 1,985: Funko Pop! 8-Bit Alien Xenomorph (Video Game) Pop! Vinyl Figure
Day 2,045: Funko GLOW Debbie Eagan vs. Ruth Wilder Action Figures
Day 2,124: Funko DuckTales Scrooge McDuck (Red Coat) Pop! Vinyl Figure
Day 2,244: Funko Pop! Television Schitt's Creek David Rose Action Figure
Day 2,315: Funko Soda Devo Satisfaction Vinyl Figure
Day 2,440: Funko Pop! Rocks Frank Zappa Action Figure

See more Jurassic Park and Jurassic World figures in Figure of the Day:
Day 11: Hasbro Jurassic Park III Dr. Alan Grant
Day 138: Kenner Jurassic Park Chaos Effect Compstegnathus Action Figure
Day 172: Kenner Jurassic Park The Lost World Chasmosaurus Action Figure
Day 346: Kenner Jurassic Park Ian Malcolm Action Figure
Day 366: Kenner Jurassic Park Ellie Sattler Action Figure
Day 372: Hasbro Jurassic Park G.I. Joe Heavy Gunner Action Figure
Day 533: Kenner Jurassic Park Chaos Effect Amargospinus
Day 620: Hasbro Jurassic Park Pachyrhinosaurus Clash Action Figure Set
Day 651: Hasbro Jurassic Park Allosaurus Assault Action Figure Set
Day 851: Hasbro Jurassic Park Paul Kirby Action Figure
Day 1,180: Hasbro Jurassic World Tyrannosaurus Rex Action Figure
Day 1,180: Kenner Jurassic Park Alan Grant Action Figure
Day 1,196: Hasbro Jurassic World 3 Dinos Action Figure
Day 1,198: Kenner Jurassic Park Tim Murphy Action Figure
Day 1,202: Hasbro Jurassic World Spinosaurus Action Figure
Day 1,212: Kenner Jurassic Park Chaos Effect Ian Malcolm Action Figure
Day 1,216: Hasbro Jurassic World Ankylosaurus Action Figure
Day 1,219: Hasbro Jurassic World Stegoceratops Action Figure
Day 1,228: Hasbro Jurassic World Tyrannosaurus Rex Action Figure
Day 1,425: Hasbro Jurassic World Hybrid Velociraptor Action Figure
Day 1,455: Hasbro Jurassic World Bashers & Biters Indominus Rex Action Figure
Day 1,462: Hasbro Jurassic World Hybrid Tyrannosaurus Rex Action Figure
Day 1,472: Hasbro Jurassic World Pachycephalosaurus Action Figure
Day 1,509: Hasbro Jurassic World Hybrid Armor Indominus Rex Action Figure
Day 1,526: Hasbro Jurassic World Owen "Alpha" and Velociraptor "Blue" Action Figure
Day 1,528: Hasbro Jurassic World Hybrid Armor Ankylosaurus Action Figure
Day 1,540: Hasbro Jurassic World Hybrid Dilophosaurus Rex Action Figure
Day 1,550: Hasbro Jurassic World Hybrid Carnoraptor Action Figure
Day 1,560: Hasbro Jurassic World Hybrid Rampage Indominus Rex Action Figure
Day 1,567: Hasbro Jurassic World Hybrid Stegoceratops Action Figure
Day 1,573: Hasbro Jurassic World Hybrid Pteramimus Action Figure
Day 1,712: Hasbro Jurassic World Hybrid Spinosaurus Action Figure
Day 1,721: Hasbro Jurassic World Hybrid Dilophosaurus Action Figure
Day 1,918: Mattel Jurassic World Mini Action Dino Ankylosaurus Action Figure
Day 1,938: Funko Pop! Movies Jurassic Park Dr. Ian Malcolm (Wounded) Pop! Vinyl Figure
Day 1,943: Mattel Jurassic World Velociraptor "Blue" Action Figure
Day 1,950: Mattel Jurassic World Super Colossal Tyrannosaurus Rex Action Figure
Day 1,954: Mattel Jurassic World Dilophosaurus Action Figure
Day 1,959: Mattel Jurassic World Battle Damage Triceratops Action Figure
Day 1,963: Mattel Jurassic World Extreme Chompin' Tyrannosaurus Rex Action Figures
Day 1,965: Mattel Jurassic World Battle Damage Velociraptor "Blue" Action Figure
Day 1,967: Mattel Jurassic World Robert Muldoon Action Figure
Day 1,972: Mattel Jurassic World Gallimimus Action Figure
Day 1,981: Mattel Jurassic World Metriacanthosaurus Action Figure
Day 1,984: Funko Pop! Movies Jurassic Park Dr. Ian Malcolm Pop! Vinyl Figure
Day 1,989: Mattel Jurassic World Tyrannosaurus Rex, Stygimoloch "Stiggy," and Triceratops Action Figures
Day 1,994: Mattel Jurassic World Battle Damage Pachycephalosaurus Action Figure
Day 1,999: Mattel Jurassic World Owen & Baby "Blue" Action Figure
Day 2,003: Mattel Jurassic World Gift Set 6-Pack Action Figures
Day 2,053: Mattel Jurassic World Legacy Dr. Ian Malcolm Action Figure
Day 2,098: Mattel Jurassic World Dino Rivals Destroy 'N Devour Indominus Rex Action Figure
Day 2,103: Fisher-Price Imaginext Jurassic World Dr. Malcolm & Dimetrodon Action Figures
Day 2,111: Mattel Jurassic World Dino Rivals Mussaurus Action Figure
Day 2,511: Mattel Jurassic World Dominion Roar Strikers Iguanodon Action Figure
Day 2,558: Mattel Jurassic World Dino Trackers Danger Pack Nothosaurus Action Figure
Day 2,578: Mattel Jurassic World Mosasaurus Action Figure
Day 2,602: Mattel Jurassic World Dino Trackers Danger Pack Dakosaurus Action Figure