Retro Altrovos
Homage du Astro Knight

Glyos System Series
Item No.: No. n/a
Manufacturer: Onell Design
Includes: Alternate heads, armor, limbs
Action Feature: Pops apart
Retail: $12.00
Availability: May 30, 2018
Other: I Am Curious Yellow

PREVIOUS
RSS
NEXT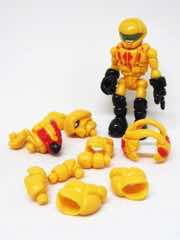 About a year after the similar Neo Astrovos [FOTD #1,797], the yellow Retro Altrovos was a mystery figure of a figure I actually had as a kid. It pays tribute to the yellow Astro Knight from Fisher Price's Adventure People series, which I got from a neighbor at a garage sale at some point. The bizarre yellow figure had angled shoulder joints and legs fused together, removing vehicle compatibility while augmenting its ability to look like a super hero. This figure takes the color scheme and applies it to the template we saw last year - and of course, I love it. It's also not too far off from Samus Aran, which I'd absolutely love to see some day - of course given my druthers, I'd probably pick something more esoteric for one of these figures. But I digress.
I should note, a few units of this item are in stock at the manufacturer.
The yellow Retro Altrovos is a Pheyden body with Varteryx parts, with all the trimmings. Cast in what is basically school bus yellow, the figure has a green visor and fake facial hair as well as alternate limbs and clamp-on armor pieces. By default, he's basically Pheyden with a new head - but you can upgrade him with other bits and pieces.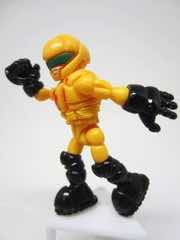 The base body has black gloves and boots, with an unpainted belt and a red chest detail. The pattern evokes parachute straps, but doesn't copy the original boxy-headed figure's look too closely. The glossy black parts are nice, but the green visor above the fleshy face is what makes this truly great.
Articulation of this 2 3/4-inch action figure is typical Glyos fare with each joint being removable. 12 meaningful points of articulation await you, and the figure can stand or sit with the best of them thanks to clear joints and huge feet. The figure is also sized about right to play with Playmobil or Imaginext toys.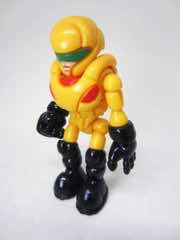 The set includes three heads - a bird cyborg Varteryx, a Pheyden head, and the default Neo Sarvos noggin.
If I could find my original Astro Knight I'd photograph him here, but I can't seem to find him right now - after doing nearly 2,000 here and over 2,400 at Galactic Hunter, I need a better filing system! I need to work on that - but I'm glad to add this figure to the stash. The bright colors really drive home the idea of a figure from a bygone era, before the proliferation of things like waist joints. It's part of a wonderful little world, one I hope continues to expand in the coming years. I know it's silly but I'd still love to see some sort of Glyos playset that's a plastic base with a cardboard backdrop. These figures are tons of fun, but I look forward to even more fun in the days ahead.
--Adam Pawlus
Additional Images


Click here to see more Onell Design figures in Figure of the Day.
Click here to see more Glyos Compatible figures in Figure of the Day.