Gamerverse Marvel vs. Capcom Infinite Black Widow vs. Ryu Action Figures
The Full Line

Marvel Gamerverse Action Figures
Item No.: Asst. E3577 No. E3595
Manufacturer: Hasbro
Includes: 2 figures, 2 guns, 2 spare Ryu fists, Hadouken with stand
Action Feature: n/a
Retail: $19.99
Availability: October 2018
Other: Hasbro Capcom Redux

PREVIOUS
RSS
NEXT

Sometimes cool things show up in the mail at work, like Black Widow vs. Ryu Action Figures. "Gamerverse" is a catch-all Hasbro line that sucks in a few games involving Marvel licenses, a smart idea and one I'd like to see other licenses tackle. An Iron Man and Mega Man set came out last year as a Target exclusive, and has been on and off clearance ever since - I've seen it as low as $5.98. The line expands to non-exclusive product this year, and this is my favorite of the three new sets for a variety of reasons. Not the least of which is this is the one game series I've played and I'm a sucker for Capcom characters done by western toymakers, like Toy Biz' takes in the 1990s. They're not necessarily always good - but they tend to be fascinating.
Each figure is about 4-inches tall, loaded with articulation. This is sometimes good and sometimes not. Ryu is built similarly to Hasbro's better Marvel and G.I. Joe figures, with preposterous quantities of joints and swappable fists - and a decent, but not great, head sculpt. Black Widow is typical Hasbro Marvel fare, down to one of the most perpetual, irritating, and I dare say easily fixed unforgivable design decisions that put me off collecting this line in its entirety early on. I like it, mostly, but having the date stamp and SKU visible on the front of the right thigh is this horrible thing Hasbro did a lot around 2009-2011 and I thought we would never see again. Well, I was wrong.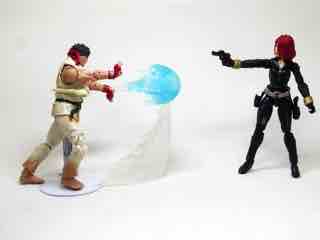 I recognize the body of Black Widow as being previously used as a Toys R Us exclusive Age of Ultron figure with a new head - and I'm not sure if it was used elsewhere before that. There are no sculpted copyright markings on this figure, just those ugly, ugly white letters on her inner thigh. For this reason, the figure looks similar to the game costume but isn't a match - they ujst painted her in those colors, with guns instead of the weapons shown in the art and in the game. She has a new head which is really cool with an awesome hairstyle, but it also doesn't match the game. The 4-inch figure has 23 points of articulation and no waist joint. The guns are a tight fit in her holsters and her fists, making it kind of an obnoxious accessory pairing. I'm fond of every design choice they did here as a Black Widow unto itself, but it doesn't clearly match the intended source material.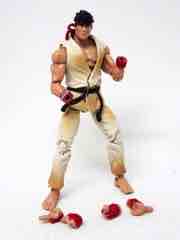 The surprising Ryu is continued evidence that US companies aren't fantastic about making Capcom work as a collectible. The design and engineering are mostly really good, with extra articulation and cool accessories. The head sculpt is off just a bit, with a mouth that seems a little too small and eyebrows that look a little too, well, normal. The character usually appears with comically villainous and angled bushy brows, and this one looks reasonable were it to be an actual person. The headband is good, the hair is good, it's just an oddball combo platter. The rest of the figure is largely successful.
Ryu sports 24 points of meaningful articulation and waist joints 100% hindered by his rubber gi. If this figure does repurpose parts from another toy, I don't recognize them - I think it's an all-new sculpt, complete with swappable fists and "hadouken" hands that stick in the wrists nicely thanks to thick pegs. The arms have a good range of motion but lack double-jointed elbows, which is forgivable given Ryu is usually shown throwing punches and not contorting himself. What's less lovely is that he can't move his arms in over his chest very much thanks to the gi, so getting that perfect fireball pose is a real tricky thing to do. Other poses work well if you have a small doll stand handy. I like the sculpting, and the headband shows real improvement on tiny head detailing that we haven't seen before.
I will say the paint is a mixed bag, largely because the dirt and sweat parts look like they used flesh color. That's just weird. A bare white outfit would look better, The gloves and wrists are painted well, the head is clean, and so is the headband - the factory did a good job with what they were given, minus that weird, weird dirt/sweat.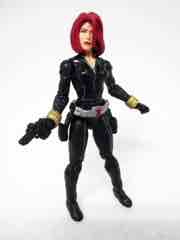 For sticklers for accuracy, you're not going to love this. If you like games, Capcom, and Marvel, it's a weird little set that draws on Hasbro's rich tradition of reusing molds regardless of accuracy. The popularity of 3 3/4-inch figures has diminished thanks in no small part to a split market with multiple scales, so mold reuse is a given and it wouldn't stun me to see Ryu tweaked and returning as Ken next year. And yet we have no Player 2 Orange Hulk yet. I love how they came up with a weird way to integrate energy into the fireball stand, and it is a fun figure with which to fidget. When it comes to both characters you can get better figures - but not in a two-pack, not at this scale, and not from a fighting game. It's pretty good if you like what you see, though, and maybe you'll want to scrape off Black Widow's identifying white numbers and letters to make this set just a little bit better.
--Adam Pawlus
Additional Images

Click here to see more Hasbro figures in Figure of the Day.
Click here to see more Marvel figures in Figure of the Day.
See more Street Fighter figures in Figure of the Day:
Day 1,801: Super7 Street Fighter II M.U.S.C.L.E. Set A
Day 1,817: Super7 Street Fighter II M.U.S.C.L.E. Set B
Day 1,834: Super7 Street Fighter II M.U.S.C.L.E. Set D
Day 1,857: Super7 Street Fighter II M.U.S.C.L.E. Set C
Day 2,028: Hasbro Gamerverse Marvel vs. Capcom Infinite Black Widow vs. Ryu Action Figures