Set D
Flesh Zangief, Chun-Li, E. Honda

Street Fighter II M.U.S.C.L.E. Flesh 3-Pack
Item No.: No. 23498
Manufacturer: Super7
Includes: n/a
Action Feature: n/a
Retail: $6.00
Availability: April 2017
Other: 1 set of 4, 12 total figures to date

PREVIOUS
RSS
NEXT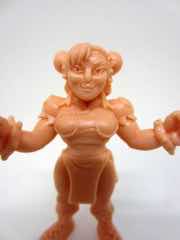 I'm pretty happy that the Street Fighter II M.U.S.C.L.E. set is small, mostly because it means Super7 will be doing a lot of other licenses - sure, there are more Capcom fighters, but they got the main 12 first. "The World Warrior" subtitle of the game means we go all over the world to fight, and we also get to see some vague cultural stereotypes along the way. This is more or less a staple of fighting games of the era - it's handy to have shorthand, and it probably says a lot of how everybody perceived the world in that era.
First up is the then-declining Soviet Union's Zangief. He's a big bruiser with wrestling moves and a severe haircut, effectively delivering a whiter, more shirtless Mr. T in briefs. He has a massive beard, a hairy chest, and the figure is sculpted with these important geographic features. His boots are here, his bracelets are here, and he even has back scars. I almost can't believe it, but I'm seeing it and it's all here. This furry, ripped man is about the same size as the other figures with a little more bulk.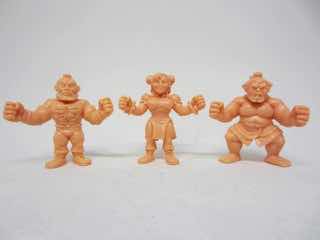 Next up is Chun-Li, complete in China dress. Unlike other women in the neo-M.U.S.C.L.E. line, she's bulked up and posed like most of the men with arms spread out and fists clenched. And spiked bracelets. And the hair things. And high cheekbones, and earrings. Just like in the games, she has massive thighs and laced-up boots. The dress looks almost exactly like the game, complete with the sculpted detail and patterns. She's a sturdy figure that stands ready to brawl, but the poses of this figure line don't lend themselves to her signature moves or poses. She can still deck the other figures with her fists, though. Not that I've done that, or am doing it right now.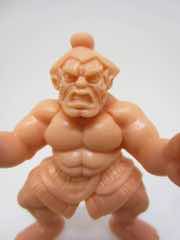 The big and bulky E. Honda is dressed to impress. The sumo is both chunky and ripped, with clearly defined muscles and a face with clenched teeth. His bushy eyebrows and face decoration are sculpted on, and I think he has the thickest limbs in the line so far - and rightly so. Due to the sumo proportions, he looks a little less like the wrestling figures on which this entire line is based - but it's a sturdy figure with a striking silhouette. I love the hair and his face, and the pose is a perfect mini-figure unto itself. It's almost too modern, but I still like how he turned out as a figure unto itself.
Based on fighters from the east, this set has three of the fighters you probably played a ton and used to annoy your friends. Well, you could annoy your friends with any of these fighters - so why stop here? The level of sculpted detail on these figures is above and beyond what I would have expected, and I love how they're sculpting color detailing on the figures' bodies. They're bigger than a traditional mini-figure, with E. Honda's arms and Chun-Li's upper and lower bodies seemingly all being separate pieces. The original line of figures were almost always - if not always - one single piece of plastic. This design variation allows for more detail and personality, like Chun-Li's dress or bigger arms, but sometimes the visual cuts are distracting. They seem to have resulted in better figures, so overall I'd say this set is a worthwhile one to track down. I've not seen them in stores yet, but I dig them.
--Adam Pawlus
Additional Images


See more Super 7 and Funko x Super 7 figures in Figure of the Day:
Day 792: Super 7 ALIEN SDCC Exclusive Sales Samples
Day 821: Super7 x Funko Alien ReAction Ripley
Day 844: Super7 x Funko Alien ReAction Dallas
Day 852: Super7 x Funko Alien ReAction Alien
Day 857: Super7 x Funko Alien ReAction Kane in Space Suit
Day 861: Super7 x Funko Alien ReAction Ash
Day 945: Super7 x Funko The Rocketeer ReAction Rocketeer Action Figure
Day 945: Super7 x Funko Predator (Invisible, Bloody) Action Figure
Day 985: Funko Back to the Future Marty McFly ReAction Figure
Day 1001: Funko Nightmare Before Christmas Jack Skellington (Early Bird Figure) ReAction Figure
Day 1,005: Funko Universal Monsters The Mummy ReAction Figure
Day 1,008: Funko Back to the Future George McFly ReAction Figure
Day 1,008: Funko Back to the Future Doc Brown ReAction Figure
Day 1,029: Super7 x Funko Predator (Attack Mode) ReAction Figure
Day 1,037: Funko Nightmare Before Christmas Saly ReAction Figure
Day 1,038: Funko Universal Monsters Creature from the Black Lagoon ReAction Figure
Day 1,039: Funko Universal Monsters The Invisible Man ReAction Figure
Day 1,040: Funko Universal Monsters The Phantom of the Opera ReAction Figure
Day 1,041: Funko Universal Monsters The Wolf Man ReAction Figure
Day 1,042: Funko Universal Monsters The Bride of Frankenstein ReAction Figure
Day 1,059: Funko Predator (Masked) ReAction Figure
Day 1,068: Funko Universal Monsters Frankenstein's Monster ReAction Figure
Day 1,078: Funko Back to the Future Biff Tannen ReAction Figure
Day 1,082: Funko T800 Endoskeleton (Chrome) ReAction Figure
Day 1,094: Funko Universal Monsters Dracula ReAction Figure
Day 1,059: Funko Predator (Masked) ReAction Figure
Day 1,102: Funko Predator (Unmasked) ReAction Figure
Day 1,108: Funko Universal Monsters The Invisible Man
Day 1,108: Funko Universal Monsters The Invisible Man Clear Entertainment Earth Exclusive
Day 1,111: Funko Predator (Glow Version) ReAction Figure
Day 1,117: Funko The Terminator Sarah Connor ReAction Figure
Day 1,133: Funko The Terminator (Tech Noir Jacket) ReAction Figure
Day 1,138: Funko Pulp Fiction Mia Wallace ReAction Figure
Day 1,149: Super7 x Funko Alien Egg Chamber Action Playset
Day 1,183: Super7 x Funko Alien ReAction Alien (with Metallic Flesh)
Day 1,187: Funko Predator (Invisible) ReAction Figure
Day 1,199: Super7 x Funko Alien ReAction Ripley (Spacesuit)
Day 1,208: Funko Predator (Thermal Vision) ReAction Figure
Day 1,211: Funko The Fifth Element Leeloo ReAction Figure
Day 1,217: Funko The Fifth Element Diva Plavalaguna ReAction Figure
Day 1,222: Funko The Fifth Element Korben Dallas ReAction Figure
Day 1,227: Funko The Fifth Element Mangalore ReAction Figure
Day 1,236: Funko Gremlins Mogwai Stripe ReAction Figure
Day 1,244: Funko The Fifth Element Ruby Rhod ReAction Figure
Day 1,250: Super7 M.O.T.U.S.C.L.E. Set B
Day 1,252: Funko The Fifth Element Zorg ReAction Figure
Day 1,263: Super7 M.O.T.U.S.C.L.E. Set A
Day 1,267: Funko The Fifth Element Leeloo (Straps Costume) ReAction Figure
Day 1,272: Super7 x Funko Alien ReAction Kane (Chestburster)
Day 1,275: Funko Gremlins Billy Peltzer ReAction Figure
Day 1,277: Super7 x Funko Alien ReAction Kane (Facehugger)
Day 1,286: Funko Nightmare Before Christmas Behemoth
Day 1,288: Super7 M.O.T.U.S.C.L.E. Set C
Day 1,295: Funko Nightmare Before Christmas Mayor
Day 1,302: Super7 M.O.T.U.S.C.L.E. SDCC Promo Skeletor
Day 1,327: Super7 x Funko Alien ReAction Nostromo Crew (Dallas, Kane, Lambert)
Day 1,333: Funko Gremlins Cinema Gremlin ReAction Figure
Day 1,342: Funko Gremlins Gremlin Stripe ReAction Figure
Day 1,358: Funko Gremlins Bandit Gremlin ReAction Figure
Day 1,628: Super7 Masters of the Universe M.U.S.C.L.E. Series 2 Set C
Day 1,633: Super7 Masters of the Universe M.U.S.C.L.E. Series 2 Set B
Day 1,637: Funko E.T. The Extra-Terrestrial Elliot, E.T., and Gertie ReAction Figures
Day 1,639: Super7 Masters of the Universe M.U.S.C.L.E. Series 2 Set D
Day 1,639: Super7 Masters of the Universe M.U.S.C.L.E. Series 2 Set A
Day 1,656: Super7 Alien M.U.S.C.L.E. Set A
Day 1,676: Super7 Alien M.U.S.C.L.E. Set C
Day 1,686: Super7 Alien M.U.S.C.L.E. Set B
Day 1,693: Super7 Alien M.U.S.C.L.E. Set D
Day 1,801: Super7 Street Fighter II M.U.S.C.L.E. Set A
Day 1,817: Super7 Street Fighter II M.U.S.C.L.E. Set B
Day 1,834: Super7 Street Fighter II M.U.S.C.L.E. Set D
Day 1,840: Super7 Masters of the Universe M.U.S.C.L.E. Series 3 Set D
Day 1,846: Super7 Aliens M.U.S.C.L.E. Set E
Day 1,843: Super7 Masters of the Universe M.U.S.C.L.E. Series 3 Set E
Day 1,857: Super7 Street Fighter II M.U.S.C.L.E. Set C
Day 1,862: Super7 Masters of the Universe M.U.S.C.L.E. Series 3 Set C
Day 1,864: Super7 Aliens M.U.S.C.L.E. Set A
Day 1,877: Super7 Masters of the Universe M.U.S.C.L.E. Series 3 Set F
Day 1,881: Super7 Mega Man M.U.S.C.L.E. Series 1 Set B
Day 1,884: Super7 Aliens M.U.S.C.L.E. Set D
Day 1,894: Super7 Mega Man M.U.S.C.L.E. Series 1 Set D
Day 1,904: Super7 Mega Man M.U.S.C.L.E. Series 1 Set A
Day 1,914: Super7 Mega Man M.U.S.C.L.E. Series 1 Set C
Day 1,920: Super7 Halloween Series Nosferatu Glow in the Dark
Day 1,922: Super7 Masters of the Universe M.U.S.C.L.E. Series 3 Set B
Day 1,937: Super7 Masters of the Universe M.U.S.C.L.E. Series 3 Set A
Day 2,161: Super7 Masters of the Universe Transforming He-Man Action Figure
Day 2,211: Super7 Toxic Crusaders Glow in the Dark Toxie Action Figure
Day 2,235: Super7 Ultimates Voltron Action Figure
Day 2,237: Super7 Teenage Mutant Ninja Turtles Ultimates Raphael Action Figure
Day 2,253: Super7 Teenage Mutant Ninja Turtles Ultimates Foot Soldier Action Figure
Day 2,358: Super7 Killer Bootlegs Rhamnusia's Revenge Action Playset with Draco Knuckleduster and Phantom Starkiller Action Figures
Day 2,388: Super7 Teenage Mutant Ninja Turtles Ultimates Glow-in-the-Dark Mutagen Man Action Figure
Day 2,454: Super7 Metropolis Silver Maria ReAction Figure
Day 2,458: Super7 G.I. Joe Red Ninja ReAction Figure
Day 2,465: Super7 Godzilla Godzilla '54 (Glow-in-the-Dark) ReAction Figure
Day 2,480: Super7 Transformers Grimlock G2 ReAction Figure
Day 2,526: Super7 Vincent Price Master of Mayhem ReAction Figure
Day 2,530: Super7 Godzilla Mechagodzilla (Glow-in-the-Dark) ReAction Figure
Day 2,534: Super7 Planet of the Apes Mendez XXVI ReAction Figure
Day 2,546: Super7 Planet of the Apes Cornelius ReAction Figure
Day 2,554: Super7 Alien UCCSS Nostromo Action Figure Set 1 with Kane with Facehugger, Ripley with Jonesy, Ash with Removable Head
Day 2,562: Super7 Universal Monsters The Mummy ReAction Figure
Day 2,570: Super7 Universal Monsters The Metaluna Mutant ReAction Figure
Day 2,577: Super7 Transformers Hot Rod ReAction Figure
Day 2,590: Super7 Planet of the Apes General Aldo ReAction Figure
Day 2,594: Super7 Mars Attacks Destroying A Dog ReAction Figure
Day 2,598: Super7 Planet of the Apes Dr. Zaius ReAction Figure
Day 2,606: Super7 Universal Monsters Official World Famous Super7 Monsters! Creature from the Black Lagoon (Super She Creature) Glow-in-the-Dark
Day 2,610: Super7 Planet of the Apes Taylor ReAction Figure
Day 2,626: Super7 Planet of the Apes Zira ReAction Figure
Day 2,630: Super7 Universal Monsters The Metaluna Mutant ReAction Figure
Day 2,634: Super7 Planet of the Apes General Ursus ReAction Figure
Day 2,638: Super7 Universal Monsters Dracula ReAction Figure

See more Street Fighter figures in Figure of the Day:
Day 1,801: Super7 Street Fighter II M.U.S.C.L.E. Set A
Day 1,817: Super7 Street Fighter II M.U.S.C.L.E. Set B
Day 1,834: Super7 Street Fighter II M.U.S.C.L.E. Set D
Day 1,857: Super7 Street Fighter II M.U.S.C.L.E. Set C
Day 2,028: Hasbro Gamerverse Marvel vs. Capcom Infinite Black Widow vs. Ryu Action Figures