Rex
Kudzu

Edward Scissorhands The I'm Not Finished Collection
Item No.: No. ESV-MINI-001
Manufacturer: Titan Merchandise
Includes: 1 figure in a bag in a box
Action Feature: Stands Nicely
Retail: $9.99
Availability: 2015
Other: New Form Factor

PREVIOUS
RSS
NEXT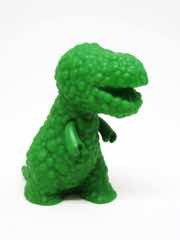 I get some interesting gifts and samples, like this Rex which showed up in a bag of goodies - and it's really cool! I saw it and thought "Oh man, I hope I get the Vincent Price." I didn't realize there were 16 figures in the collection when I first saw the box, so I was pretty stunned to see Rex - the kudzu plant carving of a Tyrannosaurus Rex!
While most of the figures make use of a single body, Rex just reuses the arms - the remainder of the figure is a single, green, almost leafy piece. It's hollow and a little soft, I'm assuming some sort of rotocast plastic. This makes it nice and light, and strong, and of course cheap.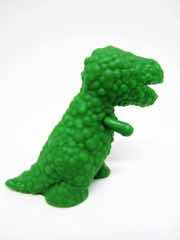 The figure has zero paint - it's a shrub, after all - and two points of articulation. The little hands are about as useful as a real T-Rex' hands, but it's consistent with the rest of the line in terms of look. Otherwise, this would just be another collectible figure.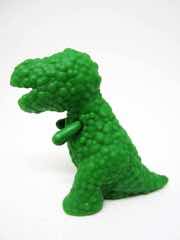 Ten or so dollars may seem high for this - given what $10 can get you, it is - but I like it. If you have the opportunity to get this without the blind bag risk, especially below $10, I'd recommend it. It's rare that I was surprised by a figure after I brought it home, but here we are - it's neat, I've got nothing else like it, and I'm gonna keep it on my desk for a good long time.
--Adam Pawlus
Additional Images

See more Titan Merchandise figures in Figure of the Day:
Day 1,622: Titan Merchandise Edward Scissorhands The I'm Not Finished Collection Rex
Day 1,929: Titan Merchandise Alien vs. Predator The Whoever Wins Collection Scar
Day 1,982: Titan Merchandise Cartoon Network Collection Samurai Jack

See more Edward Scissorhands figures in Figure of the Day:
Day 1,622: Titan Merchandise Edward Scissorhands The I'm Not Finished Collection Rex