Prowl
Voyager-Sized Simplified Figure

Transformers Generations Cyber Battalion Figure
Item No.: Asst. B0785 No. C1980
Manufacturer: Hasbro
Includes: n/a
Action Feature: Transforms from Robot to Car
Retail: $17.99
Availability: August 2017
Other: US Walgreens Exclusive?

PREVIOUS
RSS
NEXT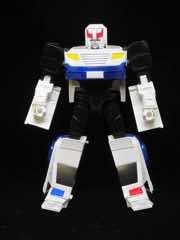 Originally seemingly developed for South America and China, Hasbro's "Cyber Battalion" class of toys has remained elusive in the USA. These closed-box big and cheap figures showed up at Universal Studios at a hefty markup, but rarely grace most online marketplaces - until now. As of my writing this, Prowl has just shown up in the USA at Walgreens alongside Bumblebee and Jetfire - and maybe more! Well worth the asking price, this figure has a pretty good head sculpt and isn't a Masterpiece Edition - but you can transform it in a few seconds. This counts for something.
As a roughly 7-inch tall robot with a new and pretty good head sculpt, I doubt you'll want to miss this. It's sock-tied to a cardboard slap in a closed box, and features about 13 points of articulation. Thanks to the universal joints, his range of motion is pretty good for a simple figure - you can get him aiming a weapon (sold separately) just about anywhere. Deco is better than some of the previous releases, with a white blank "license plate" on his chest joining a light bar, decorated windows, and the silver face with blue eyes inside. Hasbro obviously cut a few corners - there are no shoulder labels or tampos, no weapons, and no visible Autobot symbol of any sort in robot mode - but it's fun.
Prowl has 5mm fists and 5mm ports and big fists ticked in to arm kibble panels. You might find this off-putting, or liberating. Universe 2008 Prowl was sort of a hassle to transform with parts popping off. I liked some of the other Prowls over the years, but they've never quite this easy to convert as of late. It's kind of amazing that Hasbro is selling a new version of a 33-year-old toy to children who probably have no familiarity with the character, but Walgreens has the unique advantage of being somewhere Americans go by choice or because their very life depends on it. And if you need a gift for somebody, you can kill two birds with one stone - and police cars sell.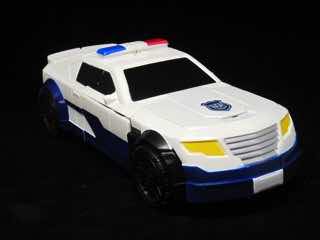 Transformation is a snap, and unlike other toys in this size class I can't easily point to where the engineering came from because I'm tired. I'm sure there's a movieverse toy I'm forgetting, but the legs fold over into the back half of the car. The chest becomes the hood. The arms become the doors. This isn't rocket science - you'll want Jetfire for the rocket scientist.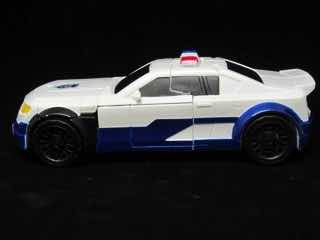 The car is a car - with rolling wheels, a police badge Autobot symbol, and no written English words of any kind on the doors. It doesn't say "POLICE" but the coloring implies it strongly. The wheels snap in place and spin a little bit, but the plastic pegs aren't quite as loose and ready to roll as a die-cast metal car.
I assume you probably bought Masterpiece Prowl and have no interest in buying more toys of him - but if you didn't, and you're cheap, and you want a fun toy for yourself or a kid? This is great. It converts easily, the head looks superb, and if you have any spare weapons you can steal from other toys you're all set for a decent day. It's lacking in detailing, but considering it's a robot inside a car shell that's more or less what I want. This is more "neo G1" than the Generations line since it's aimed at kids, simple, and it fits well with a cartoon from 1984. It's also the same price - or even cheaper! - than a current Deluxe-class toy. I'm impressed by the amount of paint on the car mode and the general chunky feel of the toy, leading me to cross my fingers for the obligatory Smokescreen and Bluestreak repaints down the road. If you stumble on this one in your travels, it's like a cheaper, better Alternators toy.
--Adam Pawlus
Additional Images

Click here to see more Hasbro figures in Figure of the Day.
Click here to see more Transformers figures in Figure of the Day.

Want to buy this figure? Check Transformers availability at our sponsors:
Entertainment Earth