Blitzwing
Megatron Retool

Transformers Generations Titans Return Voyager
Item No.: Asst. B7769 No. C2397
Manufacturer: Hasbro
Includes: Decepticon Hazard, blaster, sword, card
Action Feature: Transforms from head to robot, also robot to tank to jet
Retail: $24.99
Availability: May 2017
Other: Much Needed Redux

PREVIOUS
RSS
NEXT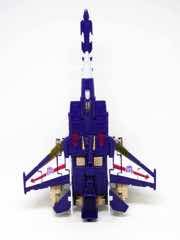 I rarely look forward to new versions of toys I own, but I am thankful Hasbro redid Blitzwing. The Thrilling 30 Blitzwing [FOTD #655] introduced a cool triple-face gimmick that, on my sample, was a pain to work thanks to the design. The paint on the helmet was wonky, articulation was marred by fit issues, and while the modes were interesting it was all pretty ugly. The new one is largely better, but still has some issues as a retool of Megatron [FOTD #1,642] from late last year.
This 1.5-inch robot Titan Master Hazard is Doomshot with a new face backpack. It looks sort of like a tiny Blitzwing with no paint and five points of articulation. What I love is that Hasbro did a nicer job integrating places for him to sit in the vehicle modes - the jet cockpit has a good seat, and the tank has a perfectly acceptable position on the turret. The figure can stand or sit, or serve as a head to the larger Blitzwing robot mode. You get what you want here.
Blitzwing is a nice update, but not without its flaws. The pre-applied silver stickers on all three modes are annoying because they're easy to fray with careful play, and I can only imagine how they'll look in the hands of the target younger audience. With the yellow helmet and a lot of red highlights, this is a colorful character with decent articulation and good interaction with his accessories. There are no problems plopping a sword or gun in his hands, and the shoulders have a surprisingly good range of motion thanks to its complex triple-changer transformation. Along with the bigger Astrotrain and Octone, it's nice to have these guys upgraded to slightly better toys. There are plenty of details that nod to the original and are a departure from the previous use of the toy as Megatron, including a different chest and gun for the tank.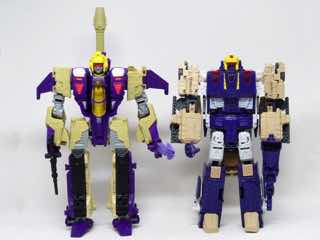 Transformation what it is - it's a little tough to massage things in place, getting the jet's nosecone out is tough because of the painted parts, and slamming the panels to be a tank requires everything being positioned exactly right. It's tricky, it's not a lot of fun. It's possible, though, and the results of all three modes are better than the version from a few years ago. I'd love it to feel less fragile, more solid, and less stickery.
The tank mode is a weird one, because you have most of a tank with some jet wings wrapped around the back. Joy may be found in sculpted tank treads with little (mostly useless) wheels underneath, but the turret spins and a figure can sit inside. You can also position the gun on the tank in a few interesting ways, which was a departure from Megatron's weapons and an appreciated alteration from where I sit. Another functionality issue was (at least on mine) the figure's shins sort of scrape the ground when in tank mode. Either this means I can't do it right, or there are form fit issues. Take your pick, you probably won't be wrong.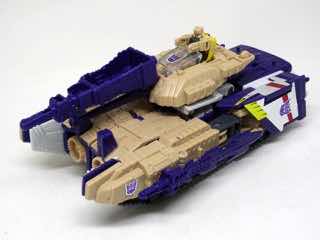 The jet fighter is largely pretty with some tank on its belly. The stickers were pre-applied well, I just hope they last! There are no firing rockets or anything this time, but you can open the jet in the middle so Hazard may fly it. I like the colors, I like the sculpting, and I bet someone could make a wacky Starscream out of this one, too. That might be overkill. It's thick and ambitious, bringing a classic toy to a less bricky, more articulated form.
I'm not disappointed by this one. It gets the job done and fits expectations, giving us the predestined Blitzwing we all expected after seeing Megatron. I'm finding that the Voyager size is probably my least favorite as we go, mostly because they don't get to go hog wild like Leaders and don't seem to find creative ways around their mandates like Legends or Deluxes. Or Masters. I mean, they can give us a pretty decent five mode toy for $5 these days, so I guess I'm not sure what I would expect as being good and reasonable for $24.99. It's bigger, but not significantly bigger. There are more parts, but why include that spring-loaded shoulder pylon gimmick on every toy? I applaud Hasbro for trying and retrying things to bring us the best possible representations of our favorite characters/bilk us out of another $25, and this is a worthwhile upgrade. Having said that, it wouldn't stun me to see them take another crack at it in four or five years. I'd be curious to see what a smaller version would look like, though.
--Adam Pawlus
Additional Images

Click here to see more Hasbro figures in Figure of the Day.
Click here to see more Transformers figures in Figure of the Day.

Want to buy this figure? Check Transformers availability at our sponsors:
Entertainment Earth