Neo Granthan Rocker
Youse Guys Are Gonna Love These

Glyos Onell Design
Item No.: No. n/a
Manufacturer: Onell Design
Includes: Alternate head, backpack, Warp Pack
Action Feature: Pops apart
Retail: $15.00
Availability: October 20, 2016
Other: No panel lines this time

PREVIOUS
RSS
NEXT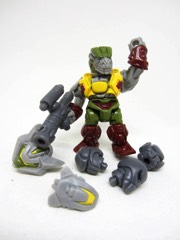 With monthly drops and all sorts of gorgeous figures, it's easy to get lost in the output of Onell Design and the related Glyos family. We're now seeing over 100 figures per year, which puts this family above even Star Wars in terms of sheer variety. The nifty Neo Granthan Rocker is made of 29 pieces, all of which come from existing toys specially (and heavily) painted to look like Rocksteady of Teenage Mutant Ninja Turtles fame. He might look like a familiar face - the color scheme and head deco recall a popular character from a comic book, TV show, movie, video game, and so on. But who? Obviously it's not Rocksteady - it's just an armored dinosaur figure with paint that makes you think vaguely of the rhino mutant from the classic cartoon series. By now you've no doubt seen a few reviews of the Neo Granthan figures and the Armorvors from which they were born, so know that this is a plussed up version of those sturdy, nifty figures.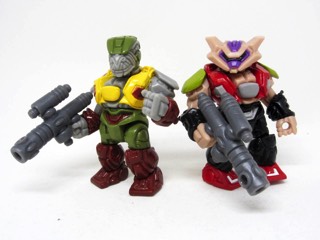 The base figure has about 14 points of articulation, and the weapon is jointed thanks to the construction system used to configure the toys. The Callgrim Warp Pack was included as a bonus weapon for the figure. The Warp Pack also has spare Callgrim heads, cast in grey and barely decorated. The main skullface has black eyes, but the rest mostly let their greatness shine through in the plastic. Of course this greatness may end up in your spare parts drawer if you already have lots of Callgrim heads in your spare part piles, making them a great bonus but wholly unnecessary for your displays. Well, maybe unless your figures are going to step on them Terminator-style.
Sculpting is the same as the other Neo Granthans, with faux-scaly faces, armored bodies, and that ever-popular double-face wolf head. One side looks like an armored space wolf, while the other looks more like a dog. For those of you keeping track at home, this means the set has a whopping five pieces that may be used as heads with six total faces. The paint does most of the heavy lifting as far as the figure's personality goes, with the default head being the best option for the tribute they're going for here. Having spare options, though, are what make the Glyos line so great - if for some reason that the base design wasn't good enough for you, you can rip the head right off and slap another one on there until something fits your needs.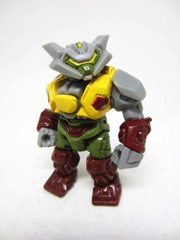 Most Armorvor figures share the same paint masks - they don't mix it up a lot. This wave had a couple of special cases because in order to create that whole vest-and-army-surplus-punk motif, you couldn't just do things the usual way. A green helmet on the dinosaur alien head gives you a pretty convincing rhinoceros mutant, with boots and wrist protection replicated through the magic of brown paint. Any collector of designer blind box toys can tell you just how important paint can be to making a new figure out of the same old molds, and Onell Design has this down to a science. In the last year we've seen tributes to old movies, video games, cartoons, and Danish brick toy lines to name a few. There's no shortage of new ideas either, which is good and bad. On one hand, you're going to see something awesome each and every month, and you're probably going to want it. You're probably also going to realize that there will be even more next month, so you'll want to carefully weigh your options on special figures like these because they don't go back to the well on this sort of tribute figure.
These figures are limited edition affairs, sold by mail through word of mouth among those who know that this line could rule the world if they had any sort of retail distribution or marketing budget. It's a family business that delivers consistent, high-quality stuff at prices that are sometimes nice and cheap, and other times cost a bit more because you get a bit more. This is the latter. Along with Bopper, the duo should find a home in fans of certain green teens. The figures command a slight premium now on the secondary market auction scene, so if you see them on the cheap? Buy them, and support this line's new releases. Nothing great lasts forever and this line has been running fairly successfully for nearly a decade. In indie years, that's several lifetimes.
--Adam Pawlus
Additional Images


Click here to see more Onell Design figures in Figure of the Day.
Click here to see more Glyos Compatible figures in Figure of the Day.