Windblade
Scorchfire & Windblade

Transformers Generations Titans Return Deluxe
Item No.: Asst. B7762 No. C2392
Manufacturer: Hasbro
Includes: Card, 2 swords, tiny head robot Scorchfire
Action Feature: Transforms from plane to robot
Retail: $17.99
Availability: July 2017
Other: Deluxe Take 3

PREVIOUS
RSS
NEXT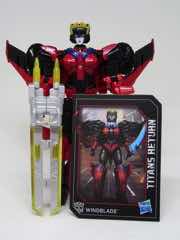 Hasbro loves Windblade. The first fan-built bot, this Transformers mold for Titans Return gives Windblade a mostly new body - she shares some parts with Highbrow/Scourge, but is mostly her own bot. In the USA alone, I can count at least 5 other Windblade figures in roughly this size with varying levels of complexity since the first one in 2014. They're all good for different reasons - the original mold is pretty complex and has a removable hair fan hat, plus was redecorated for Comic-Con two years ago. The second one was greatly simplified and sold in three flavors. This new one has two totally new swords that don't look like her usual weapons, but gains the Headmaster gimmick. It mostly works.
As of my writing this the toy has not appeared in any media I've seen - she borrows elements from previous toys, unfortunately dropping some really cool ones. I love how she could easily be Slipstream with new deco and a new head. I miss the spinning fans and signature sword. But now she has a tiny head robot pilot. If you like Windblade, it's too fun to not buy.
I like the robot mode, but that isn't to say it's perfect. The head seems small on the larger body frame with fairly sturdy thighs recycles from Scourge/Highbrow. It doesn't break the toy, but the shoulder joints move in a way that you'll need to position carefully to make sure she doesn't look like she's having joint problems. Thankfully they have a good range of motion, and a surprising amount of detail. They painted the black parts red, with painted black hands and lots of sculpted bits to bring you a fairly decent Windblade figure. The original may look better overall, but this one has the deco of the comics and winder, brighter eyes. It's just that smaller face that may cause concerns - the figure itself is sturdy and can easily hold her two, giant, combining swords. I don't understand the significance of these weapons if they're meant for reuse, but the color looks nice against Windblade's black and red physique.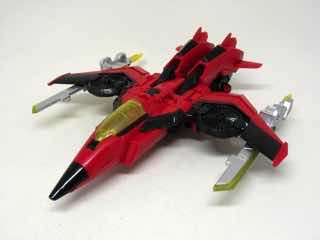 Transformation is simplified a great deal - this toy won't give you a fight. Hasbro has clearly worked with Takara to engineer something simpler and more clever. The nosecone has a peg which connects to Windblade's neck socket. Her feet plug in her back in jet mode, and the hands feature peg elbows to connect to the wings.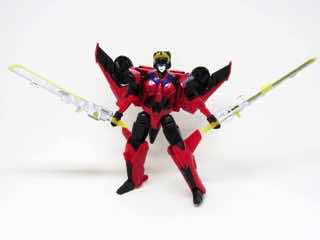 The jet mode is fun, and has a few moving parts. The fans are jointed, but they don't spin. There's a small hole behind the cockpit that looks like an X-Wing's astromech droid socket, but is actually for 5mm weapons to be mounted - fun! Small pegs on the back allow for tiny Titan Master robots to stand safely during flight. And of course, there's a landing skid under the opening cockpit for Scorchfire. Because Hasbro isn't completely sadistic, you also get on-wing storage for her two yellow and silver swords. Since you can actually do a lot of things with the jet, I can say I feel more impressed with it than some other toys. There aren't launching rockets or rear landing gear, but it still does a lot. Heck, it even retains the legs-as-the-back-of-the-jet gimmick as the other toys. I guess you can't win them all, but at least the detail is good and the angled wings look cool.
I like all of the Windblade toys for different reasons - this one has the best vehicle mode in terms of general play. A pilot figure like Scorcher really adds to it, with new legs and a new head to boot. If you see this one I'd suggest picking it up, mostly because I'm so in the tank for the Titan Masters gimmick that I could buy another 2-3 years of toys like these. Even though she costs more than the other ones, I'd gladly pay an extra buck or three for micro figure and vehicle play features.
--Adam Pawlus
Additional Images

Click here to see more Hasbro figures in Figure of the Day.
Click here to see more Transformers figures in Figure of the Day.

Want to buy this figure? Check Transformers availability at our sponsors:
Entertainment Earth