Laserbeak
Operation: Amortization

Transformers Generations Titans Return Legends
Item No.: Asst. B7771 No. B7585
Manufacturer: Hasbro
Includes: Card
Action Feature: Transforms from smart phone to condor/buzzard to forklift
Retail: $9.99
Availability: August 2016
Other: Not a Tape

PREVIOUS
RSS
NEXT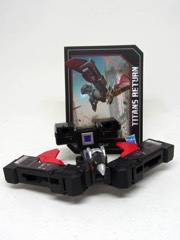 There's a difference between essential and obligatory, usually. Laserbeak was Soundwave's go-to companion on the original The Transformers cartoons, meaning that if you bought Buzzsaw [FOTD #1,338] in 2015 you'd probably want to buy this for different reasons. It's pretty much the same exact toy in new colors with new stickers, and better plastic fit interaction with Titan Master robots (sold separately) - this can hold up to three without a fight.
The toy is packaged as a robot bird - and a pretty decent one. The beak is now silver, rather than black like the original or orange like Buzzsaw in 2015. The almost entirely black figure has some red highlights which recall the original, which in and of itself wasn't a terribly distinctive toy. If you had Soundwave you definitely had (and/or lost) Buzzsaw. Maybe you had Laserbeak - he was sold with Frenzy separately. Frenzy hasn't made it out yet, but I digress - the bird has a fold-out metal feather thing on his wings, and the head and neck are nicely jointed. He has tiny and stable feet which work well, and he can perch on Soundwave's arm thanks to the sturdy ratcheting joints.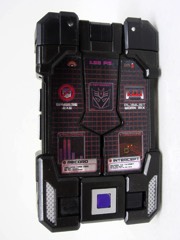 Next up, the smart phone. I love the stickers - it reminds me of the original packaging with the purple grids and whatnot. The smart device is about scaled to Fortress Maximus and Metroplex, functionally a brick that does nothing but look like a phone. It's really clever - but not as clever as the goofiest and most fun extra, a 3.5mm headphone jack. You can really plug in earbuds if you want to pretend this is a working device - it's a tight fit, but it fits! The device also fits in the chests of Soundwave or Blaster, and can be held easily in the hands of the large Titan-class Autobots.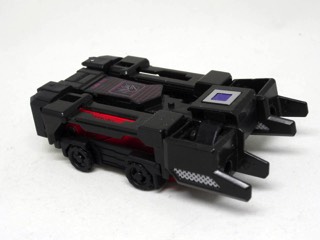 The forklift is bizarre, but neat - it's an unexpected variation on part-shuffling. There's one foot peg on the top to plug in a Titan Masters robot, and grooves on the sides so they can sit. It has little wheels that roll, and it looks neat. Really, it's more of a display accessory for your playsets than it is a real toy. I have fun having figures pilot it and shuffling it around my desk, but I'm a big child. Everything holds together fairly well so I give Hasbro credit for making something great.
If you got Buzzsaw, you don't need Laserbeak. He costs about the same and isn't as colorful. He's functionally identical - but the stickers and deco are a bit more subdued, and a lot of adult collectors prefer subdued to wacky. I can't help but get both and since the birds seem to hold together in device mode the best you might want them to store in the chests of your Soundwave and/or Blaster. There's nothing particularly groundbreaking here, Hasbro just cranked out a slightly improved redeco of a character that you probably already knew you wanted. I still see these hanging around at Toys R Us stores, but rarely elsewhere. It's not as fancy as the cars, but having three modes to shuffle through make it a fun desk toy - and mine has been hovering around my desk since it came out nearly a year ago.
--Adam Pawlus
Additional Images

Click here to see more Hasbro figures in Figure of the Day.

Click here to see more Transformers figures in Figure of the Day.

Want to buy this figure? Check Transformers availability at our sponsors:
Entertainment Earth