Beeside
Bumblebee + Sideswipe

Transformers Robots in Disguise Combiner Force Crash Combiners
Item No.: Asst. C0628 No. C0630
Manufacturer: Hasbro
Includes: 2 vehicles
Action Feature: Transforms from Vehicle to Robot, Combines Too
Retail: $14.99
Availability: January 2017
Other: New Form Factor

PREVIOUS
RSS
NEXT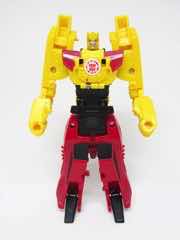 Having similar functionality to Primestrong [FOTD #1,608], Beeside is arguably a neater idea in that it gives us something we haven't seen before - a decent, cheap Bumblebee head sculpt in an Optimus-esque style on the top of a small combiner. The coloring goes together nicely, but it's functionally similar to the other toy - if you like one, you should get the other. If you don't, save your $15.
Transformation is pretty snappy - Sideswipe rear-ends Bumblebee in car mode, causing Beeside's robot arms to pop out, chest to flip out, and head to be revealed. I assume they're going to show this on the TV spots - it's a good way for the character to emerge, and as a kid I'd demand to want to see it in person. Articulation is pretty weak, with only jointed elbows and 5mm fists for whatever weapons you have (sold separately) to give the figure personality. Like many G1 toys of old, what makes it interesting is how it transforms - it's not secretly a super-articulated robot figure that just happens to transform as a bonus.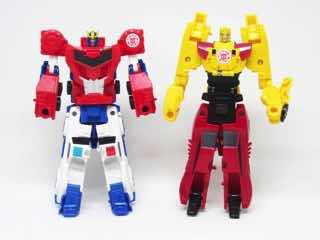 The combined mode is best - Beeside's head sculpt is really cool, and the red on the chest does a nice job of breaking up the sea of yellow. But that's not all - you get two little robots, with arguably the simplest transformations you've seen in ages. From vehicle mode all you do is fold down Bumblebee or Sideswipe's robot chests, flip up a head, and you're basically done. You can pull arms out to the side slightly, which means these are basically about as articulated as a McDonalds toy. It's not fancy, but it works and any child can make it happen in seconds.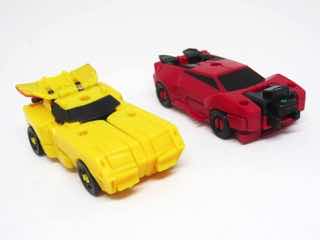 The vehicles are similarly no-frill affairs. You get cars that look close to the TV show, with just barely enough paint to look good, and rolling wheels. No Autobot symbols, no special deco, and no accessories - it's simplicity in its purest form.
As with Primestrong, Beeside is a simple toy for kids - youngsters will probably love it, and medium to big kids would rather go with Warrior-class or other fancier toys. For tiny tots wanting something that behaves magically, this is fantastic. Expensive, but fantastic. The only reason for your average collector to pick it up is the fact that the combined mode is a new character, because the same Autobots being trotted out with new gimmicks and features is somewhat tiresome. If these were new characters I'd say run out and try a set - but they're not, so enjoy buying Optimus and Bumblebee again if you look forward to examining this new gimmick up close.
--Adam Pawlus
Additional Images

Click here to see more Hasbro figures in Figure of the Day.
Click here to see more Transformers figures in Figure of the Day.

Want to buy this figure? Check Transformers availability at our sponsors:
Entertainment Earth