Armorvor Bopper
Youse Guys Are Gonna Love These

Glyos Onell Design
Item No.: No. n/a
Manufacturer: Onell Design
Includes: Alternate head, backpack, Warp Pack
Action Feature: Pops apart
Retail: $15.00
Availability: October 20, 2016
Other: Wolfhog

PREVIOUS
RSS
NEXT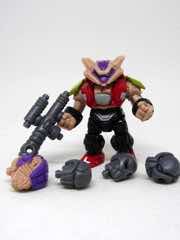 Because of the sheer, seemingly nearly endless variety of figures it's hard to describe things as essential in the indie sphere. If you see something you like, another recolor may be on the way and you might like it more - but not the Armorvor Bopper. This 29-piece wonder will likely never make an encore because it was part of a massive TMNT-themed set that evoked one of the most popular series of the 1980s and 1990s. Sadly, there was no room for Splinter or April, but you pretty much got a tribute to everybody including the punk Warthog thug Bebop - a style of music I assume nobody watching this cartoon really had in their record stacks.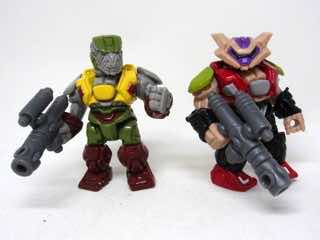 The base figure has about 14 points of articulation, and the weapon is jointed thanks to the construction system used to configure the toys. Onell Design has been occasionally experimenting with giving the consumer more, in this case it's more paint and a big accessory kit. An ace blaster build comes courtesy of Callgrim, deploying deadly efficient explosions from firm grey Glyos hand held implements. I'm just jolly knowing kits like these give the customer a bunch of options with things like heads and enough parts to rebuild the blaster if you're so inclined. If you want to cram the scope in the barrel, you can do that. If you think he looks better with a space Dinosaur head, you can do that. If you want something that comes in packaging with a story or any sort of storyline, look elsewhere. It would seem those have exited this mortal coil, a pity given how fun some of those minicomics and games were on Onell Design's web site.
Sculpting is the same as the other Armorvors, although the ears feel unusually sharp on this release. I love the pants and matching bracelets, the green shoulder pads are nice, and the red vest is magnificent. The purple around the eyes matches Bebop's glasses perfectly, and the red shoes look a lot like the warthog mutant's sneakers. It's a colorful figure, and given that it's cast in a pink plastic it may be covered in more paint than most of the other Onell Design releases - from the waist down, there is no exposed plastic. The arms and head have a lot showing, though.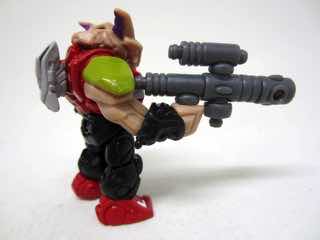 The figure's joints are nice and tight, allowing you to rotate them all easily and pop out an arm if you're so inclined - that's part of the Glyos experience. If you think you can do a better job painting the figure, you can pop him apart at the seams and redecorate it to your liking without damaging the core product. I should note that the form fit is tight in spots thanks to the sockets being slathered in layers of thick paint - the end result looks good, but some of the earlier pieces are easier to customize or pop apart. It works though, it's not going to tear a hole in your fingers.
As toy lines go, Onell Design's extended family seems intent on delivering a diverse experience with tributes to dang near everything in life that matters. I'm almost surprised we haven't seen Mario or Luigi-themed figures yet, but maybe those are on the way. Between their original designs, the proud few licensed characters to transition to the indie toy world, and whatever crazy stew Matt Doughty has designed for the next round, it's been a good line of toys. It's also enormous - most months have more Glyos figures than Hasbro does Star Wars or Transformers. It can be a little daunting and collectors have told me that at the most, only 10 complete sets of mass-produced figures might actually exist due to rarity and other issues. I don't have one. But I have been enjoying these as I go, particularly this duo. I hope we see more like this in the future... also, a Krang tribute from a Hub set would be awesome.
--Adam Pawlus
Additional Images


Click here to see more Onell Design figures in Figure of the Day.
Click here to see more Glyos Compatible figures in Figure of the Day.