Jareth the Goblin King
Color Tops #33

Labyrinth Action Figure
Item No.: No. 13011
Manufacturer: McFarlane Toys
Includes: n/a
Action Feature: n/a
Retail: $19.99
Availability: October 2017
Other: McFarlane's First Muppet?

PREVIOUS
RSS
NEXT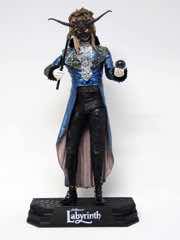 The toy saga of Jareth the Goblin King is pretty interesting, mostly because I think so many fans saw Labyrinth not as a beloved movie for young people of the 1980s and 1990s, but a stealth way to get any kind of David Bowie toy made. It's not like you're seeing many Ziggy Stardusts or Thin White Dukes, but Palisades got close to releasing a figure, others tried (trust me, I know), and later NECA got a few of the ground. If memory serves other companies came close to getting some statues out too - that makes this a particularly fascinating character in the world of toys, mostly because he's the holy grail in the world of music but an increasingly accessible asset in the world of fantasy movies.
This is a big figure, in line with the weirdly named "Color Tops" line from McFarlane Toys which is a pretty lovely series of like-boxed toys in the same basic scale. If you collected deep in that line, you'd have a stunning shelf from video games, sports, and all kinds of things.
The thing that more or less stunned me was the articulation, because it's so well hidden. The shoulders look like swivels, but there's lateral movement. The ankles have almost too much of a range of motion - I'm worried gravity will make him flop forward over time, possibly dooming his crystal bar to the carpet of the damned if it falls and rolls away.
...I kid you not, five minutes after I type this, it dropped and bounced behind my desk. That was awful.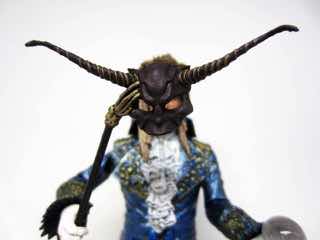 The coat is stunning - metallic paint, sculpted folds, jewels galore. It looks amazing and things like the lining of his coat really shine. The white gloves are perfect, if a little tight - getting the mask in his fist is a squeeze, but his open hand can hold the crystal ball if you're so inclined. It doesn't grip it, it just rests there - so take care to not lose it. His pants are insanely tight, as I assume one might expect. The ruffled shirt is decorated wonderfully, and the face - while a little dark - is loaded with both sculpted and painted detail. It's really sharp.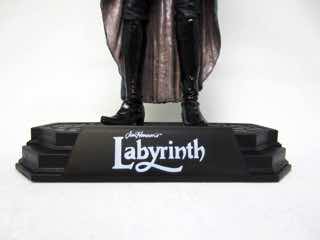 I assume the hair would be hard to get perfect, and while it's good I can't say it's perfect. (But it is really, really good.) The feathery anti-mullet sticks up and hangs in all sorts of places, with the final figure giving you the look of the movie but it's just a little darker and thicker than it probably should be to be "perfect." It's still good - but this is one area I assume we'll see improved as time goes on. Hair and hairy characters are tough to get perfect, just ask Chewbacca.
This figure is bigger than Hasbro's 6-inch Marvel Legends and The Black Series, but it isn't a toy. It has a black display stand with a movie logo base, and a painted mask that just really sizzles. This is a character that's worth seeing new takes on every few years because it gives a manufacturer a chance to show just how much you can do with improvements in manufacturing and design. For the asking price it's a wonderful figure with lots of moving parts and incredible decoration, so go ahead and get one if you find one.
--Adam Pawlus
Additional Images


See more McFarlane Toys figures in Figure of the Day:
Day 147: McFarlane Toys Yellow Submarine John Lennon Action Figure
Day 155: McFarlane Toys Yellow Submarine Love Glove Action Figure
Day 168: McFarlane Toys Yellow Submarine Ringo Starr Action Figure
Day 184: McFarlane Toys Yellow Submarine Jeremy Action Figure
Day 197: McFarlane Toys Yellow Submarine Paul McCartney Action Figure
Day 357: McFarlane Toys The Maxx Action Figure
Day 1,848: McFarlane Toys Labyrinth Jareth the Goblin King

See more Labyrinth figures in Figure of the Day:
Day 1,848: McFarlane Toys Labyrinth Jareth the Goblin King