Grotusque
Scorponok & Fengul & Grotusque

Transformers Generations Titans Return HasbroToyShop.com / Toys R Us Exclusive Set
Item No.: No. C3541
Manufacturer: Hasbro
Includes: 2 cards, 2 blasters, 2 tiny head robots
Action Feature: Transforms from gargoyle to robot
Retail: $24.99
Availability: October 2017
Other: Retool of Twinferno

PREVIOUS
RSS
NEXT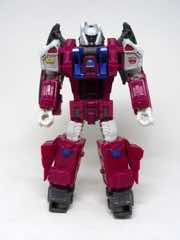 Last month, Hasbro announced Grotusque at New York Comic Con - it went up for sale moments later on HasbroToyShop.com, and sold out hours later. Some people had it in 1-2 days. I had it in under a week. It's witchcraft. The figure is Twinferno [FOTD #] from the waist down, with a new body and arms and head. And recycled wings. It's a good set overall, particularly thanks to a Battle Beasts tribute in the head and a mini Scorponok which in no way will satiate your desires for a bigger one. Packaged in a bland black box, it folds out to give you a gorgeous illustration, trading cards, and your toys - it's a tantalizing glimpse into what would have most likely been the greatest collector club thing of all time.
The first tiny head robot should look familiar, as it is 1.5-inches tall and has 5 joints. The face has red eyes and some blue stripes, with a white painted body and limbs molded in white plastic. The figure's backpack is a Scorponok head, and it looks fine. It's heavy, and looks pretty sharp on top of Hardhead. It will make you angry we don't have a giant transforming Scorponok in the modern line yet, but at least they remember it exists.
The second head is Fengul, modeled after Sabre Sword Tiger from Battle Beasts, or Beastformers in Japan. The homage is pretty good with decent colors and the big teeth you'd expect from a prehistoric kitty... or a walrus. The head is new, the face on the back is new, but the rest of the mold is pretty similar to Twinferno's heady buddy Daburu. For fans of the classic Fire/Wood/Water figures, this is probably a selling point and I'd probably buy this set just for it, even if I didn't collect Transformers. I appreciate this kind of detail, mostly because it rewards me for being a colossal dork.
Grotusque's robot mode is a lot like Twinferno, reusing his legs and general engineering to make a new Monsterbot. He has real fists instead of monster hands, a new torso, and a Gargoyle chipmink head that hangs off his back. Sculpted detail is on par with the other figures, with a heavy emphasis on added paint. The extra deco on the chest and shoulders really looks sweet, plus the shoulders have extra flaps in them so they have added movement. That ain't bad.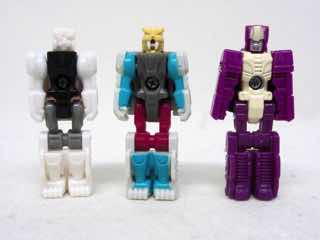 Transformation is basically like Twinferno, but the parts fit together a bit better - the hips tab in to place better than Twinferno, but it's still a nuisance. Getting the claws and feet in place are pretty easy, and you can probably do this one without the instructions. The hips will be a pain regardless of if you know how to do them properly and in order. It's not unfun, but it's a bit tricky - it's a good choice to give a figure like that a place of honor in a poorly-explained collector special series that is arguably the most interesting and strange thing we've had in ages.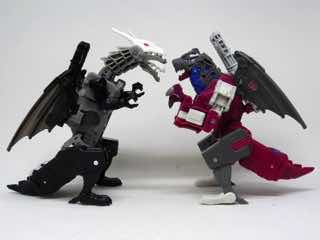 The creature mode is a gargoyle, and while it doesn't shoot out cold sparks like the original it also doesn't look like some sort of botched beaver taxidermy. This may or may not be a plus to you. Its wings and legs look like Twinferno, but the head, chest, arms, and vibe are new. The claws look pointy, and the figure has fairly extensive paint to bring it in line with the original 1987 toy.
Hasbro's clever repurposing of molds has been fascinating to watch, seeing how they make a "new" toy out of about 50% recycled parts and seeing how the reused bits are generally stylized enough that you might not notice nor care unless someone pointed it out. Here, the only thing that struck me as weird were the small, white feet instead of grey feet. Other than that, it's a reasonable modern upgrade of the original stranger than strange toy. I would never have missed this character on my shelf had Hasbro never made it, but it really turned out nicely. It's ugly, weird, and fun - even if he's something of a non-entity for me as far as nostalgia goes. He's weird, and I love weird.
--Adam Pawlus
Additional Images

Click here to see more Hasbro figures in Figure of the Day.
Click here to see more Transformers figures in Figure of the Day.

Want to buy this figure? Check Transformers availability at our sponsors:
Entertainment Earth