Autobot Twinferno
Daburu & Autobot Twinferno

Transformers Generations Titans Return Deluxe
Item No.: Asst. B7762 No. C0272
Manufacturer: Hasbro
Includes: Tiny head robot, big robot/dragon, two guns
Action Feature: Transforms from dragon to robot, head to robot
Retail: $17.99
Availability: November 2016
Other: Pretty great

PREVIOUS
RSS
NEXT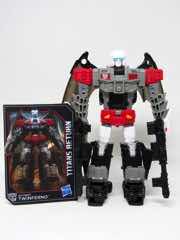 If there was a short list of characters I didn't expect to see remade in the short term, Doublecross - renamed Autobot Twinferno - would be near the top. The original toy wasn't a Headmasters release, but rather a cool spark-shooting dragon with a wheel on its breastbone. The geared wheel remains as a cosmetic ornament, as such a feature is probably one you'll never, ever see again on an American toy. The robot mode is good, the dragon mode is neat, and the head turns in to a Battle Beasts figure. Now there's an Easter Egg for the ages.
This 1.5-inch Daburu is a bit of a stunner - while Hasbro tries the whole Revolution crossover in its comics and tries to make a shared universe, we're already seeing other characters sneak in this line. Diac (a Diaclone driver) came with Optimus Prime, and Daburu is actually Pirate Lion (a.k.a. White Leo) from Battle Beasts/Beastformers. This is kind of huge. Most fans probably won't notice or care, but the tiny little robot has an eyepatch and a lion face. There are details from the original toy like exposed toes, similar armor, a rectangle (rather than a square) on the chest, a robo-mane on the head... it's all there in plastic. There's no mistaking it for something else - it's a Pirate Lion, without any paint. It's molded entirely in grey, white, and black with no deco whatsoever on the robot part - but the Twinferno head has some deco.
The head mode is a good update of the G1 toy in the photos - white head, blue visor, mouth, you know the drill. It's not all that bad considering the dimensions and limitations of the "Titan Master" gimmick - getting the head to be mostly white with some decent depth around the face is nothing if not impressive. As the various tiny Titans robots go, this may be one of my favorites due to how they managed to combine newness and obscurity into something worthwhile.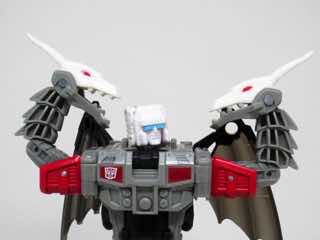 I never had this one as a kid, but the new Twinferno retains much of the original design aesthetic. The Autobot symbol is now on the side rather than the middle of his chest, the hands are still dragons, and the legs of the dragon become the legs of the robot. It works pretty well, with the kind of detail you now expect and the kind of articulation that you probably wish could be a tiny bit better. The arms do have a good amount of articulation, but the functionality of the twin dragon heads took priority over the needs of the robot. You've got bending elbows, but they bend in a way that causes the arms to go in, not out, and that's a little strange. They're also a real pain to get to grip his twin weapons - they fit, but it's tough to position them in the cheek hole appropriately so they stay put. At first I was wondering if it even worked. It does, it just requires fidgeting.
The twin blasters merge to a single weapon, or you can connect them to his fists or wings. You've got options. When merged, they can serve as a seat for a Titan Masters figure, but you'll need to make use of the foot pegs in order for them to stay put. Otherwise, they're going to fall out.
Transformation is a little complicated, thanks to a bunch of panels that need to be placed correctly and fairly complicated legs. I won't lie to you, I peeked at the manual on this one. Everyone won't need to do this, of course, but it's a little complicated.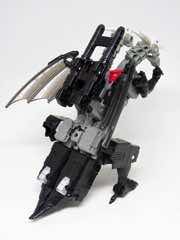 The dragon isn't bad, but it's not an exact update of the original. The designers deserve major bonus points of including an ornamental geared wheel on his chest, a non-functional tribute to the original fire-breathing gimmick of the 1980s. The dragon heads are a little more defined with clearly separate horns, so you might see this one and think "Hey, it's Uncle Deadly!" You might not. But you might. The eyes are red, the rest of the dragon neck and head are unpainted. The legs have little organic bits, and the wings are oddly a clear, smoky plastic. Due to his long torso and uniquely positioned mass, you're going to want to futz with him to achieve some sort of balance - you may need to use the tail as a third leg to keep him upright.
Since the li'l dragon arms and heads all move, there's not much I don't like here. The riding compartment for Daburu is one of the real shortcomings, as you have to partially un-transform the figure to gain access to the door. The other vehicles all seem to have pretty easy access to the Titan Master driver's seat, so it's a little disappointing here. Then again, it's a two-headed dragon with moving jaws. I guess I'm OK with the net result of the features granted to this toy.
Nobody buys these things as conversation pieces, but if they did this would be a top-tier icebreaker at toy fanatic parties. (Those aren't an actual thing, and/or I've never been invited to one.) A remake of an obscure Autobot - a two-headed dragon, no less - complete with vestigial gear gimmicks and a Battle Beasts tribute are the kind of a thing toy dork dreams are made of. The fact that his crotch looks like a sad Deku is just icing on the cake - don't miss this item if you see it. If you see it at a discount, pick up two - you've probably got a friend that wants one as well.
--Adam Pawlus
Additional Images

Click here to see more Hasbro figures in Figure of the Day.

Click here to see more Transformers figures in Figure of the Day.

Want to buy this figure? Check Transformers availability at our sponsors:
Entertainment Earth