Optimus Prime
Leader-Sized Simplified Figure

Transformers Generations Cyber Commander Figure
Item No.: Asst. B0759 No. B1293
Manufacturer: Hasbro
Includes: n/a
Action Feature: Transforms from Robot to Truck
Retail: $19.99
Availability: April 2015
Other: Non-US De Facto Exclusive

PREVIOUS
RSS
NEXT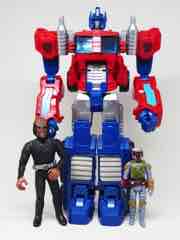 It's kind of unthinkable today, but there was a period in the 1990s and 2000s where a truck Optimus Prime wasn't really on the menu. Today you can't not go a year without getting Optimus in one or more sizes, thanks to the character becoming the line's Batman along with Bumblebee. As the other Batman. This particular Optimus Prime toy doesn't seem to be based on any specific existing Transformers engineering, but it shares a lot with Energon Inferno and/or Armada Rollout. Optimus goes from a really big robot to a long-nosed cab truck, and the truck looks a lot like a robot got folded up into a car shape. It's not brilliant, but it's big and fun - and has clear bits.
The 11-inch tall robot sports clear light-up eyes, a clear windshield chest, and silver Autobot stickers. There are bright blue forearms and slightly more detail than you might expect - for example, big chunky silver smoke stacks. The figure manages to surprise with rocker ankles, universal hips, and some of the longest arms this side of a gorilla. Optimus has a gorgeous head sculpt that looked like it came right off the comics page, with nice pointy antenna on his helmet and a nice face mask sculpt unlike anything else Hasbro has yet released. It's not as crazily stylized and angular as some late-1980s robots, but it's very different from anything you've seen in the last few years. It wouldn't surprise me if customizers swiped the head off this toy for other creations - it's quite nice, and the eyes are unusually bright for "clear"-eyed robot toys. Since Optimus is a large toy with no knees I expect he'll be on the receiving end of some derision, but he may also be the largest transforming Optimus robot toy I own. That has to be worth something.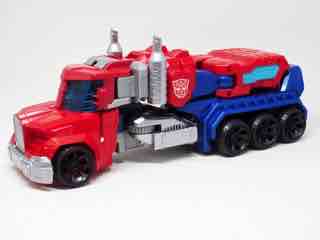 Transformation is very simple. The legs become the back of the truck. The chest spins around. The arms and head fold back. That's pretty much it - this may be one of the simplest toys in the entire "Cyber" segment, it would barely qualify as mildly complicated were it a $5 miniature toy. Thanks to the larger sculpt with fold-away fists and some decent color, Mr. Prime actually looks and feels like a solid experience despite being the simplest toy at his size in the range.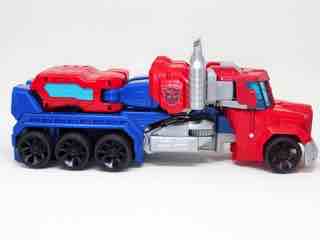 With 8 wheels, Optimus Prime actually manages to pull off a convincing truck look. Well, mostly. You can't look at the truck and say it looks like a truck - it looks like a robot folded up and disguised as a gappy truck. It still works for me because of the elegant simplicity, mostly because I'm more interested in seeing a toy that can change form in 30 seconds over one that takes 20 minutes. It's sturdy and all the parts stay together, but the truck itself doesn't do much of anything. I'd love to have seen places to mount weapons or connect other toys for added play value, but it's just a simple truck. It's a "classic" toy made with kid sensibilities, which has to date gone unsold to the US wholesale market. (Any you see in the USA came from Latin America or Chinese distributors.) So who is this for? Why is this? Who is responsible? I'm not sure. The toy doesn't really fit in with Hasbro's current US marketing plans, so dumping it overseas seemed like the kind of thing they would do. Sadly, this means you're going to have to shell out a 50-60% premium to get one. Due to its size and general weirdness, I'd say it's worth it.
If Hasbro or the club redecorated this toy under a new name - say Nova Prime - fans would be losing their minds over it. As a not-Optimus character named Prime, this would be a positively huge deal that would spark the imaginations of fans and collectors. As Yet Another Optimus Toy, it's being ignored - it came out a year ago and I was holding my breath that this line would see some sort of legit US distribution. Hasbro came up with a solid toy that would probably be a wonderful and durable plaything for children, but American kids are unlikely to ever get this one. As I write up all these reviews, none are to be had on eBay or Amazon - you've got to find a collector shop that's off the beaten path online to get yours. And then pay a lot to ship them. I doubt any collector would be upset that they shelled out $30 to get a toy of this size and quality, but I also am willing to bet money that the cranky, fun-hating adult fans would whine that it's not a Masterpiece toy. I know I keep saying it, but I'd love to see Hasbro put this line out for American fans and then go on to redecorate the molds as new characters. After that, I'd love to see more new molds too. Since Optimus is a joy to transform, I can't not love it. I hope I'm still playing around with it a year from now, but it's hard to know what the future will hold once I get my mitts on deluxe-sized Titans Return toys. I can barely contain my glee that those are a thing that I'm going to own in just a few months.
--Adam Pawlus
Additional Images

Click here to see more Hasbro figures in Figure of the Day.
Click here to see more Transformers figures in Figure of the Day.

Want to buy this figure? Check Transformers availability at our sponsors:
Entertainment Earth