Clobber
Grimlock? Never heard of him.

Transformers Generations Titans Return Titan Masters
Item No.: Asst. B4697 No. B8357
Manufacturer: Hasbro
Includes: Tiny head robot, small dinosaur
Action Feature: Transforms from head to robot
Retail: $4.99
Availability: June 2016
Other: See also: Crashbash, Overboard

PREVIOUS
RSS
NEXT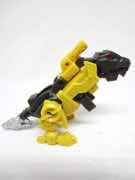 After Combiner Wars, the Titans Return line had a lot to live up to with a different play pattern and just as much margin for error in terms of form fit. By and large it has done admirably, with smaller toys like Clobber designed to fit not only with the parts in his own packaging, but (so far) every Legends, Deluxe, Voyager, Leader, and also Titan-class figure as well. That's not nothing. Some of those figures have issues with weak neck sockets or other problems, but the little guys like this are good. They have to be - otherwise the line's whole head-swapping gimmick falls to pieces.
This 1.5-inch robot is Crashbash with less paint and different plastic colors. The faceplate on his back was changed out from a Squeezeplay-inspired mug to a Grimlock-esque one, but aside from color the Dinobots' influence isn't really felt on the figure. He has an articulated neck, jointed shoulders, plus knees and hips. He's small, he's cute, he can pilot the vehicle modes of the bigger toys. You know how these guys work - and if you don't, you should go ahead and slap five dollars (plus tax) on the counter at a toy store and try one out. The little robot can ride this toy's dragon mode just fine, or be transformed into the body, arms, and jaw of a little cute t-rex.
The Clobber head mode looks like that original Grimlock head - more or less. The dark head and red visor are hard to mistake for anything else, and I have little doubt the "Clobber" name was used so kids asking for the current Robots in Disguise Grimlock don't get handed the wrong toy. It looks good on some of the larger molds, but it's mostly just a good start. Having this head mode makes me realize just how much I'd love a Voyager-class Grimlock with a Diaclone-inspired pilot's seat for this little guy, with a whole team of dinobots to go with him. I don't have this, so I'm going to be accepting of this nifty little tiny head which lets me pretend other toys are Grimlock. Were I so inclined, anyway.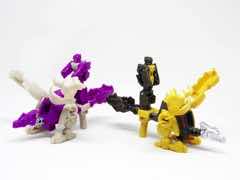 The dragon mode is a cute little fellow, with wings made out of his rib cage and a head made out of a dinosaur's tail. He's got a big head and little teeth, plus painted eyes and a "cannon" used to prop him up which also serves as a grip in blaster mode. Once transformed the articulation is probably something you won't enjoy much - nudging the wings or tilting the head probably won't bring you a ton of joy or variation in display potential. But it is a fun little dragon, and its cheap price point and simple nature makes it a good toy for the price.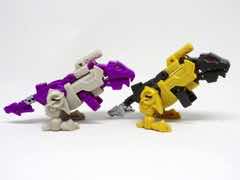 The dinosaur mold is a gem. He has little stubby arms, decent feet, a round little face, and colors that may remind you of the classic Grimlock from the 1980s. It may also remind you of this toy's two alternate US colorways, with - I assume - more coming. His arms don't have much of a range of movement, and while the jaw looks jointed you must allow me to assure you that it is not. Like many classic original Transformers, the fun of the toy is mostly in the transformation. While that may sound like a line of an apologist, Hasbro did squeeze five forms out of a $5 toy, so it's no slouch. Speaking of that last form, there's a weapon mode.
The bulk part of Clobber - the Dragon, or the Dinosaur body - can also become a gun for larger figures. Clobber's tiny robot may be plugged in if you're so inclined, and the feet make for gun barrels about as convincingly as you might think. With toys like this, especially ones with more than two modes, you're bound to have a few "let's pretend" modes - I'd say this one passes, but obviously you've seen better weapons. Little toys that can change form into a weapon are favorites of mine, but you'll rarely find one without vestigial traces of its other modes.
Despite being an entry-level price point in some of Hasbro's least communicative packaging, the Titan Masters toys like Grimlock are a fan's dream. They're little heads you can use for customs. They're a cheap thrill. Their engineering lets you swap out custom face plates from people like The Octavirate Forge. This is a toy for older fans and serious hobbyists who can do things like paint, but it's priced as an impulse buy. It's weird. I don't doubt kids would enjoy getting an extra head and weapon for his or her toys for $5, but these bring you more modes for your money than anything else Hasbro has ever done. Interest in the line seems to be dwindling in the face of the "hurry up and wait" release schedule for the first few waves and countless distractions in popular culture and systems of government, but recent reveals and a movie on the horizon will probably make Clobber and his ilk the go-to stocking stuffer next month. I'm quite fond of him... but I will say I hope Hasbro cools the repaint parade at 3. I'm good now. Let's maybe come up with a variant Shuffler as Big Convoy or Ironhide or something.
--Adam Pawlus
Additional Images

Click here to see more Hasbro figures in Figure of the Day.
Click here to see more Transformers figures in Figure of the Day.

Want to buy this figure? Check Transformers availability at our sponsors:
Entertainment Earth