Bumblebee & Grimlock
Bumblebee Redeco plus Grimlock Retool (or redeco)

Transformers Generations Platinum Edition
Item No.: No. B6353
Manufacturer: Hasbro
Includes: 2 robots in disguises, 2 swords, 1 shield
Action Feature: Transforms from Robot to Car and Dinosaur
Retail: $59.99
Availability: June 2016
Other: Entertainment Earth Exclusive

PREVIOUS
RSS
NEXT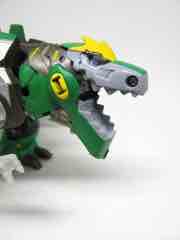 Sometimes it's obvious why you need to buy a Bumblebee & Grimlock and in this case, Grimlock is pretty obvious. Both are very popular characters and the first - possibly only - iterations of any character from this series in a "Platinum Edition" box. Bumblebee is basically the Warrior Class Bumblebee [FOTD #1,123] from late 2014, but with more and shinier paint. Grimlock is a retool of Fall of Cybertron Grimlock [FOTD #681] but an extensive one. This retool was also sold in Japan late last year, was quite expensive, and sold out. It was about $60 on its own, and the paint applications are different enough that it might be worth your while to get both.
Click here to order Bumblebee & Grimlock at Entertainment Earth!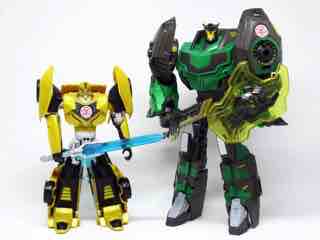 With some new hues, Bumblebee, is probably more interesting to kids or those who missed the first release than your hardcore collector. I'm quite fond of the mold, which seems to be unchanged. The figure now has a metallic gold plastic finish, which does a nice job of making a few of the details pop. Most (if not all) of the original paint applications are present and largely unchanged, with a couple of new ones. His toes are now painted metallic grey, and the sword now has a silver hilt. If you want a Bumblebee that looks a little more plussed up, this works. If you didn't get this mold yet - and you should get this mold - go ahead and get this one.
The car mode is similarly plussed up, but not too much. The biggest additions are red lights on the front of the car. Everything else is basically reskinned to match the metallic tones, giving you as different-but-not-too-different take on the yellow car. It's gold. Some rear lights would be nice, but that piece is completely unpainted just like on the original US release.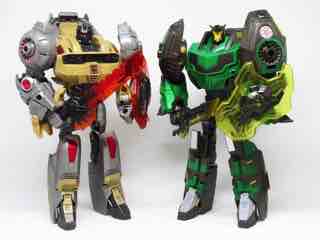 Bumblebee is arguably a nice bonus to the main course that is Grimlock, a heavily remolded take on the Fall of Cybertron toy from a few years ago. This is its first offering in the USA, and it's also painted quite differently than the Japanese Battle Grimlock from last year. At a hair over 7-inches tall, it's a hefty figure that seems to basically invert the deco on the Japanese release - a black torso with some green is now a green torso with some black. It's coated in candylike paint, giving it a more cartoony appearance than the metallic bronze-faced toys elsewhere in the line. Actually, it's worth noting that the "black" is really more of a rich, dark metallic grey. It turned out great! The colors make this sort of look like it's a smidgen off-model, but it's still neat. He's peppered with yellow lights and other details, with several on each arm. The figure's articulation is pretty good, but this mold was always more of a "looks good" than a "plays good" thanks to the shoulders being unable to lock in place. You can finagle some pretty nifty poses out of him that the other toys just can't do, and while the sword wasn't on the TV show it's a nice bonus. Grimlock's eyes have little outlines around them, which is either a charming detail or creepy. I don't know how you'll view it, but I do sort of miss the crooked smile sometimes shown on the TV show. This one is lively, but looks dignified - plus the bright colors make the face a little more visible.
Very few parts of the toy remain unchanged, despite being a retool of an older design. The reshelled Grimlock has carried over the old feet, but the vast majority of the parts that make up the chest, head, and visible dinosaur bits are all new. I'm kind of stunned they didn't just do up a whole new mold.
Transformation is largely the same as the previous iterations of the mold, with one key difference - there are no more electronics to be concerned about. The robot legs become a t-rex tail, the backpack becomes the dinosaur head and upper torso, and the robot arms become dinosaur legs. It's all pretty straightforward.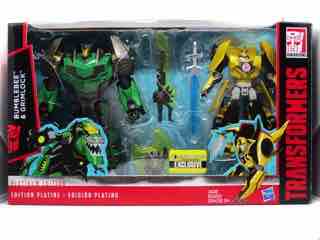 It ain't bad - but it doesn't match the previous toys or TV show, as it has more going on. There's a lot more silver here, such as on the sides of the chest and the tail. There's not as much green, and the black is largely a metallic grey. The dinosaur arms are undecorated and really don't match the other things too closely, but that's not necessarily a deal-breaker. Be sure to enjoy the articulated jaws and some nice coloring on the dinosaur head.
What really rewards collectors is how he's covered in tiny slots for Mini-Con accessories - like Divebomb's. I don't have a Divebomb, but if I did you could suit up Grimlock with little weapons. It's pretty neat. I wish one were included, but now I can go get one during lunch today, I hope.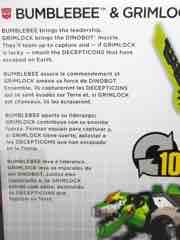 Platinum sets are a real curiosity, especially this set as it seems to be an awesome one for kids or newcomers to the TV show. Grimlock was designed to be a "Voyager-class toy" in response to some criticisms of the other Robots in Disguise Grimlocks being too simple, although this one does require some specific tab and slot placement to be cohesive. It's a fun toy, and a decent size, with some fancy paint. I'd say Grimlock makes this a worthwhile set, while Bumblebee is good if you dig metallic plastics. It really does bring the design to life, and if you don't have a Bumblebee this is as god of one to get as any. I don't expect there will be many other Platinum Edition sets from this particular show, but hey, I'm surprised all the time. If you missed other releases of these molds, this is a very splendid and worthwhile set. (I also work at the place selling it. You should know that.)
--Adam Pawlus
Additional Images

Click here to see more Hasbro figures in Figure of the Day.
Click here to see more Transformers figures in Figure of the Day.

Want to buy this figure? Check Transformers availability at our sponsors:
Entertainment Earth