Bumblebee
He's Not Optimus!

Transformers Robots in Disguise Warrior Class
Item No.: Asst. B0070 No. B1237
Manufacturer: Hasbro
Includes: Sword
Action Feature: Transforms from Car to Robot
Retail: $14.99
Availability: December 2014
Other: A Heroic Bee

PREVIOUS
RSS
NEXT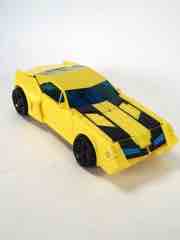 When I first saw Bumblebee I had the typical "oh gosh not another one" that anyone who follows this line feels. Back in the 1980s, Bumblebee was a beloved character with maybe a small handful of toys - by Beast Wars he was basically permanently retired, not to return until 2006 as a "Classics" toy. And then the movies. And then every new incarnation was guaranteed to have one or more Bumblebees, with many repaints. The character-as-a-brand has changed a bunch lately. In the G1 IDW comic book continuity he's dead, and in the new TV show the tease is that he's basically the new (or a new) Autobot leader while Optimus Prime is out. But we know Optimus comes back, because he always does, but until we find out how we've got a new Bumblebee with more heroic, Rodimus-y proportions. And eyebrows! And a mouth!
I'm amazed that it turned out to be pretty neat - but I should also admit, I don't own many Movieverse Bumblebees and have very few from Prime. So I'm not sick of the little yellow guy yet, and he doesn't look all that much like the popular kid-approved bot. The legs have vents kind of like Optimus Prime. The head has a sort of an Optimus Primey vibe in plaes, minus the antenna. His chest looks sort of like Rodimus in the comics, and I have to assume it's a retool (or at least custom) begging to happen. The figure is smooth and low on detail, but boy howdy is he fun and sturdy. Standing is a tad tricky - there are no heel spurs to keep him upright - so you'll need to balance him carefully. He has a neck joint, a waist joint, and about 16 points of articulation in all. I can put his hands on his hips, I can get him to look like he's drawing a sword off his "belt" (which doesn't exist), and he's a lot of fun to pose and mess with. For a figure that is a kid-driven, not-super-articulated cheapish release it's really quite fun.
Because of synergy, the figure has a big circle on his chest with an Autobot symbol inside a life preserver which serves as a sort of QR code in an app I'm never ever going to download (because I don't have a smart phone). It's a bit much - but it does help keep the bright yellow figure in the realm of "toy," which is something I need in my toy life. I love Windblade, but I am bonkers over Bee's simplicity. Really my only gripe is that this particular subline, while somewhat substantial, is not tall. He's on the shorter side of recent deluxe toys.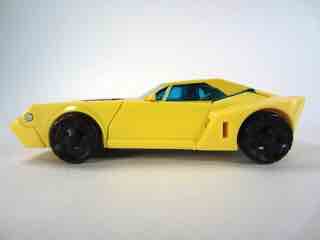 Transformation is pretty easy, and different. The doors connect to a panel under the car and it folds into a neat backpack that sort of gives him wings. The front chunk of the car hangs off his back, and everything pretty smoothly holds together. You can even put the sword under the car for storage - and it's a very nice sword, too. I like the blue plastic color, and the sculpt is really slick. It's a fun experience to move him around, to pose him, and to transform him.
Oh, and I'd also like to give Hasbro a pat on the back for being smarter about where Bumblebee's SKU gets hidden. The inside of his car door is a swell location, because it's on his back as a robot and invisible to the viewer as a car. Nicely done, Hasbro.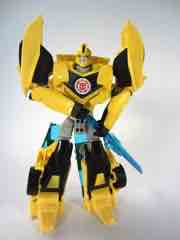 As a car, it's a car. Bumblebee is now seemingly permanently a yellow car with two black stripes, or a black car with some yellow stripes, and this sporty little vehicle is quite nice. The streamlined design stands out a bit - but not too much - and seems like a perfectly reasonable modern-but-futuristic car for an alien robot to hide inside. I kind of miss the 2005 designs we saw from the original 1986 movie, but man, those things were great. This car has wheels that roll, but no painted hubcaps and no metal axles. The yellow paint on the roof of the car is a close match to the yellow plastic of the rest of the vehicle, but not exactly, so that may bother you. I'll be OK, though. It's fun.
As a toy, Bumblebee is almost perfect - the back of his robot heels need some support, but otherwise I got one of the more fun deluxe-ish toys in years here. His biggest shortcoming may be his legacy, under another name with a different color he'd probably be your new favorite toy. I got this one as part of a 4-pack online with all of wave 1, and I'm glad I did - because otherwise I probably would have skipped him and missed out on a surprisingly endearing figure.
--Adam Pawlus
Additional Images
Additional Transformers Robots in Disguise Warriors 2015 Wave 1 Images

Click here to see more Hasbro figures in Figure of the Day.
Click here to see more Transformers figures in Figure of the Day.

Want to buy this figure? Check Transformers availability at our sponsors:
Entertainment Earth