Packrat
The Thief

Transformers Timelines BotCon 2015 Boxed Set Toys
Item No.: No. 337079 / 7655000641
Manufacturer: Hasbro
Includes: 2-piece blaster, bomb in wrist
Action Feature: Transforms from rat to robot
Retail: $300-$400
Availability: June 2015
Other: Rattrap redeco

PREVIOUS
RSS
NEXT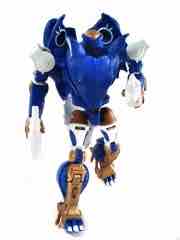 If you were an active fan in the 1990s, Packrat is a low-level legend in that this BotCon exclusive is an update of a BotCon exclusive. The price of the 1997 Fractyl & Packrat set seems to be in freefall, perhaps because of this update - or people just having more interesting things to buy. If you bought the Thrilling 30 Rattrap, it's the same mold - for good or for ill - but now he's blue. That was enough to get me to want it, but I'd be lying if I said this was a figure that was a lot of fun. As part of a supergroup of bad guys, the Maximal is missing any faction markings and has roughly the same amount of paint as his ancestor in robot mode, and a little more in his rat form.
Our blue Maximal thief is a decent robot - not great. Not terrible. 13 joints and 5-inches tall, Packrat has no problem standing or holding his gun. It's a tight fit, but the two-piece blaster fits in his gold-painted hands without too much fuss. A white bomb is hidden in his left forearm, just pop open the lid and presto - explosives. Articulation on this robot would best be described as acceptable - with shoulders, elbows, hips, knees, and thighs, they did a nice job. The elbows won't bend beyond about 135 degrees, which is a real disappointment as these toys go. Most figures can at least give you a right angle. Since this collector figure will mostly just stand around, you may choose to forgive the fact that as a toy, it ain't great. Little greeblies are painted white over his shoulders, he has white claws, an a cleanly-painted slathering of white paint on the shoulders was done so well, i thought it might be white plastic at first glance. BotCon's factory of choice did a bang-up job ensuring that this toy looked like a million bucks. Given the price tag, you can understand why.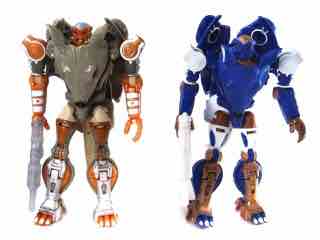 Transformation continues to be a bear. Flipping panels in the feet and massaging the rat parts together is a trial, the simplicity of the 1990s original is sorely missed and the 2014 Rattrap mold's charms have not grown on me in the last year. I like Rattrap as a character, and the original toy, but this mold needed some more time in the oven. It's clever to see how they integrated the rat limbs into the back of the robot legs, but it's not exactly fun to split everything apart and fit it together. For fans who continue to praise toy complexity as if it is more important than being fun, you are wrong.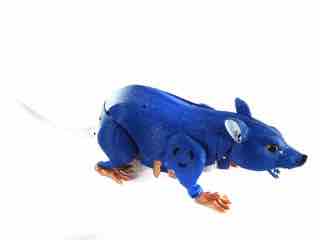 Packrat has a wonderfully painted rat mode, appearing about as realistic as a blue rodent might. The eyes are no longer one color - some yellow brings them to life. White inner ears pop, with a black nose and bright white teeth inside the opening mouth. His little rat hands are a dark brown color, which contrasts nicely with the painted white highlights on the furry rump and tail. This feels more like a cartoon character from the golden age of Filmation, where Hal Sutherland's visual disability inadvertently resulted in some genuinely gorgeous and bizarrely colored characters. Packrat feels like a creative glitch, which he isn't, but if it weren't for the character's previous appearance as a toy the color would be baffling. And if you drill down, it still is.
Rattrap fans may recall an extra piece of furry skin in the rat neck which allows the figure to stand on his hind legs and still look ahead. This moving panel adds a lot of personality to the toy, and it's a great little engineering extra that makes the rat mode look a tiny bit better. Of course, when standing on his hind legs you can see a bunch of robot parts in his belly. It's something, not spectacular, but certainly neat enough.
Because of Packrat's history over the last two decades, his reappearance delighted me even though I knew the toy was going to be - at best - just OK. I cringe at having to transform the toy for review photos, and will probably never change him again after I post this feature. I like looking at him. He's neat. But fun? Not at all. Get it if you're getting the set for Oilmaster or the others, get it if you're tickled by the idea, but if you think this may be a great fun toy I suggest that you just save up for the 1997 original.
--Adam Pawlus
Additional Images
Additional Transformers BotCon 2015 Bagged Set Images

Click here to see more Hasbro figures in Figure of the Day.
Click here to see more Transformers figures in Figure of the Day.

Want to buy this figure? Check Transformers availability at our sponsors:
Entertainment Earth