Slipstream
Animated? Or Generation One?

Transformers Legends LG 16
Item No.: No. ???
Manufacturer: Takara-Tomy
Includes: 2 cannons
Action Feature: Changes from VTOL Jet to Robot
Retail: 3,100 yen (or $21-$30 at importers)
Availability: October 2015
Other: Retool of Windblade

PREVIOUS
RSS
NEXT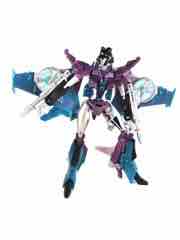 For a character that started life as a female clone of Starscream, Slipstream has carved out a bit of a fanbase being her own woman. The Fan Club got her as a toy Starscream remold with a new head, plus she has made appearances in a few video games. This particular toy is a remold of Windblade with a new head, new guns, and a new torso - and if you believe TFWiki, is meant to be the Animated character. The included comic seems to show the Animated character getting a new body - but then she appears in a continuity with G1 Arcee and others, so I'm not quite sure what that means as dimension-hopping goes. All I know is the aesthetics mean she's probably going on a "classic" shelf.
The figure has a mix of metallic plastic and metallic paint, delivering you a figure that looks a lot like a mix of a "Generations" figure and the deco of the Japanese "Animated" toys which for some reason had metallic paint. The comics seem to place the characters in some new special world, so I guess whatever you want to do is cool. Here's hoping she shows up in the comics - it's a nice design.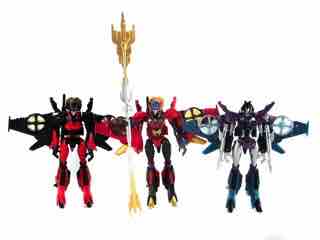 Slipstream's head is great, mostly. The back half of the head is clear, colorless plastic with red painted eyes - almost light-up eyes. The head has a great smirk on it, but I wouldn't say it's exaggerated or cartoony. She has a little more emotion in her face than Windblade, but the feel isn't all that different. Her red eyes have a clear outline because, well, painted eyes on clear plastic generally don't turn out great. Her nose being formed by a widow's peak coming down from her helmet is consistent with the design of Animated Starscream, making this figure a decent catch-all in any collection. Her chest is more Starscreamy with a great false canopy complete with clear blue plastic. It's a charming mold, and one I hope they use to repaint and make more new characters.
Without remolding the arms, Takara Tomy came up with a great solution to give her null rays, or arm cannons, or whatever you want to call them. They fit over the fins on her arms and can be mounted in either direction - they face away from her body and toward her hands for robot mode, or in the opposite direction as a jet. It's a tight fit, and I don't know if I'll be prying them off much down the road.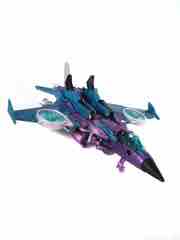 Transformation from jet to robot, well, you've probably got a Windblade by now. She's the same. The parts are a little weirder in the nosecone area thanks to the new head and chest, but you can swing it. They fit together well.
As a jet, she's very much a redecorated Windblade. You can see a little difference under her nosecone thanks to the parts used for the head and chest, but aside from that everything is held over from the previous toy with new colors. The retractable landing gear under the nose is nice, the Decepticon symbols are on the bottoms of the wings (so you can see them in robot mode), and the clear parts are a lovely blue. I like the coloring here more than Windblade, just because she's a little brighter overall. The metallic paint is real nice too, so kudos to Takara Tomy for taking a good toy and making it different, yet still totally good. Like most vehicles, she doesn't do much - her blades on her wings spin, and that landing gear moves, and... she exists. There's not a lot of play action here, but I do love the paint job. It's really cool, very late-G1.
As either the final Animated toy or as yet another Generations toy, however you display her, she's pretty neat. With no known plans to dump Slipstream in the USA, it's probably worth your while to do some comparison shopping now and snag one if you can. Just look at it this way - $20-$30 is more than a Hasbro toy in the USA, but it's a lot cheaper than a Fan Club toy. I dig it, and it's one of many favorites from Hasbro and Takara in 2015 - get her if you can. And if anyone from IDW is reading, I'd love to see her show up and do something in the comics.
--Adam Pawlus
Additional Images
Additional Transformers Legends October 2015 Wave Images

See more Takara-Tomy figures in Figure of the Day:
Day 180: Takara-Tomy Transformers Animated Ironhide (Bulkhead) Key Chain
Day 435: Takara-Tomy Transformers Prime Gacha Arms Micron Optimus Prime Blaster
Day 476: Takara-Tomy Transformers Prime Bumblebee Sword Action Figure
Day 495: Takara-Tomy Beast Saga Raioga Action Figure
Day 529: Takara-Tomy Beast Saga Kingdom of Sea Death Action Figure Set
Day 534: Takara-Tomy Beast Saga Dolphin Burst Action Figure
Day 540: Takara-Tomy Beast Saga Kingdom of Gloria Action Figure Set
Day 544: Takara-Tomy Beast Saga Aldyle Action Figure
Day 549: Takara-Tomy Beast Saga Dorfan Action Figure
Day 551: Takara-Tomy Beast Saga Eledram Elephant Action Figure
Day 564: Takara-Tomy Beast Saga DX Starter Set Action Figure Set
Day 568: Takara-Tomy Beast Saga Tarlock Action Figure
Day 573: Takara-Tomy Beast Saga Long Giraf Action Figure
Day 579: Takara-Tomy Beast Saga Garrison G Action Figure
Day 580: Takara-Tomy Beast Saga GachaBooster General Hawk Knight Action Figure
Day 585: Takara-Tomy Beast Saga Beast Machines Sky Darling Vehicle
Day 586: Takara-Tomy Beast Saga Killer Shark Burst Action Figure
Day 593: Takara-Tomy Beast Saga Rynas Action Figure
Day 595: Takara-Tomy Beast Saga Seylas Action Figure
Day 597: Takara-Tomy Transformers Prime Zad Action Figure
Day 601: Takara-Tomy Beast Saga Bamet Burst Action Figure
Day 616: Takara-Tomy Beast Saga Long Giraf Burst Action Figure
Day 622: Takara-Tomy Beast Saga Bamet Action Figure
Day 626: Takara-Tomy Beast Saga Killer Shark Action Figure
Day 637: Takara-Tomy Beast Saga Liorga Action Figure
Day 642: Takara-Tomy Beast Saga Aldyle Burst Action Figure
Day 663: Takara-Tomy Beast Saga Janjan Action Figure
Day 669: Takara-Tomy Beast Saga Ogre Burst Action Figure
Day 678: Takara-Tomy Beast Saga Swordbill Action Figure
Day 693: Takara-Tomy Beast Saga Guarl Burst Action Figure
Day 715: Takara-Tomy Beast Saga Guarl Action Figure
Day 824: Takara-Tomy Beast Saga Mantaray Action Figure
Day 828: Takara-Tomy Beast Saga Aljaylo Action Figure
Day 839: Takara-Tomy Beast Saga Ogre Action Figure
Day 846: Takara-Tomy Beast Saga Dakker Action Figure
Day 856: Takara-Tomy Beast Saga Moreek Action Figure
Day 873: Takara-Tomy Beast Saga Wonderriver Action Figure
Day 905: Takara-Tomy Transformers Masterpiece Edition Lambor G-2 Ver.
Day 937: Takara-Tomy Beast Saga Rynas Burst Action Figure
Day 974: Takara-Tomy Beast Saga Super Win Deck Impact Set Action Figure Set
Day 993: Takara-Tomy Beast Saga Kannigal Burst Action Figure
Day 1,127: Takara-Tomy Transformers Sega Genesis Megatron Action Figure
Day 1,207: Takara-Tomy Transformers United Rumble & Frenzy
Day 1,224: Takara-Tomy Transformers Adventure Roadblock
Day 1,242: Takara-Tomy Transformers Go! Go
Day 1,247: Takara-Tomy Transformers Go! Sen
Day 1,259: Takara-Tomy Transformers Go! Geki
Day 1,262: Takara-Tomy Transformers Masterpiece Bumble G-2 Ver.
Day 1,273: Takara-Tomy Transformers Go! Ex
Day 1,284: Takara-Tomy Transformers Go! Shou
Day 1,310: Takara-Tomy Transformers Legends Slipstream
Day 1,327: Takara-Tomy Transformers Unite Warriors Grand Scourge
Day 1,328: Takara-Tomy Transformers Unite Warriors Nightbird Shadow
Day 1,326: Takara-Tomy Beast Saga Buffam Action Figure
Day 1,328: Takara-Tomy Transformers Adventure Override
Day 1,332: Takara-Tomy Beast Saga Bunikis Action Figure
Day 1,339: Takara-Tomy Beast Saga Aljaylo Burst Action Figure
Day 1,357: Takara-Tomy Transformers United Stepper
Day 1,381: Takara-Tomy Beast Saga Eledram Burst Action Figure
Day 1,429: Takara-Tomy Transformers Legends Armada Starscream Super Mode
Day 1,468: Takara-Tomy Transformers Unite Warriors Grand Galvatron
Day 1,471: Takara-Tomy Zoids Masterpiece Shield Liger
Day 1,496: Takara-Tomy Beast Saga Dacker Burst Action Figure
Day 1,627: Takara-Tomy Transformers Legends Convobat
Day 1,670: Takara-Tomy Transformers Legends Leo Prime
Day 1,814: Takara-Tomy Beast Saga Mantaray Burst Action Figure
Day 1,842: Takara-Tomy Transformers Legends Blackarachnia
Day 1,911: Takara-Tomy Beast Saga Wolfen Burst Action Figure
Day 1,964: Takara-Tomy Beast Saga Buffam Burst Action Figure
Day 2,000: Takara-Tomy Zoids Wild ZW-05 Gannontoise Figure Kit
Day 2,006: Takara-Tomy Beast Saga Raioga Burst Action Figure
Day 2,008: Takara-Tomy Zoids Wild ZW-01 Wild Liger Figure Kit
Day 2,013: Takara-Tomy Zoids Wild ZW-03 Kabtor Figure Kit
Day 2,017: Takara-Tomy Zoids Wild ZW-04 Scorpear Figure Kit
Day 2,039: Takara-Tomy Zoids Wild ZW-06 Gabrigator Figure Kit
Day 2,075: Takara-Tomy Zoids Wild ZW-07 Kuwaga Figure Kit
Day 2,191: Takara-Tomy Transformers Generations Selects Deluxe Gulf (Skalor) Action Figure
Day 2,200: Takara-Tomy Transformers Generations Selects Deluxe Turtler (Snaptrap) Action Figure
Day 2,213: Takara-Tomy Beast Saga Kannigal Action Figure
Day 2,273: Takara-Tomy Transformers Generations Selects Voyager Super Megatron Action Figure
Day 2,463: Takara-Tomy Beast Saga Moreek Burst Action Figure

Click here to see more Transformers figures in Figure of the Day.

Want to buy this figure? Check Transformers availability at our sponsors:
Entertainment Earth