Mirage
Optimus Maximus #2 of 5

Transformers Generations Combiner Wars Deluxe
Item No.: Asst. B0974 No. B3059
Manufacturer: Hasbro
Includes: Comic book, sword, hand/foot/weapon
Action Feature: Transforms from Robot to Race Car to Hand to Foot
Retail: $15.99
Availability: August 2015
Other: Retooled from Dragstrip

PREVIOUS
RSS
NEXT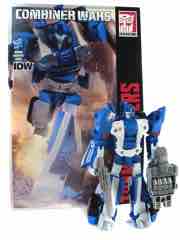 We knew Mirage was coming. He gets a lot of love, between Robot Masters and the original Classics line and Alternators and beyond, it's a recognizable character with a good look and great coloring. It's also handy that Dragstrip was made, so you an get a reasonable update of him out of that mold. Sure, the configuration is different but it's not like the original Mirage was a combiner limb, either.
The robot mode is Drag Strip with a new head that looks like Mirage - the body and accessories are largely unchanged beyond decoration. It's still a good, fun mold - the blue eyes and silver face are a nice touch, and everything else basically works. He has some white paint on his arms and legs, and is largely white or blue plastic. Really, the main difference is that the chest is backwards - if there was a way to swap that around more easily and maintain the bending elbows, this would be a fantastic update of the original toy. The colors and articulation are great, and the figure's personality is pretty fantastic. He sports about 20ish useful points of articulation - depending on if you want to count the ankles or wrists - and you may as well.
He has no problems holding his sword/gun or his hand/foot/gun, as his fists are the traditional and much appreciated 5mm peg holes.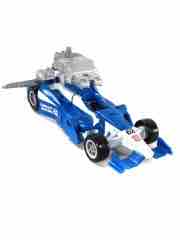 Transformation is a snap - if you have played with multiple Combiner Wars toys you basically know what to expect. The arms tuck in to the body, the front chunk of the cars unfolds from the back, and the legs slide up - and presto changeo, you've got yourself a nice little car.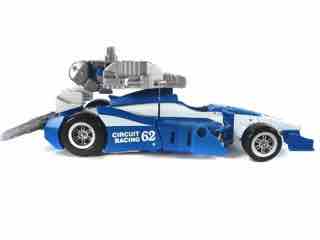 This vehicle looks a lot like Mirage! He has an Autobot logo, the 62 on his car mode, plus some "Circuit Racing" rally markings because why not. It's not as involved or in-jokey as the Classics version, but it's easier to find and has more play features. With rolling wheels and lip service paid to on-car weapon storage, it does what it needs to do. The odd angles of the sword's pegs don't integrate well with the car, and the hand fits as well as you might expect - really, only Sunstreaker nails its integration.
As an arm or a leg, it's exactly like Dragstrip - excellent. The articulation on the arm mode is great, with bending elbows and a swiveling piece thanks to his waist joint. As a leg, well, it's just a lower leg - it only moves at the "knee" really. The hand/foot accessory works fairly well, and it's worth noting it's molded in grey and painted silver - but only on the largest piece. The fingers/pegs/talonthumb part are unpainted grey. The same is true of the entire wave of figures.
If you don't have a Mirage, get this one - after all, it's fun to play with. If you have many Mirages, maybe you still want this one - it's a fun gimmick and he looks sufficiently different than Drag Strip. I don't regret picking this one up one bit, but if we get 3-4 more recolors that could change - as of right now, though, we're not expecting many more beyond a G2 version of Drag Strip... which, incidentally, looks a bit like G1 Mirage. I'll still buy it.
--Adam Pawlus
Additional Images

Click here to see more Hasbro figures in Figure of the Day.

Click here to see more Transformers figures in Figure of the Day.

Want to buy this figure? Check Transformers availability at our sponsors:
Entertainment Earth