Strafe
Dollar Store Assortment

Transformers Age of Extinction Legends
Item No.: Asst. A7725 No. A9533
Manufacturer: Hasbro
Includes: n/a
Action Feature: Transforms from Robot to Dinosaur Thing
Retail: $5.00 - $7.25
Availability: September 2014
Other: Blue Redeco of Prime Windrazor

PREVIOUS
RSS
NEXT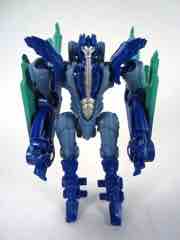 I actually have been in a few arguments with people on how to categorize this dollar store exclusive Strafe figure. I see some people categorize it as a Generation 1 toy, while others put it under a generic "Transformers" brand or Age of Extinction. Given how things usually works - packaging template dictates categorization - the red and white line look of 2014 was for the movie, and flying blue dinobots named Strafe are typical for the movie, so that's how we're going to go here.
The packaging itself is a real mess, and I dig that. On the front you see a picture of the toy, a recolored piece of artwork of Generation 1 Swoop in Strafe colors, and the fourth movie logo. The back of the packaging shows the toy, but the instructions show the 1996 Terrorsaur toy from Beast Wars. Clearly, someone was asleep at the wheel here - bootleggers are usually wildly wrong but this line is packed with errors on Hasbro's part. It doesn't hurt the toy much, but generally speaking Transformers benefit from good instructions. Oh, and the stock photo on the back shows a weapon for the figure, and none is included.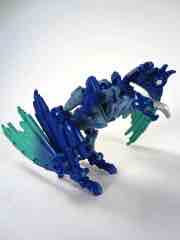 The one-headed dinosaur creature has but one head, but a nice hefty 6-inch wingspan. Without the wings it's still a pretty beefy beast mode, but the wings seem to be an easy way for a company to make a big claim about size on a modest toy. The sculpted detailing is about normal for this class of toy, and if you bought Windrazor you know what to expect. This figure has a cool blue fade on the wings, plus a nice silver crest on the head and beak. Light blue eyes and an open mouth give him a decent personality, although the wings are really the element that overpowers the figure. A large tail is also present which would have made a great removable weapon. Alas, this was not meant to be, so what you have here is a decent, sturdy little guy who could, in theory, fly. It's a pretty swell Autobot and the greenish blue on the wings make him really stand out from other figures we've had in recent memory, especially Strafe figures. I would argue this figure looks better than his yellow and green Predacon ancestor, the head really pops nicely as a "dinosaur."
The blue/silver combo carries over nicely to robot mode, bringing you another 3-inch Autobot warrior for your toy stash. While my sample didn't seem to have a readily visible Autobot symbol, it is a pretty nice figure and the silver paint helps bring the detail forward nicely. Thanks to how the helmet is decorated, the usually noseless helmeted Prime robots now look like they have a giant schnozz if you get in close. I like it! The shadows dance off the sculpt nicely, bringing to life a figure that's very different from other takes of the mold and of the character. It's almost a shame that they squandered the design on a somewhat hard-to-find cheap toy that's off the radar for most collectors but hey - that means kids can get it. This is certainly a good thing. The articulation is decent with jointed shoulders, elbows, hips, and ankles plus a good center of gravity.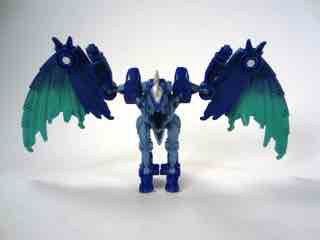 I was excited to get this figure and the companion Grimlock from the assortment, but it turned out this was the better overall figure. I like the colors more, I like the deco more, and both modes turned out very nicely. If you have five bones to blow and access to a Big Lots! store, you would be well-served to track this one down for your desk at work or your smaller toy collection. There's no larger equivalent of this mold in these colors, so this is the best one you can get.
--Adam Pawlus
Additional Images

Click here to see more Hasbro figures in Figure of the Day.
Click here to see more Transformers figures in Figure of the Day.

Want to buy this figure? Check Transformers availability at our sponsors:
Entertainment Earth