Deluxe Flesh with OMFG Logo Edition (OMFG Exclusive Painted Flesh)
10-Pack of Flesh with Paint

Mordles 24 Hour Toy Break Exclusive - October Toys
Item No.: n/a
Manufacturer: ToyFinity
Includes: 10 figures
Action Feature: n/a
Retail: $12.00
Availability: February 12, 2015
Other: First Logo Mordles in this Size

PREVIOUS
RSS
NEXT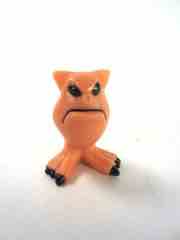 New and unique Mordles are hard to pull of, because so far the biggest differences we see from release to release are colors. The Deluxe Flesh with OMFG Logo Mordles are the first versions of the little guys with tramp stamps, specifically the OMFG logo on the back of each one. And it actually really works - you could totally put other faction markings on these if you really felt like it!
If you've been with us for the long haul you know what to expect - the flesh color has black eyes, teeth, and claws (or a totally unpainted version also available) plus the aforementioned marking on the back. Each figure is pretty dang short, and the flesh color is just a pinch pinker than the SUCKLE and MUSCLE figures - but it's very, very close to the impossible-to-match fleshtone. This extra marking - which in the grand scheme of thing really makes no sense - elevates the set to one you should probably snag, just because it's a unique feature. And it's also not like we're drowning in new Mordle colors lately as it is.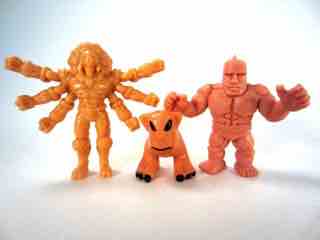 The black paint is nice and glossy, making the eyes into cold, black marbles of death and the teeth into creepy fangs. The claws look like nice glossy claws, so there's not much to that. Thanks to the pale skin and dark eyes, it almost makes it look like these are hairless, shaved cave dwellers. You get pretty much the same look as the classic Rocks & Bugs & Things food figures, unfortunately I still need a rock or a bug here.
I do not need more Mordles. Like, at all. But here I am, buying more. They didn't sell out at first, and without new designs or rocks or bugs it is tougher to get excited about the same 10 sculpts over and over again... but when you do something like this, they become compelling again. I'd love to see more markings on them in the future if they're going to keep busting them out, if for no reason other than to get me to pick some up. Might I suggest drool/blood coming out of the mouths, or perhaps spots or stripes on their backs? I'd drop the extra $2 per 10-pack for something like that to keep it interesting.
--Adam Pawlus
Additional Images


See more ToyFinity in Figure of the Day:
Day 680: ToyFinity Mordles Crawler (Blue) Mini-Figures
Day 690: ToyFinity Mordles Standard Edition (Yellow) Mini-Figures
Day 733: ToyFinity Mordles Solar Storm (Hot Pink) Mini-Figures
Day 787: ToyFinity Mordles Club Mordle Packet Mini-Figures
Day 790: ToyFinity Robo Force Genesis Edition Action Figure
Day 794: ToyFinity Mordles Rampaging Storm Edition (Green) Mini-Figures
Day 798: ToyFinity Mordles Imbalance of Blood Vinyl Figure
Day 859: ToyFinity Mordles Geihoza Vinyl Figure
Day 896: ToyFinity Mordles Quinhozs Vinyl Figure
Day 941: ToyFinity Mordles Geist Mordles
Day 975: ToyFinity Mordles EGD Vinyl Figure
Day 1,026: ToyFinity Mordles Night Mordle Vinyl Figure
Day 1,105: ToyFinity Robo Force Basic Edition Action Figure
Day 1,124: ToyFinity Mordles Electra-Geist Mordles
Day 1,152: ToyFinity Mordles Deluxe Flesh with OMFG Logo Mordles
Day 1,168: ToyFinity Mordles Club Mordle Packet

See more Mordles and Rocks and Bugs and Things in Figure of the Day:
Day 680: ToyFinity Mordles Crawler (Blue) Mini-Figures
Day 690: ToyFinity Mordles Standard Edition (Yellow) Mini-Figures
Day 733: ToyFinity Mordles Solar Storm (Hot Pink) Mini-Figures
Day 787: ToyFinity Mordles Club Mordle Packet Mini-Figures
Day 794: ToyFinity Mordles Rampaging Storm Edition (Green) Mini-Figures
Day 798: ToyFinity Mordles Imbalance of Blood Vinyl Figure
Day 859: ToyFinity Mordles Geihoza Vinyl Figure
Day 896: ToyFinity Mordles Quinhozs Vinyl Figure
Day 941: ToyFinity Mordles Geist Mordles
Day 975: ToyFinity Mordles EGD Vinyl Figure
Day 1,026: ToyFinity Mordles Night Mordle Vinyl Figure
Day 1,124: ToyFinity Mordles Electra-Geist Mordles
Day 1,152: ToyFinity Mordles Deluxe Flesh with OMFG Logo Mordles
Day 1,168: ToyFinity Mordles Club Mordle Packet