Tony Millionaire Batman Statue
From the creator of Sock Monkey and Maakies

Batman Batman Black and White Figure
Item No.: No. 32706
Manufacturer: DC Collectibles
Includes: n/a
Action Feature: n/a
Retail: $79.99
Availability: August 2015
Other: Sample #987

PREVIOUS
RSS
NEXT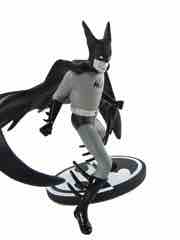 The Tony Millionaire Batman Statue is many many years in the making. A long time ago, I believe when DC Collectibles was still DC Direct, we were kicking around ideas for exclusives - I brought up a few of my favorite artists, people I thought would be fun to see do Batman and I asked about two of them as strong possibilities. The other artist went on to do some Batman art for another company, but this was prototyped and shown at Toy Fair in 2013 - stuff happens, as they say, and he didn't make it out until 2015 as originally intended as an Entertainment Earth exclusive. So I'm biased, obviously.
If you're a fan of the band They Might Be Giants or the comics Sock Monkey or Maakies, you've probably seen Tony Millionaire's artwork. He was also responsible for the stylings of the animated Uncle Gabby on Adult Swim as well as SNL's wonderful Maakies shorts - many of which featured the voice of his brother-in-law, Andy Richter. I'm a fan. Most of the artists of these black and white statues contributed to the comics or cartoons, and while there is a Tony Millionaire Batman comic he's not exactly famous because of it. He's more known for his old houses, his ships, and his primates. This roughly 6 1/2-inch tall statue has a huge, flowing cape plus a slightly more haggard version of the Bat than we're used to seeing. He's clean-shaven but he's clearly a little older and a little more likely to have been building ships in bottles. Also, his physique is - as odd as this is to say - more convincingly realistic than most interpretations of the comic detective.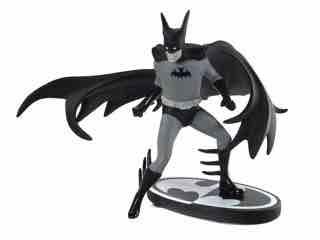 Since it's a statue, this resin collectible has no articulation - it is what you see here. It's pretty neat too, but it's also an item for a more narrow audience. It's a Batman for people who don't necessarily love the ultra-heroics, the Atlas physiques, it's a Batman that has taken a few more punches and spent a little less time at the gym than his similarly named counterparts. The boots and gloves are glossy, plus there are numerous wonderful sharp flourishes between the boots and gloves thanks to sculptor Tony Cipriano. They're thin and pointy, so be careful when displaying this - falling would be bad. The cape alone if a vast undertaking, covered in creases and flowing with a life of its own.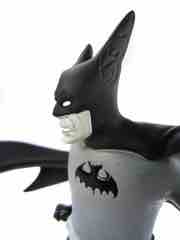 When it comes to action figures, you buy them because you like the character, or they're fun, or they're cheap. Statues are more of a relationship - you have to find somewhere to display it, and you need to take good care of it because it's expensive and snapping a cape isn't quite the same as losing a minor accessory. With a display base and little else, this is a gorgeous figure that is hugely appealing if you're a fan of the artist. And if not, you're probably very confused to see something like this exist. Believe you me, it's awesome - if you get it.
--Adam Pawlus
Additional Images

See more DC Direct and DC Collectibles figures in Figure of the Day:
Day 18: DC Direct Pocket Super Heroes Sinestro Action Figure
Day 1,312: DC Collectibles Batman Tony Millionaire Batman Statue

See more Batman figures in Figure of the Day:
Day 1: Funko Force 2.0 Comic-Con Exclusive Batman
Day 398: Kenner Batman: The Animated Series Clayface
Day 408: Kenner Legends of Batman Future Batman
Day 441: Kenner Batman: The Animated Series Harley Quinn
Day 443: Kenner Batman: The Animated Series Machine Gun Joker
Day 444: Kenner Batman: The Animated Movie Mask of the Phantasm Phantasm
Day 445: Ertl Batman Returns Penguin Commando Die-Cast Metal Figure
Day 446: Kenner Legends of Batman Knightquest Batman
Day 447: Mattel DC Universe Classics All-Stars Batman
Day 457: Kenner Batman: The Animated Series Ra's Al Ghul
Day 685: Mattel Hot Wheels Batmobile (Tim Burton, 2013)
Day 708: Mattel Hot Wheels Batman Live Batmobile
Day 714: Mattel Matchbox Batmobile Die-Cast Metal Vehicle
Day 735: Mattel Batman Classic TV Series Batman & Robin Action Figure Set
Day 740: Mattel Batman Classic TV Series The Penguin Action Figure
Day 742: Mattel Hot Wheels Batcopter Die-Cast Metal Vehicle
Day 756: Mattel Batman Classic TV Series The Joker Action Figure
Day 761: Mattel Batman Classic TV Series The Riddler Action Figure
Day 778: Mattel Batman Classic TV Series Batman Action Figure
Day 780: Mattel Batman Classic TV Series Catwoman Action Figure
Day 783: Mattel Batman Classic TV Series Surf's Up Batman Action Figure
Day 898: Mattel Batman Batman
Day 1.172: Mattel Batman The Joker
Day 1,197: Funko Batman Ice Freeze Batman Reject
Day 1,305: Funko Pop! DC Comics Super Heroes Orange Batman Vinyl Figure
Day 1,312: DC Collectibles Batman Tony Millionaire Batman Statue
Day 1,383: Mattel Hot Wheels Dawn of Justice Batmobile
Day 1,388: Bif Bang Pow! Peg Pals Batman Armored
Day 1,400: Funko Dorbz DC Comics Super Heroes Orange Batman Vinyl Figure
Day 1,512: Jakks Pacific Batman v. Superman: Dawn of Justice Jokers Wild Batman
Day 1,539: Mattel Batman v. Superman Mighty Minis Series 2 Silver Batman
Day 1,680: The LEGO Batman Movie Catman
Day 1,753: Funko 9POA Batman 1966 TV Series Batman and Robin Action Figures with Batmobile
Day 1,847: Funko Pop! DC Comics Super Heroes Retro Batman Vinyl Figure
Day 1,983: Entertainment Earth Justice League Batman Push Puppet
Day 2,100: Fisher-Price Imaginext DC Super Friends Batman & Swamp Thing Action Figures
Day 2,190: Kenner Batman: The Dark Knight Collection Tec-Shield Batman Action Figure
Day 2,199: Kenner Batman Returns Penguin Commandos Action Figures
Day 2,217: Kenner Batman: The Dark Knight Collection Iron Winch Batman Action Figure
Day 2,239: Fisher-Price Imaginext DC Super Friends Slammers Arctic Sled with Mr. Freeze Set
Day 2,249: Fisher-Price Imaginext DC Super Friends Slammers Batmobile with Batman Set
Day 2,257: Fisher-Price Imaginext DC Super Friends Surround Sound Batcave Playset
Day 2,493: Spin Master DC Comics Justice League 4-Inch Action Figures 6-Pack
Day 2,622: Kenner Batman: The Animated Series Killer Croc Action Figure
Day 2,645: Kenner Batman: The Animated Series The Riddler Action Figure
Day 2,651: Wendy's DC Universe Batman, Catwoman, and Nightwing (Red)