Electron+
The Man from Pluto

Outer Space Men Action Figure Xpress San Diego Comic-Con Exclusives
Item No.: n/a
Manufacturer: Four Horsemen
Includes: Alternate arms, ray gun, staff thing, 7 more figures
Action Feature: Rotate knob to change to one of three different faces
Retail: $115.00 (sold as a set with Astro-Nautilus, Inferno, Xodiac, Alpha 7, Mystron, Commander Comet, and Metamorpho)
Availability: July 2013
Other: The Sparsely Decorated White Plastic One

PREVIOUS
RSS
NEXT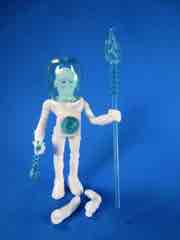 Space is a fascinating thing - heck, science in general is great as it changes our perception of the world, and our toys follow. This entire line was conceived before man ever sat foot on the moon, so the potential for our being alone in the solar system was a lot different. We didn't open the box and kill life on other planets yet, so the notion that something could be out there wasn't quite as fanciful as it appears today. With the recent visit to Pluto, it makes sense that we look at White Star Electron+ as he was still in the hopper. A lot has changed in the last two years, namely the line finished its five-year mission and the license expired over at the Four Horsemen. New figures may be coming, but the prices of some old figures have plummeted thanks to what one sharp toy collector referred to as "punitive" repaints. He's not wrong. The White Star set was a $115 Comic-Con exclusive set that kicked off an almost complete set of all-white figures based on all the molds. As of now, it remains incomplete - infuriating on multiple levels, not the least of which is this gorgeous, imaginative toy line going from maybe 13-25 figures to over 80 with all the repaints included. At press time I still haven't opened all the White Star releases. And to be honest, the $10-$15 recolors weren't really a problem - it's when we saw prices swing higher for one-color unpainted figures than the painted ones, followed by the less-imaginative white figures, where this line stopped being fun. If they kept making $10 one-color rereleases or glowing ones with reasonable shipping (read: release 4 or more figures at a time to amortize S&H costs) I'd have been down. But $125 for a bland set like this? Well, the going rate on eBay 14 white figures for $60 really does drive the point home of why you don't bore your loyal fans to death.
I own a half dozen of this figure - which isn't part of the problem. If you look at the other figures, they're pretty great. One glows in the dark. One is clear blue. One is clear colorless plastic... not super exciting, but it does fit the whole "man made of matter and energy" kind of thing. Both painted versions are absolutely wonderful, even the Cosmic Creators one at the premium price is, if you ask me, ultimately worth the money. But plain white? This should have been released cheaply, possibly as the first or second release, as a blank canvas for the talented customizers out there.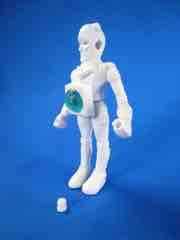 In white, you can see the facial sculpting and fine detail the Four Horsemen created without being distracted by the tricks of the light that paint or clear plastic can give you. Of course, you could also get the gist by seeing the figure on Mel Birnkrant's web page, which is arguably the greatest creator commentary on toys you can ever hope to see. This gives you an unpainted sculpt of your own to admire or change, but let's be honest - there's not a lot to admire with plain white plastic. His clear blue accessories are nice, but not anything to get excited about when his companions have metallic accessories that really shine.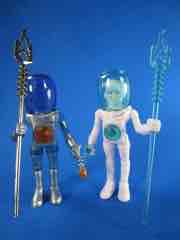 For a line born out of b-movie monsters that traded on an entire generation's hope for what their future - our present - should be like, this figure and his boxed set companions do a fine job of illustrating what may have gone wrong. They went back to the well one too many times, thus changing a neat idea into something that reminds you of being told a joke one too many times. The blue eyes are painted cleanly, but given there's not else here it makes little sense that this figure costs more than some of the painted releases. For completists (or customizers [or bargain hunters now on eBay]) only - spend your money on the painted ones first. You'll be glad you did.
--Adam Pawlus
Additional Images
Additional Outer Space Men 2013 White Star SDCC Exclusive Images

Click here to see more Four Horsemen figures in Figure of the Day.

Click here to see more Outer Space Men figures in Figure of the Day.

Click here to see more Glyos Compatible figures in Figure of the Day.