Ecroyex Dark Traveler Strelleven
Dark Blue Plastic, Light Blue Limbs

Glyos Action Figures
Item No.: n/a
Manufacturer: Onell Design
Includes: Belt, scarf
Action Feature: n/a
Retail: $8.00
Availability: December 12, 2013
Other: Nifty

PREVIOUS
RSS
NEXT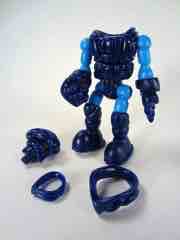 While it doesn't come with much, this Ecroyex Dark Traveler Strelleven stands as a fine example of what Onell Design does well in the grand scheme of things. A durable, simple figure has numerous parts and pieces, and as time goes on they figure out which colors look best on them. It's both a blessing and a bit of a drag, because if you miss a figure there's a good chance you can get it in two months if you're game with trying a different color. This figure came out shortly after panel lines were more or less dropped in early 2013, letting the line take on more of an American 1980s/1990s toy quality rather than a modest Japanese import figure of considerable value. The Dark Traveler mold has come in many colors, and blue really works well - granted, it feels like dark grey panel lines would've really made it sing but it's quite good as it is.
This 2 3/4-inch figure features swivel joints, just like your ol' grampa loved. (That's intended as a joke but doing the math, it's probably not far off.) The shoulders, wrists, hips, knees, ankles, waist, and neck swivel easily and cleanly with no problems of any sort. There are no painted joints or fused connections, each piece separates at the joint and even the head is made of 3 separate elements which allows you to customize or swap out parts with other figures from the line. As an added bonus there's a "scarf" which, a couple of years out, I still don't entirely g.shtml but it gives the figure a helmeted look which is certainly nice. In theory it should help make the eyes pop, but the red paint used is a little on the darker side and you really have to make sure a lot of light gets in there if you want to see his peepers. Thankfully, other versions of this mold don't have this problem.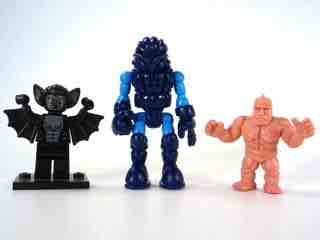 If you haven't yet tried this figures, they're pretty neat and there's a fairly steady supply of them between eBay and roughly bimonthly drops at Onell Design. Each figure can stand or sit easily, in many ways making them better toys-as-playthings than most modern action figures, while also granting you the power to break it apart into several small choking hazards. Thankfully the pieces latch together firmly, so you shouldn't lose anything unless you decide to store them in pieces. The scale is about right for Imaginext and the not-quite-defunct (but sometimes feeling that way) Playskool "Heroes" scale of figures, and given the proportions of those toys the Glyos guys fit in pretty well. The big feet and hands combined with the surprisingly dynamic sculpt lend this figure to looking like it's running, waving, or shaking his fist. These are the same arms and legs Onell Design have used for years, but they're still versatile.
I have a lot of these. A lot. Too many, I daresay, but they're really neat and Glyos-compatible figures (along with October Toys' various minifigures) are some of the only indie toys that seem like you can treat them like dirt and they'll be in mint condition in ten years. If you're new to these, the Dark Traveler mold is absolutely worth owning in one or more colors since the various belts, scarves, and other pieces can be reconfigured to make the figure's appearance change rather significantly despite using the exact same parts and pieces. If you're new to Glyos - and odds are your reading this means you're not - this is one of those weird figure experiences that I typically suggest jumping in with both feet at a depth of about $20 to give the reconfigurable.shtmlects of these figures a spin. I haven't seen this one come up for sale lately, but matching Armorvors and other figures have popped up on the market for not-too-crazy prices. Of course, you could just buy a brand-new one in a different color in the next 60 days via Onell Design, so maybe you should do that first.
--Adam Pawlus
Additional Images


Click here to see more Onell Design figures in Figure of the Day.
Click here to see more Glyos Compatible figures in Figure of the Day.