Horroscope
The Woman from Saturn

Outer Space Men Beta Phase New York Comic Con Exclusives
Item No.: n/a
Manufacturer: Four Horsemen
Includes: Removable helmet, Saturn staff, ray gun, alternate hands/fists
Action Feature: Swappable hands
Retail: $11.00 or $35.00 (sold as a set with Horroscope and Horroscope)
Availability: October 10, 2013 (NYCC) and October 16, 2013 (Online)
Other: White Star!

PREVIOUS
RSS
NEXT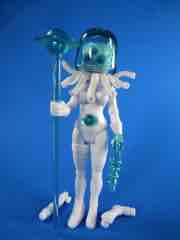 More custom fodder than a great figure unto itself, Horroscope is solid white except for her eyes and some clear blue pieces. The elephantrix from Saturn sports tusks, multiple trunks, three eyes, and a belly gem indicating her planet of origin - which is also shown on her staff with its rings.
Horroscope's two prepaints turned out nicely, with one clear purple version and this all-white one. The fully-painted model is best, of course, but this one is no slouch. She's sized similarly to other 3 3/4-inch action figures, standing close to 3 4/5-inches tall. He's a little tipsy thanks to her unique pose and narrow legs, so be careful when putting her on a shelf as she might fall over given time and gravity. The suit is smooth with faux accordion joints like the original bendy figures from the 1960s, although this one - like the others - can separate at each point of articulation. If you're so inclined, you can split her up into 15 pieces - plus spare arms, the helmet, the gun, and the staff.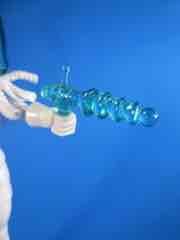 The head is unique in that it has three eyes and numerous trunks. It's pretty eerie to see something based on the overly sexualized cartoon art of the 1960s combined with alien nightmare tentacles, and yet here we are. It works, more or less. I can't really imagine what caused such a creature to evolve, but it does make a nice action figure. The head is two pieces, so you can rotate the tentacle beard around if you're so inclined. You can even swap it out with the other colors if you like. I have no real reason to do this, so I suppose its worthiness as a feature is mostly hypothetical unless you customize your toys.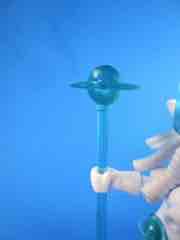 As an evolution of the classic 3 3/4-inch action figure, she's an improvement over the 1970s originals (mostly) but not so much the modern ones. The Power Lords line surpassed this one in terms of articulation, but I like these designs more - so here is where my preference remains. Her Saturn staff helps keep her standing, while the helmet - actually just a reuse of Xodiac's - sits on her head backward. The gun fits nicely in her hand, and swapping out straight/bent elbows is super-straightforward using the Glyos peg system. On one hand, it's a perfectly nice figure. In terms of milking the premise, it got to be a bit much - the plain white figure set was never completed, so a clear recolor would have been far more interesting. This figure came out two years ago, so even though the license reverted back to the Outer Space Men's two owners I can't say I'm overly optimistic about business conditions making new characters a particularly viable option - so I can't necessarily suggest you go all-in and get this one. I'll keep saying that the painted version is worth it, so snag it if you're so inclined.
--Adam Pawlus
Additional Images

Click here to see more Four Horsemen figures in Figure of the Day.

Click here to see more Outer Space Men figures in Figure of the Day.

Click here to see more Glyos Compatible figures in Figure of the Day.