Horroscope
The Woman from Saturn

Outer Space Men Infinity Edition Figures
Item No.: n/a
Manufacturer: Four Horsemen
Includes: Helmet, staff, ray gun, bent arms
Action Feature: Rotating tentacles on multi-piece head
Retail: $13.00
Availability: February 28, 2014
Other: Nightmarishly good!

PREVIOUS
RSS
NEXT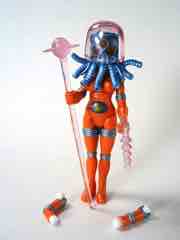 The inspiration for Horroscope started as one of many original designs over the years, the name of which came from an old movie monster projector toy. (It's true, I asked!) Sketches of the character originally started out as an alternate head for Xodiac, but instead ended up has his daughter. Building on Terra Firma's parts, Horroscope has a unique chest not yet used on any other figure - note the lack of the flat surface used to mount a helmet. Her accessories are cleverly repurposed from Xodiac, and her new 2-part head was designed quite nicely. This is a keeper.
The main area of focus is her head - her ample bosom is masked by a beard of tentacles, which are pretty horrifying. You can see what seem to be little tusks in there, too, making her feel like a mishmash between an elephant, some horrible octopus, and a three-eyed monster. The metallic blue skin looks gorgeous, as the Four Horsemen opted to paint a clear orange plastic head rather than just mold it in blue. It looks more expensive, like a die-cast metal car rather than a cheap action figure. The same can be said for her body, cast in white and painted in the most vibrant orange you could hope for. When it comes to deco, it's not fancy, but it's certainly high quality.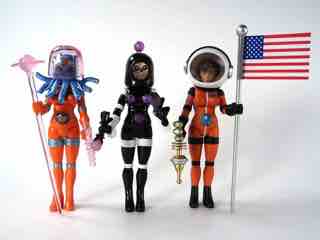 Due to being cast in clear orange, her eyes have a "light up eye port" feature like on a lot of Transformers and R2-D2 action figures from the 1990s. The back of her head was left unpainted, allowing the light to shine through her massive triclops head. What's more, the two-piece head splits just below her, uh, "nose" area so you can rotate around her tentacles on a Glyos joint. It's very clever, and a great example of creator Mel Birnkrant coming up with ways to make Glyos work for the Outer Space Men rather than making them work for Glyos. The Saturn icon in her belly is removable, so you could pop it out, repaint it, swap it with another ingot, it's all up to you. While cool, I find the customization possibilities rather useless as I'm a collector and to change the toy is some sort of plastic b.shtmlhemy. Plastic B.shtmlhemy, of course, being the opening band at the Ultimate Spinach shows back in 1968.
As with the other men, she can stand fairly well but benefits greatly from her Saturn staff. It keeps her from divebombing your shelves. The ray gun is the same as Xodiac's, right down to the added Glyos plug on the butt of it. My favorite repurposing was the helmet - she was designed to wear Xodiac's helmet, but backward. That's a clever repurposing and no doubt saved a lot of development dollars. I love this kind of thing.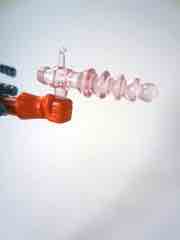 She can't sit due to her crotch design, but her legs can swing forward a fair amount. While I do feel weird about having amply boobed space figures in what is essentially a display of children's toys, the design is incredibly striking and the colors look like something out of the late 1960s or 1970s. It's a nightmarish alien creation with weird pointy ears and tentacles that violate the imagination, but it's hard to not look at this and see it as a fitting addition to the line. For $13, I totally got my money's worth.
--Adam Pawlus
Additional Images

Click here to see more Four Horsemen figures in Figure of the Day.

Click here to see more Outer Space Men figures in Figure of the Day.

Click here to see more Glyos Compatible figures in Figure of the Day.