Autobot Gears with Eclipse
Series 02 #010

Transformers Generations Legends
Item No.: Asst. A1421 No. A6686
Manufacturer: Hasbro
Includes: Eclipse
Action Feature: Transforms from Robot to Truck
Retail: $9.99
Availability: August 2014
Other: Swerve with new head, new deco

PREVIOUS
RSS
NEXT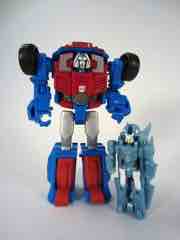 Repaints and repaints are a part of life, but one thing I found interesting when I first got Autobot Gears with Eclipse in my hands was that Gears' newly-molded head looked like Brawn, not Gears. Even more interesting, if you look at his product entry on Amazon it said "Legends Brawn Mudslinger Accessory" which may mean at one point this mold was indeed meant to be Brawn which makes a heck of a lot more sense. It's still a neat figure, but is it really Gears? Or is it just close enough?
In any previous incarnation Gears had a weird head - be it a wide face in the fiction, or a visor on what is a head because it's where a head should go. The designs were striking, but in this case it's just a typical silver head in the slot. I assume an upgrade will be made by someone on some service that you can paint silver with a blue visor in about three seconds and slap it in there. (Heck, I could probably paint it. Sculpt it, never.) Well, that's assuming Hasbro made enough of them to make it worthwhile - Gears (and his casemate Acid Storm) may well end up being one of the final waves of Legends 2-packs as they're going to go stag in 2015. Goodbye, little robot companion Micromasters - we will miss you!
Transformation is a snap, just like with Swerve. Legs fold up, arms tuck in, and with a clever couple of moving bits in the chest you've got yourself a great blue truck. The wheels roll quite freely and nicely, but the windows have an odd red panel just underneath. It's distracting, and not how it looked on the packaging shots.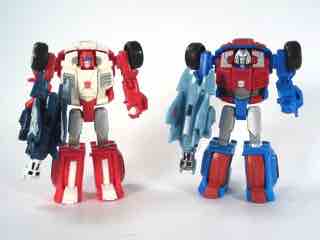 The truck mode is a perfectly good update of the original Minibot, except now the windows are a slightly different color. And it's bigger. And it's a different model. It still looks nice, and has a 5mm port in the roof so you can connect Eclipse in there if you want.
Eclipse is a new take on Micromasters Eagle Eye, and is similar to Swerve's companion Flanker. It's blue, and can triple-change from gun to robot to plane. For such a small toy it's quite sturdy and Hasbro did a wonderful job giving him some personality at this small scale. Granted he isn't going to win any beauty contests, but it's more than just a functional accessory - it's a well-made partner, and we don't get many of those lately. I'm surprised to admit I like Eclipse more - the pale metallic blue is nice, and the paint is cleanly applied. The only real complaint I can make is that the blue drowns out some of the detail on the Autobot symbols on his wings - a white background would have done wonders to make them pop out nicely.
However... my sample seems to have tolerance issues. I am unable to mount Eclipse in gun mode in Gears' truck mode. I can put other 5mm weapons and robots in there, but Eclipse just won't fit. It could be my sample, or an odd parts tolerance issue, but I would say you may need to be prepared to file something down or just live with it being imperfect.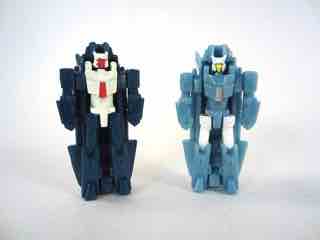 I got mine online, and lately it seems retail store distribution is brief. I saw Swerve and Cosmos at Targets all over for weeks, and then they dried up suddenly. Tailgate and Skrapnel were (and in some cases are) still at Toys R Us, but not often elsewhere - and are also drying up. Hasbro seems to be more receptive to rerunning recent Generations toys lately so I don't expect that these will be rare forever, but maybe it could be worth your while to place an online order if you're worried. For ten bones these are pretty great - and I assume that in mere months, we'll be looking back on this brief line of G1-inspired 2-packs as "the good old days."
--Adam Pawlus
Additional Images

Click here to see more Hasbro figures in Figure of the Day.
Click here to see more Transformers figures in Figure of the Day.

Want to buy this figure? Check Transformers availability at our sponsors:
Entertainment Earth