Ohpromatem
The Woman from Alpha Centauri

Outer Space Men Infinity Edition Figures
Item No.: n/a
Manufacturer: Four Horsemen
Includes: Bent arms, two ray guns
Action Feature: Light-up head and boobs, rotating faces
Retail: $13.00
Availability: February 28, 2014
Other: Pretty spectacular!

PREVIOUS
RSS
NEXT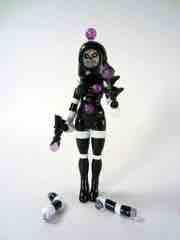 I will always have problems spelling Ohpromatem but I will say this - she's impressive. The concept originated from some Mel Birnkrant sketches that seemingly were made for the male Metamorpho body, but instead the development bent the gender into something just as creepy and arguably more interesting. She's also the kind of thing I think I need to hide, because this is the first and only figure I can name that actually has light-up breast functionality. How am I supposed to explain this to visitors?
While the design is basically a mishmash of the Metamorpho head on the Terra Firma body, the execution is unlike anything I've seen before. It's bizarre. Cast in clear purple plastic, most of the figure's body is painted over to hide the fact that the back is left unpainted, allowing light to shine through the head and helmet. The head lacks paint, but has a little bit - this allows the face to light up. As an odd bonus, you can see through the back of the helmet in a distorted, crystal ball sort of a feature. I believe it was unintentional, but seeing the faces through the back of the helmet is so surreal and bizarre that I like it more than the front. It looks more like a projection than a window - this gives it a genuinely magical feeling that I don't think I've ever seen executed in this way before. If you get a chance to look at this figure up close, check out the back of the helmet in a brightly lit area. Seriously Do it.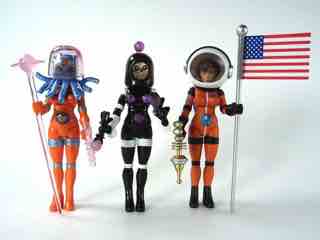 The other light-based feature is the figure's torso. Her back is unpainted, as are her breasts and belly gem - if you hold her in front of the light, they all appear to light up. Like the strange projection helmet, I can honestly say I don't think I've ever seen an action figure with light-up breasts. Can you?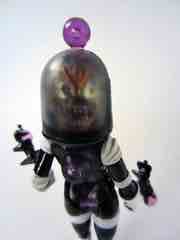 Painted in glossy black plastic, the figure's white "joints" and matching gloves really pop nicely. In a dark room, her faces are drowned out as the clear plastic doesn't really bring a lot of personality to the faces without light from the back. It's still OK, but it looks almost as if someone colored it in with magic marker. It's quite the contrast from the rest of the line, but at least it holds together well.
While the figure is wonderful visually, it's needing improvement in terms of her engineering. The figure can't quite sit due to her hip articulation, which is a bummer. The other bummer is that she doesn't include a staff or spear, so she may topple over due to how her legs were molded. The Outer Space Women are not fantastic at standing unsupported - it's no wonder the Four Horsemen have display stands for Glyos-compatible figures on the way. For the ladies, you're going to need them.
As it is exceedingly rare to hold a figure and feel that it's doing something you haven't seen before, I have to give this one high marks. Sure, sex sells - but light-up lady parts? I have to give Mr. Birnkrant and the Horsemen credit, because I've never seen that before. The faces are also spiffy, with a skull, a spider, and a spooky ghost-like face in there. Just rotate the knob on the helmet and you can cycle between them.
--Adam Pawlus
Additional Images

Click here to see more Four Horsemen figures in Figure of the Day.

Click here to see more Outer Space Men figures in Figure of the Day.

Click here to see more Glyos Compatible figures in Figure of the Day.