Goldfire
02 Series #010

Transformers Generations Deluxe
Item No.: Asst. 37986 No. A5481
Manufacturer: Hasbro
Includes: 2 Blasters, IDW Comic Book
Action Feature: Transforms from Sports Car to robot
Retail: $12.99
Availability: December 2013
Other: 02 Series #010

PREVIOUS
RSS
NEXT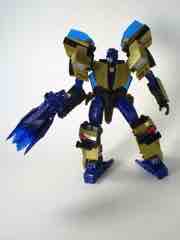 From the mid-1990s to roughly 2006, Hasbro didn't make toys of Bumblebee - it's true! For about a decade, the toymaker just didn't see the need to make transforming representations of this character, instead expanding the universe with Hot Shot. Of course now there's so many of the yellow robot that many collectors would rather never see him again, but Hasbro managed to surprise us by making Goldfire - a new name for the toy we all knew as Goldbug in the 1980s. We got a Gold Bumblebee a few years ago, but by and large the blue-head gold plastic Bumblebee is a rare thing. We got one for BotCon too, but this is the largest non-exclusive release of this concept in quite some time.
One caveat before we continue: the black paint. On the spoiler, some of mine was scraped off and I didn't even realize it until he was in car mode. Also the black paint is a little uneven, so if you see multiple copies of him in the store I suggest scrutinizing him as much as time permits. I'm keeping my sample - the scrape doesn't look half bad - but be warned before you buy yours. Had I noticed, I'd have left him there.
Standing just over 5-inches tall, this figure is a much improved repaint of this Bumblebee from a few months ago, which has proven to be a strong seller. (Sick of him or not, Bumblebee sells.) The main differences are color and the head sculpt - this time around Goldfire has the classic Goldbug faceplate, and was cast in the swirly, possibly reason to be fearful gold plastic Hasbro is fond of using. Swirly metallic plastic has historically become brittle, with toys as recent as Generation 2 crumbling if you aren't careful. Or if you are. Really, it's tough to tell.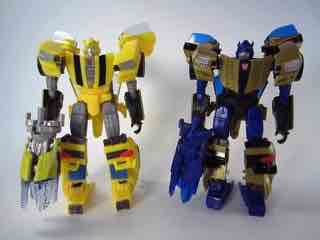 We have the same 16-or-so joints and generally easy transformation, making this figure a good buy for anyone who has (or skipped) the previous version of Bumblebee using this mold. I would argue that this figure looks better because of the slightly darker head, but you may disagree. Goldfire has a more attractive paint job, with some black stripes on the sides. The chest doesn't lock into place in robot mode particularly well, but it's still a nice looking toy. That chest piece also makes the car a little awkward, preventing it from rolling freely and/or I can't transform it properly.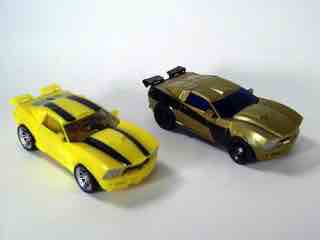 The comic is more or less forgettable - Bumblebee gets kicked out of his home, beat up, rebuilt for a couple of panels. If you didn't get Bumblebee, get Goldfire - just watch the paint. Also, try not to pay full price for him. Mine was $12.99 and $9.99 really feels about right for this one, although I doubt anyone will really be upset about parting with $13 to get him. Unless they were expecting a Goldfire Grimlock, in which case too bad.
--Adam Pawlus
Additional Images

Click here to see more Hasbro figures in Figure of the Day.
Click here to see more Transformers figures in Figure of the Day.

Want to buy this figure? Check Transformers availability at our sponsors:
Entertainment Earth