Toxic Spill Bearium vs. Gamma-Ray
BMOG-01 (Bear Type) and BMOG-02 (Manta-Ray Type) in Toxic Spill Yellow/Green

BMOG Toys Kickstarter Backer Exclusive
Item No.: n/a
Manufacturer: BMOG Toys
Includes: 2x figures made of 10x 5mm weapons and a sticker sheet (or two)
Action Feature: n/a
Retail: est. $25
Availability: June 2014, allow 2-13 weeks for delivery (September 2014)
Other: Available in orange, yellow, black, purple, and green so far

PREVIOUS
RSS
NEXT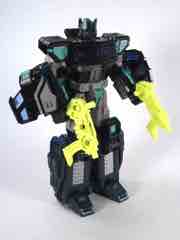 To say the BMOG rollout was a little slow is hardly hyperbolic, but now you can actually buy some of them at their official store. The BMOG Toys Toxic Spill Bearium vs. Gamma-Ray lost the vote for Kickstarter-exclusive colorway, but that's for the best. It turns out that this is the best one, and as a collector I want to see all other fans have a crack at the best of them.
If you've grown up around Zoids, Robo-Strux, or other regional variations, you kind of know what to expect here. There's no twist-bolt construction, but you get sprues of plastic pieces that can combine to make robotic creatures. The key difference - their ability to also become weapons - is something that is so amazingly obvious that it's odd we never saw this as a major gimmick on a Transformers line. The closest I can recall are the little weapons in Robot Masters that can connect to form some sort of cluster of weapons that looks like nothing... so let's not talk about it.
The completed bear is still fun, and the included sticker sheet is a thing I still plan to ignore. The little guy is bright and cheery, but I prefer to keep him separated as weapons for Decepticons. The "Toxic Spill" color looks a lot like late-era Generation 1 toy weapons, and is the perfect fit to darker figures. In person it looks more yellow than green, and it simply comes to life in moderate (or of course bright) light. If you've got Dreadwing, Nemesis Prime, Sky Shadow, or other darker figures the yellow simply pops to life right in their hands.
It's worth noting that, unlike Zoids, this is not a toy you can enjoy based on your fingers and wits alone. You will need some sort of hobby knife and a small file. Perhaps sandpaper - I just used an X-Acto knife and a small, $5 file set I got at a local big box store. The form fit on the 5mm pegs is close, but not perfect - so you'll want to sand down some of the holes to accept the pegs. (Yes, it's all very sexual.) It probably takes about 5 minutes to get everything off the sprues, and another 10-15 minutes to file stuff down - admittedly not a lot of time, but it's funny how your perception of time changes as you write a lot of articles. You can get a feel for a figure, usually, within 5 minutes of opening it and taking some photos. These require some actual elbow grease. The end result is, for all intents and purposes, something you created - even though Trent Troop did most of the heavy lifting when he sculpted these.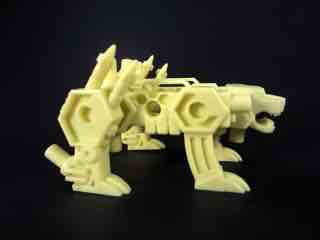 Gamma-Ray (Mantax the manta ray) fits together easily - the head piece and body piece cut out fairly easily, and the one piece fit function just plain works. The head turns into a nice gun, and the handle on the axe is actually somewhat thick. I didn't file mine down, as it fits in some hands... just not all of them. If you have a figure with an "open" hand - that is, a fist not fused in a circle but one that has some air between the fingers and the thumb - they should be able to make good use of the axe mode. THe axe can also plug on to 5mm hardpoints on some Armada and Energon toys, if you're in to that/old/able to admit those were some fantastic toys.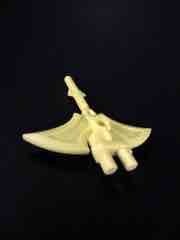 Bearium (Ursenal) is good, the parts fit together if you're willing to make it happen. The bear itself, due to the bright colors, loses a little detail as the shadows don't dance off it quite as nicely as the black or purple ones - you'll still see the basic forms, but it seems to me that the bear in yellow is better as individual pieces, while the purple or black ones are better as the bear. Due to the way the pieces fit together, it's more of a bear statue than a bear figure - but that's OK. The 1980s toys weren't exactly super-articulated if the toy had a special feature - 1985 Devastator could combine, sure, but if you tried to move an arm? It fell apart in seconds.
If you only buy one, and have a lot of darker Decepticon toys, get this one. It really looks superb with recent figures, but it looks a little off with many of the Autobots as of late.
--Adam Pawlus
Additional Images

See more BMOG Toys and The Octavirate Forge figures in Figure of the Day:
Day 1,010: BMOG Toys Orange Action Hunter Solarbear vs. Sea-Labrys Figural Weapon Kit
Day 1,077: BMOG Toys Toxic Spill Bearium vs. Gamma-Ray
Day 1,597: The Octavirate Forge Shapeways Botcon Laser Rod Electrons/Electro 4.5mm Sword
Day 1,601: The Octavirate Forge Shapeways NES Inspired Zapper Gun 5mm Grip