Iron Man
Build-A-Figure Collection Groot Series

Guardians of the Galaxy Marvel Legends Infinite Series Action Figures
Item No.: Asst. A7903 No. A7909
Manufacturer: Hasbro
Includes: Groot right leg
Action Feature: n/a
Retail: $19.99-$23.99
Availability: June 2014
Other: #6 of 6

PREVIOUS
RSS
NEXT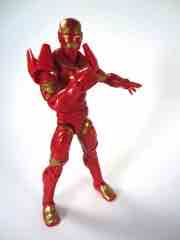 While I was no expert on any incarnation of this team, I was more than a little to surprised to hear Iron Man was a member of the Guardians of the Galaxy. Due to his current high level of fame this makes sense - perhaps he can give the cosmic group a little more "oomph" - but now that they made it big all on their own his inclusion here is a little baffling. While I was hoping for a John C. Reilly figure, the case of figures came not with one, but two Iron Man - so Hasbro banked on Iron Man's Space Armor MK III being more popular than Rocket Raccoon. A shame - in my informal survey of stores around Phoenix, this is the figure that tends to sit around the most. His price on Amazon has gone below retail, so that means people are getting stuck with him. But if you want Groot, you need him - is he worth it?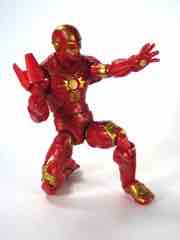 The figure itself is a rather clever reuse of the 2013 Marvel Legends Iron Monger series Heroic Age armor figure. The arms and helmet are new, but the rest of it comes from last year's far more colorful version of Tony Stark's armor. The figure has more or less the same articulation - 28 points if you're feeling generous - and has some rather awkward, castle-like snap-on pieces on his shoulders. These fit in with very shallow pegs, so they're pretty easy to knock off and, presumably, lose over the long term. Joints are nice and tight, and unsurprisingly it's easy to swap helmets with the aforementioned Heroic Age armor figure.
Deco is very light, but close to the comic inspiration. I dug up some images of the armor and they did a surprisingly good job repainting an existing figure to look like something supposedly all-new. The action figure seems to be even more ornate than its inspiration, with more flourishes around the ARC reactor and a little more color overall. The figure is still mostly bare, metallic red plastic though - the orange outline around that ARC doesn't do much to bring it to life. Due to the bizarre mouth and narrow eyes, the face seems obscured and at first glance this looks more like a villain than the generally affable smiley face that is the hallmark of Tony Stark's suits.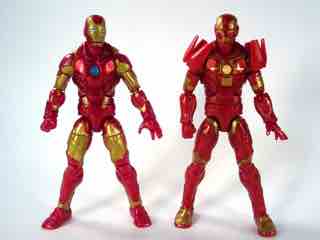 I am not crazy about the fact that this figure was packed heavier than the movie guys, but what can you do? He's decent enough and an interesting, bizarre toy in his own right. It really does look different, especially when he and Nova are placed next to the movie Guardians - which look more like a Star Wars costume designer's output. I'm not super keen on having to buy 2 figures I'd rather have skipped just to get Groot's right limbs, but ultimately I think it was worth it. They're neat, they're fun, and if you can get past the fact that Hasbro effectively blackmailed you into buying them they aren't too shabby. This Iron Man is more clever than truly impressive, as it shows Hasbro's resourcefulness on reusing parts in an area where cost-cutting seems to be important. In theory, anyway, the darned thing was still $24 retail.
--Adam Pawlus
Additional Images


Click here to see more Hasbro figures in Figure of the Day.
Click here to see more Marvel figures in Figure of the Day.