Knock Out
Croc Suit

Transformers Prime Beast Hunters Deluxe
Item No.: Asst. A1518 No. A2385
Manufacturer: Hasbro
Includes: Crocto Claw
Action Feature: Transforms from Sports Car to robot
Retail: $14.99
Availability: July 2013
Other: Deluxe Class Series 2 013

PREVIOUS
RSS
NEXT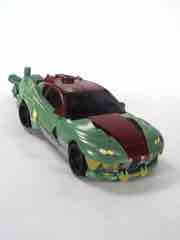 I am increasingly fond of crass, toy-selling gimmicks. I skipped most of Prime but did pick up a few. I found Knock Out for six bones at Ross earlier this summer, after having passed on it a couple of times at regular retail. As time went on the idea of a car with a crocodile tail was too charming to not buy, so I grabbed it as soon as I could - which took a while.
Croc Knock Out is pretty good - it's like regular Knock Out got a new suit. The 5 1/3-inch Decepticon doesn't have Beast armor as such, but actually has beast skin. Some of the body parts are replaced with green, scaley plastic that has odd plastic swirls in it. The figure itself has an acceptable - but not great - range of movement. 17 points of articulation are here, but the legs can't swing forward at the hips much, and the elbows don't bend easily. He has no problems standing around, though, as gravity is kind to this swell design. There are loads of critter-enhanced parts, like the chest's headlights looking vaguely like the eyes on the head of a big lizard. I like the enhancements - it's weird, but I like weird.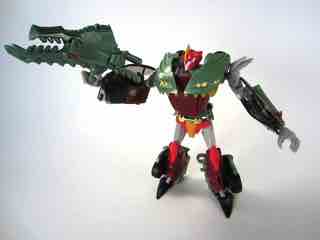 His weapon - or possibly sidekick - is Crocto Claw. Knock Out can hold it like a gun, or bust off the back half and wield it like a flail. The head has a spring-loaded jaw so that in flail mode, he can bite on to Predacons or Autobots. It's fun - but not particularly long. The fact that it has painted eyes gives it a lot of personality, were the fangs decorated this could well be one of the best accessories ever. As it is, it's still good and fun - a nice replacement for Knock Out's original spear. The critter can be held or mounted on the car - the teeth bite on the bumper of the car to become a "tail" or you can mount it on the roof peg. Hasbro did a nice job with this one.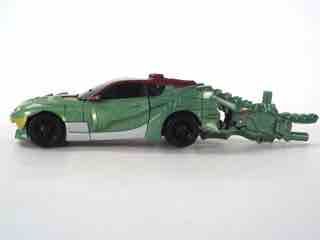 The car mode feels like what could come from a Mattel Hot Wheels / Transformers team-up. Hot Wheels is loaded with crazy car designs with animal motifs, monster visages, and weapons on them. Most would make exquisite alt modes for Autobots or Decepticons, and it's rare that Hasbro make a car that's really out-there, like the "future" cars from 1987 or Krock-Out's gator car mode here. The wheels don't spin too well, and the tail prevents the car from rolling completely. Still, I love it - this toy was worth getting for the alt mode alone. I was thinking how delightful it would be to race in a video game as this car and thrash your tail around and knock others off the road. It's an incredibly imaginative red and green little car with a toothy grille and not much deco on the back. If it was just a toy non-transforming car, I'd get it - the robot is merely a nice bonus.
Much like Dinobot Slash, this is a figure that stands out well on his own and whose branding is almost inconsequential. It's neat, it's fun, and if it wasn't a Transformers toy I'd still buy it. Precious few toys in this range got "animal" upgrades - most, like Wheeljack and Bumblebee, just got some fancy armor. Arcee got bat wings, Knock Out got croc parts, Sharkticon Megatron is self-explanatory, Dreadwing got some bird bits, and that's about it. "Animal cars" were the premise behind the stillborn TransTech line, and I gotta say I really love what happened with these few toys here. Ii really hope Hasbro goes back to increasingly original alt modes like these, because Knock Out was a delight. Beast cars are tons of fun!
--Adam Pawlus
Sample courtesy Hasbro.
Additional Images


Click here to see more Hasbro figures in Figure of the Day.
Click here to see more Transformers figures in Figure of the Day.

Want to buy this figure? Check Transformers availability at our sponsors:
Entertainment Earth