Lieutenant Worf
#4 of 8 ST:TNG Build-a-Bridge

Star Trek: The Next Generation Bobble Heads
Item No.: No. 16011
Manufacturer: Bif Bang Pow!
Includes: n/a
Action Feature: n/a
Retail: est. $19.99
Availability: 2014
Other: Collect all 8, build a bridge

PREVIOUS
RSS
NEXT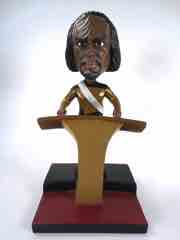 Hey, this is one of mine! I did some consulting on the Lieutenant Worf bobble head, which is one of the reasons you've got what essentially amounts to a season 3/4 crew with a build-a-bridge diorama. If you buy one, you get a solid resin bobble head. If you buy all eight, you can make a little diorama thing.
Worf is tall and thanks to his base, pretty heavy. Starfleet's first Klingon stands about 7 1/2-inches tall and stands at his tactical station, which is represented with a sticker showing off various details and things. The base has the carpeting painted so there's really not much for you to do other than pop open the box and stand him on your desk - as opening toys go, the lack of tape or other fasteners made it pretty easy to get out. I like that. Oh, and I'm as biased as all heck.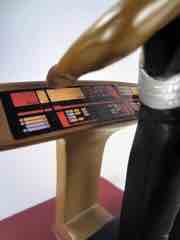 Once out of the box, his head bobbles. That's about it. The sculpt is pretty good, the commbadge is over to the side a bit much and the baldrick looks a little less like a series of woven bike chains. That's a plus. His hands don't quite touch the console so the sticker can fit under there, but the head sculpt is quite nice. It makes the body look even smaller - it's a big head! - but the detailing is good. You get the "Donna Reed" hairdo of the earlier episodes, a determined facial expression, and hands that look ready to punch in some data or analyze some space Skyping or whatever it is he'll be doing this week.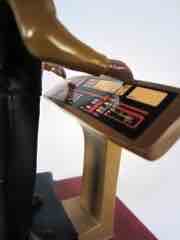 It's surprising when handed a project what has and hasn't been done yet. How The Next Generation remained a beloved part of 1980s and 1990s popular culture and didn't get a full suite of bobble heads until 2014 is beyond me, but he's here now, and you can have one if you want. There's a lot of Worf stuff to be had and this one doesn't look particularly angry or fighty. It's just Worf, standing around, doing his job, which is - if you ask me - the way things should be. (Heck, someone did, and here you go.) Get a Worf! Support my continued relevance. Heck, get the whole set, especially if there's a sale.
--Adam Pawlus
Additional Images

See more Bif Bang Pow! action figures in Figure of the Day:
Day 3: Venture Bros. The Monarch Action Figure
Day 192: Venture Bros. Dean Venture Action Figure
Day 289: Venture Bros. Jonas Venture Action Figure
Day 297: Venture Bros. Rusty Venture Action Figure
Day 303: Bif Bang Pow! Venture Bros. Dr. Girlfriend Action Figure
Day 308: Bif Bang Pow! Doctor Who Fourth Doctor Action Figure
Day 313: Bif Bang Pow! Venture Bros. Dr. Orpheus Action Figure
Day 362: Bif Bang Pow! Venture Bros. Hank Venture Action Figure
Day 439: Bif Bang Pow! Venture Bros. Phantom Limb Action Figure
Day 490: Bif Bang Pow! Venture Bros. Bloody Brock Samson Action Figure
Day 499: Bif Bang Pow! Venture Bros. Brock Samson Action Figure
Day 666: Bif Bang Pow! Venture Bros. Dean Venture Action Figure
Day 666: Bif Bang Pow! Venture Bros. Hank Venture Action Figure
Day 699: Bif Bang Pow! Venture Bros. Molotov Action Figure
Day 732: Bif Bang Pow! Venture Bros. Dr. Mrs. The Monarch Action Figure
Day 771: Bif Bang Pow! Venture Bros. Brock Samson Action Figure
Day 867: Bif Bang Pow! Venture Bros. Unpainted Test Shot Monarch Action Figure
Day 970: Bif Bang Pow! The Twilight Zone Henry Bemis Action Figure
Day 1,003: Bif Bang Pow! Venture Bros. Monarch Action Figure
Day 1,027: Bif Bang Pow! The Twilight Zone Kanamit (Work Uniform) Action Figure
Day 1,054: Bif Bang Pow! Star Trek: The Next Generation Lieutenant Worf
Day 1,063: Bif Bang Pow! The Twilight Zone Talky Tina Action Figure
Day 1,388: Bif Bang Pow! Peg Pals Batman Armored
Day 1,928: Bif Bang Pow! DC Comics Pin Mate Wonder Woman
Day 2,134: Bif Bang Pow! The Twilight Zone Gremlin

See more Star Trek figures in Figure of the Day:
Day 54: Playmates Classic Star Trek Spock Action Figure
Day 57: Playmates Classic Star Trek Dr. McCoy Action Figure
Day 61: Playmates Classic Star Trek Scotty Action Figure
Day 71: Playmates Classic Star Trek Uhura Action Figure
Day 81: Playmates Classic Star Trek Sulu Action Figure
Day 89: Playmates Classic Star Trek Captain James T. Kirk Action Figure
Day 105: Playmates Classic Star Trek Chekov Action Figure
Day 149: Playmates Star Trek Combat Action Worf
Day 488: Playmates Star Trek: The Next Generation Lieutenant Commander Data in First Season Uniform Action Figure
Day 675: Mattel Hot Wheels Star Trek U.S.S. Enterprise
Day 731: Playmates Star Trek: The Next Generation Counselor Deanna Troi Action Figure
Day 755: Playmates Star Trek: Deep Space Nine Quark Action Figure
Day 762: Playmates Star Trek: The Next Generation Lt. Commander LaForge as a Tarchannen III Alien Action Figure
Day 767: Playmates Star Trek: The Next Generation Captain Picard in Duty Uniform Action Figure
Day 772: Playmates Star Trek: The Next Generation Klingon Warrior Worf Action Figure
Day 986: Playmates Star Trek: The Next Generation Dathon Action Figure
Day 991: Playmates Star Trek: The Next Generation Ambassador Spock Action Figure
Day 1,048: Playmates Star Trek: Deep Space Nine Chief Miles O'Brien Action Figure
Day 1,054: Bif Bang Pow! Star Trek: The Next Generation Lieutenant Worf
Day 1,061: Playmates Star Trek: The Next Generation Q Action Figure
Day 1,173: Playmates Star Trek: Deep Space Nine Morn Action Figure
Day 1,181: Playmates Star Trek: Deep Space Nine Commander Gul Dukat Action Figure
Day 1,271: Playmates Star Trek Grand Nagus Zek Action Figure
Day 1,309: Playmates Star Trek Elim Garak Action Figure
Day 1,317: Playmates Star Trek: The Next Generation Lieutenant Worf in Starfleet Rescue Outfit Action Figure
Day 1,331: Playmates Star Trek: The Next Generation Captain Scott Action Figure
Day 1,359: Playmates Star Trek: The Next Generation Vorgon Action Figure
Day 1,701: Playmates Star Trek: The Next Generation Ferengi Action Figure
Day 1,819: Playmates Star Trek: The Next Generation Mordock the Benzite Action Figure
Day 1,854: Playmates Star Trek: The Next Generation Lieutenant (J.G.) Geordi LaForge Action Figure
Day 1,887: Playmates Star Trek: The Next Generation Lieutenant Natasha Yar Action Figure
Day 1,902: Playmates Star Trek: The Next Generation Cadet Wesley Crusher Action Figure
Day 1,923: Playmates Star Trek: The Next Generation Lieutenant J.G. Worf in First Season Uniform Action Figure
Day 1,927: Funko Pop! Movies Star Trek Beyond Captain Kirk (Survival Suit) Pop! Vinyl Figure
Day 1,936: Playmates Star Trek: The Next Generation K'Ehleyr Action Figure
Day 1,945: Mega Construx Heroes Star Trek: The Next Generation Captain Picard Action Figure
Day 1,949: Eaglemoss Collections Movies Star Trek U.S.S. Defiant NCC-1764 Special Glow in the Dark Issue Die-Cast Metal Vehicle
Day 1,962: Eaglemoss Collections Star Trek U.S.S. Defiant NX-74025 Best Of Issue Die-Cast Metal Vehicle
Day 1,974 Playmates Star Trek: The Next Generation Lieutenant Barclay Action Figure
Day 1,975: Eaglemoss Collections Discovery Star Trek U.S.S. Discovery NCC-1031 Die-Cast Metal Vehicle
Day 2,005: Playmates Star Trek: Deep Space Nine Odo Action Figure
Day 2,020: Playmates Star Trek: The Next Generation Commander Sela Action Figure
Day 2,094: Eaglemoss Collections Enterprise Star Trek Discovery Special U.S.S. Enterprise NCC-1701 Die-Cast Metal Vehicle
Day 2,354: Playmobil 70548 Star Trek U.S.S. Enterprise NCC-1701 Playset