Glow in the Dark Baby Deadbeet
Designed by Scott Tolleson, Sculpted by George Gaspar

OTMFG Mini-Figures
Item No.: n/a
Manufacturer: October Toys
Includes: n/a
Action Feature: Glows in the Dark
Retail: $2.00
Availability: April 15, 2014
Other: Glow!

PREVIOUS
RSS
NEXT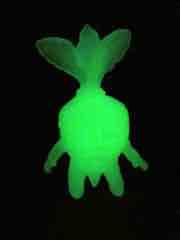 The OTMFG line has been growing slowly, but this glow-in-the-dark Baby Deadbeet is one I've been waiting for! Numerous colors came out, coinciding with the various releases of OMFG Series 2.
At about 1 4/5-inches tall, this little guy glows brightly and stands well. I was excited about the design from the get-go, and anyone who collects these things is probably aware that the glow-in-the-dark plastic coming out of the OTMFG/Onell Design factory is about as good as anyone can buy these days. Unfortunately, the milky-white color seems to do such a good job absorbing the light, it makes it hard to see the fine wrinkles, tongue, and other design elements carved in the figure's face.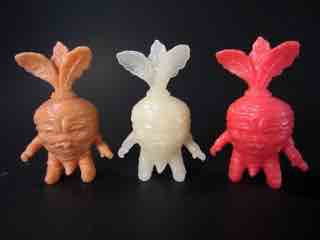 This non-articulated figure has a bandage on his head and his tongue sticking out, which do a nice job of adding some life to the dead vegetable. Assuming, of course, that this is possible.
This came out as the Flesh 3DRetro Robot, and both of them stuck around in stock for a while. I consider this a blessing as I'm bad about remembering mid-day figure drops, so go me. Weeks later this figure is still in stock, as are last weekend's new debuts: Wild Cherry Brocotal and AP Pink Zombie Pheyden. At $2 per, you can't really do all that much better for a designer toy.
--Adam Pawlus
Additional Images


See more October Toys in Figure of the Day:
Day 315: October Toys Outlandish Mini Figure Guys (OMFG) Series 1 Minifigures
Day 481: October Toys Outlandish Mini Figure Guys (OMFG) Series 1 Glow in the Dark Minifigures
Day 494: October Toys Zillions of Mutated Bodies Infecting Everyone (ZOMBIE) Series 1 Neon Orange Minifigures
Day 570: October Toys Outlandish Mini Figure Guys (OMFG) Series 2 Minifigures
Day 590: October Toys OTMF Baby Deadbeet Mini-Figure
Day 751: October Toys Zillions of Mutated Bodies Infecting Everyone (ZOMBIE) Series 1 Blue Glow in the Dark Minifigures
Day 775: October Toys Outlandish Mini Figure Guys (OMFG) Series 3 Minifigures
Day 813: October Toys OTMFG Zombie Pheyden Mini-Figure
Day 885: October Toys OTMFG Brocotal Mini-Figure
Day 909: October Toys OTMF Glow in the Dark Toy Break Mini-Figure
Day 929: October Toys OTMFG Flesh 3DRetro Robot Mini-Figure
Day 943: October Toys OTMFG Glow in the Dark Baby Deadbeet Mini-Figure
Day 1,113: October Toys OTMFG Glow in the Dark Brocotal Mini-Figure
Day 1,142: October Toys Outlandish Mini Figure Guys (OMFG) Series 2 Glow in the Dark Minifigures
Day 1,184: October Toys Skeleton Warriors Bone Titan Skeleton Action Figure
Day 1,191: October Toys Skeleton Warriors Baron Dark Action Figure
Day 1,214: October Toys Skeleton Warriors Glow-in-the-Dark Titan Skeleton Action Figure
Day 1,300: October Toys Outlandish Mini Figure Guys (OMFG) Series 4 Minifigures
Day 1,261: October Toys October Toys Mini Figure Guys (OTMFG) Brainwaves Minifigures
Day 1,547: October Toys October Toys Mini Figure Guys (OTMFG) Glow-in-the-Dark Mini Gwin Minifigure
Day 2,324: October Toys Outlandish Mini Figure Guys (OMFG) Series 3 Glow-in-the-Dark Minifigures

See more October Toys Mini Figures (OTMF) and October Toys Mini Figure Guys (OTMFG) in Figure of the Day:
Day 590: October Toys OTMF Baby Deadbeet Mini-Figure
Day 813: October Toys OTMFG Zombie Pheyden Mini-Figure
Day 885: October Toys OTMFG Brocotal Mini-Figure
Day 909: October Toys OTMF Glow in the Dark Toy Break Mini-Figure
Day 929: October Toys OTMFG Flesh 3DRetro Robot Mini-Figure
Day 943: October Toys OTMFG Glow in the Dark Baby Deadbeet Mini-Figure
Day 1,113: October Toys OTMFG Glow in the Dark Brocotal Mini-Figure
Day 1,261: October Toys October Toys Mini Figure Guys (OTMFG) Brainwaves Minifigures
Day 1,547: October Toys October Toys Mini Figure Guys (OTMFG) Glow-in-the-Dark Mini Gwin Minifigure