Franken'Punker
#23, Unnatural

Xevoz Battle Booster Figures
Item No.: Asst. 85501 No. 85536
Manufacturer: Hasbro
Includes: Sticker sheet and a ton of parts
Action Feature: Parts galore, sticker sheet
Retail: $9.99
Availability: Summer 2005
Other: The Final Trio

PREVIOUS
RSS
NEXT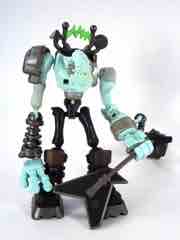 By the beginning of 2005, Xevoz was dead. If you were a store with inventory, it was either really good stuff that commanded a premium, or clearance fodder, or - oddly - both. Franken'Punker was both, as most stores that carried it in brick-and-mortar were the likes of Tuesday Morning. I never saw any reports of Toys R Us, Walmart, or Target stocking it and the line was in generally short supply as it was by this point anyway. I got mine from Entertainment Earth (as I started working there) and as we had a shot at these just after I started working there, I was beaming with pride that we were one of the first - if not the first - to have these in a big way. Joining the Franken'Punker were the Infil-Traitor and Hyper Guardian, which all formed the final wave of figures. The previous wave was almost a de-facto Target exclusive, and all Targets didn't carry the line at that stage.
With giant platform boots and a hunched over neck, this ghoul still measures about 6-inches tall at the top of the head. The figure could provide the basis of numerous creations, be it Frankenstein's monster, or a punk rocker of some sort, or a member of KISS. Heck, I suggest taking bits and pieces of him, the Sky Grinder, and a Crypt Curse to make your very own member of the 1980s budget rock band The Mummies. The figure also includes a big red axe and a hooded mask, which could make for a great Cobra Commander, executioner, or both. Hasbro really packed in the goods here.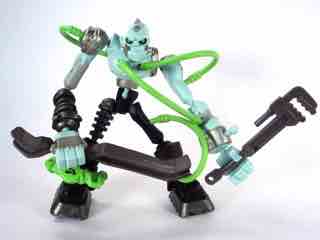 Like most figures in this line, you get multiple heads - three, specifically. One is a monster head stapled together with an articulated, broken jaw. The other has a metal bolt mohawk and giant eyes. The final hooded head is, well, a head - but the others have this creepy, stylized vibe which really works well for the line. Cartoony eyes - or no eyes at all - can do wonders to make the figure look a lot less goofy. His exaggerated limbs work well too, with huge forearms, tiny biceps and thighs, and hands so large they defy the very laws of nature. I prefer him having a guitar, but you can also attach a ball and chain to his wrist to serve as some sort of other decorative weapon.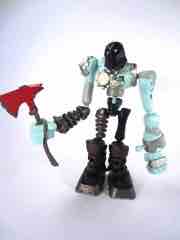 While it's no action feature, the figure has a bunch of old-fashioned movie science equipment including a Jacob's Ladder and a nifty, jointed throw switch so you can create your very own "it's alive!" moments. Unfortunately, kids were not interested in doing this - heck, it was 2005 and the classic monsters were not exactly in vogue with the tiny tots. I would argue that they still aren't. Hasbro (and the Stikfas people) succeeded in producing an action figure line that was everything a collector should want, and this would have probably been a struggling critical darling were it released in the era of Kickstarter.
There's not a lot of genuinely "spare" stuff here - green cables, a crowbar, handcuffs, a giant wrench - and the default build is in and of itself quite nice. Sadly the line wasn't created such that each figure had enough spare parts to make more complete figures of mixed and matched pieces, but you could probably get pretty close if you were willing to make a few concessions. Having gone from rare figure to clearance bait to rare figure again, this guy will probably set you back $30 or more if you find one for sale online. He doesn't come up for sale as much - this line is largely a treasured line to those who have and love them, while secondary market prices slowly creep up. Many figures are in the $30-$50 range, which would probably be reasonable were they brand-new indie toys released in 2014. Their capabilities and options are superior to most toys in the modern marketplace, and as I like to say I suggest everybody who reads this column purchase at least one of these figures just to get an idea of what Hasbro's single greatest missed opportunity in action figures was. These would have been spectacular as a licensed thing - could you imagine Darth Vader, Spider-Man, Optimus Prime, Snake Eyes, or even Jurassic Park dinosaurs in this style? I assume the marketplace would never allow for the revival of this kind of figure - be it licensing or the IP from Hasbro and/or the Stikfas people - but man, what I wouldn't give for one more round of these things. All of the promise of Mr. Potato head, in action figure form. It doesn't get any better than this - and it seems like it never will, either.
--Adam Pawlus
Additional Images

Click here to see more Hasbro figures in Figure of the Day.
See more Xevoz figures in Figure of the Day:
Day 238: Hasbro Xevoz Inferno Fury Action Figure
Day 248: Hasbro Xevoz Storm Wing Action Figure
Day 257: Hasbro Xevoz Sledge Trooper Action Figure
Day 491: Hasbro Xevoz Razorclaw Action Figure
Day 634: Hasbro Xevoz Skull Jack Action Figure
Day 969: Hasbro Xevoz Grim Skull Action Figure
Day 998: Hasbro Xevoz Franken'punker Action Figure

Want to buy this figure? Check Xevoz availability at our sponsors:
Entertainment Earth