Autobot Tailgate with Groundbuster
Series 02 #008

Transformers Generations Legends
Item No.: Asst. A1421 No. A5783
Manufacturer: Hasbro
Includes: Groundbuster
Action Feature: Transforms from Robot to Spots Car
Retail: $9.99
Availability: June 2014 (USA), Spring 2014 (Elsewhere)
Other: 02 Series #008

PREVIOUS
RSS
NEXT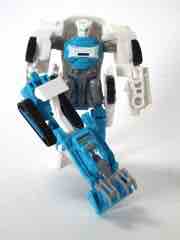 It's too bad that Transformers: More Than Meets The Eye from IDW isn't more popular - it's awesome, and it makes toys you never gave a second thought to into important, fun characters. The Autobot Tailgate with Groundbuster set owes its popularity to the massive cult following for that series (and "classic" robots in general). This time, he's based largely on the comic design where the character is a sort of a Rip van Winkle type in a relationship with Cyclonus - another similarly old robot.
The 3 1/2-inch robot is pretty swell. Transforming him is a bit more of a pain in the neck than others in this line, but you're buying this figure for the character - you love the comic, now buy the toy. With 11 points of articulation, the white plastic robot is on the happy side of good - his eyes could be wider, sure. The arms could be a little less bulky, yes. But you're getting a decent $10 2-pack here and a sidekick for your Cyclonus figure. You do have a Cyclonus figure, don't you? Anyway, they're roommates in the comic and loads of fun. The robot mode for Tailgate stands up nicely despite having thin little legs, and the feet are super-sturdy - the ankles click a tiny bit when you rotate them. His tailpipes become his crotch (scandalous!) and the figure does a decent job of mimicking the comic's design. The 5mm hands have no problem holding his (or almost any other) weapon, plus he can more or less sit - some car kibble hangs off the butt, though.
Transformation is more complex than I would like - parts do get in the way, specifically the aforementioned tailpipes while rotating around the legs as well as various tabs on the car panels. Minor tolerance issues keep it from fitting together perfectly as a car, and rotating the robot arms back in place feels like you're applying just a tiny bit more force than should be necessary. The feet have slots on the sides so they tab in car mode, but again it's not quite a perfect fit - it seems like a clever design that needed another day or two of refinement to be perfect. As it is, it's just merely good, but I would say much of that goodwill comes form my love of the comic character.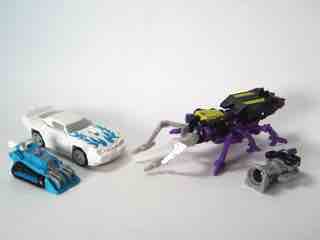 The car is a car. It has an Autobot symbol, unlike the robot mode - since the comic character didn't either, this makes sense. I find the white color with pale blue flames and silver windows a little weak, but the silver hubcaps are quite nice. You can plug a 5mm weapon like Groundbuster in the hood, which provides some fun to the otherwise bland car. I don't mean to dump on it, but the reason for the flames is beyond me. A white car would have been fine, a painted grille or some other elements could have been more fun.
Groundbuster is an update of a Micromasters toy named Neutro, so TFWiki tells me. The changes from that character are extensive - but the head, chest, and arms have enough similarities that it's curious that we didn't get the mold in the "correct" yellow color. Granted, nobody will notice. The "transformation" comes from standing the toy on the butt of the vehicle mode, and you're done. The arms swing out, and that's about it for the robot. It changes to a bomb disposal robot with a cool geared gimmick, a perfect fit for Tailgate's job as a waste bomb disposal expert. Like some of the other "Micromaster" Legends companions, there are no faction symbols on this red, white, grey, and blue mini robot. Tailgate has no problem carrying him around, but gravity can get in the way depending on how it's posed.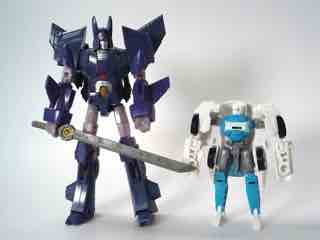 I'm surprised how quickly Tailgate came out after Swerve and Cosmos here in the USA - the quick release of two waves is not unheard of, but unusual. We saw it a lot in Star Wars in recent years, and just last year with Generations Legends Optimus Prime and Bumblebee being quickly followed by Starscream and Megatron... followed by nothing for nearly ten months. Cliffjumper, Acid Storm, Gears, and others are expected with others still "rumored" (wink) for release this year. Given how some figures have been in short supply as of late it seems fans are once again superbly nervous around Hasbro's non-issue of some toys in the USA, so it's unsurprising people are jumping on these guys now. For the price Tailgate is worthwhile for any fan of the series, but for those looking for a truly great, cheap thrill you may want to look elsewhere. Tailgate's charms as a toy are few, but he's a decent robot figure and a wonderful comic book star.
--Adam Pawlus
Additional Images

Click here to see more Hasbro figures in Figure of the Day.
Click here to see more Transformers figures in Figure of the Day.

Want to buy this figure? Check Transformers availability at our sponsors:
Entertainment Earth