S.U.C.K.L.E. Series 1 Flesh Mini-Figures
Simply Unimportant Collectable Kitschy Little Eyesores

S.U.C.K.L.E. Mini-Figures
Item No.: n/a
Manufacturer: Suckadelic
Includes: 10 figures, plus bonus figures depending on what you ordered
Action Feature: n/a
Retail: $20, give or take
Availability: January 2014
Other: First ten flesh figures

PREVIOUS
RSS
NEXT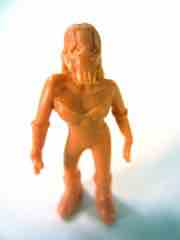 Designer and urban vinyl toys used to be the playground of the not-toy collector. People would make a low run of something, slap a $100-$200 tag on it, and maybe the run of 15 would eventually sell out - some people found success in this format, but the Sucklord (also known as one Mr. Morgan Phillips IV) hitched his star into the stars with his alter ego the Sucklord. He's been a plush toy, a Glyos head, and more but he's mostly known for his "bootlegs." One of the first that crossed my desk was a bizarre pink bootleg Stormtrooper called "Gay Empire," which I wasn't sure what to make of. Why wasn't this guy getting slapped with a cease-and-desist? Am I allowed to find this funny? And why is it over a hundred bucks? There weren't many mass-produced toys under his banner, but now there's S.U.C.K.L.E. Series 1 Flesh Mini-Figures. The Kickstarter-supported line was actually more or less done before the Kickstarter - the thing ended on July 15, 2013 and grey "test shot" figures of the first 10 were on sale at San Diego Comic-Con just days later. As such it was a very long wait for these to show up for Kickstarter supporters, and mine arrived last week. In addition to the 10 displayed here, other colors were sold - with 5 additional sculpts temporarily exclusive to Kickstarter as clear or glow-in-the-dark figures.
I saw the very early sculpts at the DKE Toys booth at Comic-Con a few years ago and (along with the Mechawhales figure) immediately wanted a set. I'm glad they got made! From what I gather, most if not all of these were sculpted by the great George Gaspar of October Toys.
The figures are largely based on other concepts the Sucklord has released over the years, or were based on things people he's worked with. Each figure is slightly taller than a M.U.S.C.L.E. figure, a fraction of an inch taller. The figures are slightly less saturated than the O.M.F.G. series 3 plastic, but are more vibrant than their 1980s wrestling inspiration. Each figure is roughly 2-inches tall.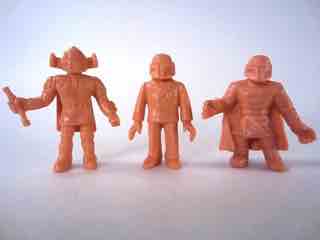 Three figures are basically Boba Fett heads on other bodies. Sucklord 16 is one where I'm not quite sure I get the inspiration - the helmet looks vaguely Mazinger-ish, with a lightsaber and some elments that could be Doctor Doom. Gauntlets on his wrist are clearly based on Boba Fett, plus the figure has sensible shoes, a belt, and a cape. The sculpt is quite nice, and this is probably the least interesting figure in the set from where I sit.
Next up is Sucklord 43, which is basically Boba Fett's head on a suited human male body. I love it. It's one of the get-ups the artist can be seen in on occasion, complete with double-breasted suit and a tiny flower. It, like the others, are based on various bootleg figure releases from over the years. The pose isn't anything too exciting, but the concept is as solid as a rock and this may be one of the most appealing figures in the set. On one hand, it's a representation of a famous-ish artist and TV personality. On another, it's Boba fett in a nice suit. What's not to love?
The final artist figure in the set is Sucklord 66 is based on a 2002 Count Dooku Hasbro action figure, with the obligatory Boba Fett head. No lightsaber is included, but the design is pretty obvious - Christopher Lee's Attack of the Clones and Revenge of the Sith outfit is replicated cleanly by the sculptor, and the texture of the "fabric" on this plastic mini-figure is probably as good as Hasbro's. These guys are no slouches - despite the tagline of "Hey, Stupid! Buy These!" I'm finding the quality of these figures to be quite decent. It has no problems standing around and is sufficiently goofy.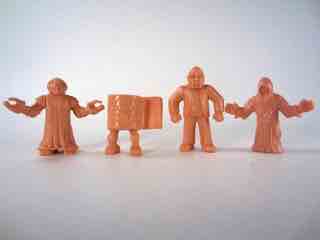 Galactic Jerkbag is based on a figure which was based on Darth Sidious parts from 1999. The Galactic Jerkbag runs a site which covers Sucklord stuff, and has made a few low-run crossovers based on Glyos parts and pieces. The figure has claw hands, a seemingly original head not unlike Walrus Man, and has bits on his arms that look a little bit like C-3PO. If you don't squint too hard, it looks like a wholly original weird alien creation and the sculpting makes it a solid figure.
The figure for Ass Wipe is more clever than the original art piece - a run of under 10 rolls of toilet paper with special foil-covered pink paper, minus the feet. It's a funny idea, and turning it into a figure is all kinds of awesome. I don't have any other mobile rolls of toilet paper as toys, and this was one of the figures that sold me on the set. It's so low-brow that I just had to have it. The roll is etched with the name "Ass Wipe" as well as a shot of the Sucklord on the toilet with the words "Por Culo!" on it. In some respects it feels more at home in a collection of M.U.S.C.L.E. than many of the other recent mini-figures.
Another one I didn't quite g.shtml was Ira Tyranusberg. I get "anus" but the masked, suited figure wasn't something I've seen prior to the mini-figures. The sculpting and pose are great, with arms at his sides and a nice bulk to him that seems imposing enough to have him fight other little wrestlers. There's probably some commentary here I don't get, but the head looks like it would belong in that Japanese wrestling line and the mask is a perfect fit for the series.
I've been delving into retro 3 3/4-inch figures lately for a great many reasons, so I immediately recognized The Necromancer as having been based on Mego's Clash of the Titans Charon figure. The hooded, skeletal being has been changed to a figure posed like a classic wrestler figure, and his face is... well... it's a guy with a single eye, of sorts. The robes are well-sculpted and the tie off to the side makes it look a little different. It retains that figure's unique solid "foot" and, of course, has no articulation. Despite the disturbing "face" it's actually quite charming.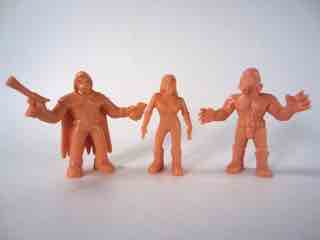 Vectar the Intolerable is another character from the Sucklord empire, which I previously saw as a customized Glyos Callgrim figure. This isn't that. The masked, hooded figure carries a gun and a dollar, and has a swell belt buckle. You may see someone dressed up in this costume at various shows, or in the online series Toy Lords of Chinatown. It's certainly a striking looking figure, and the jagged cape is a particularly nice touch. It just reeks of toyness.
The figure name most likely to get this site flagged by some rating software is Another Bitch, which my research tells me is short for "Another Bitch You Didn't Get To Fuck." Stay classy. The figure was shown from behind until its release, and previous carded Suckadelic releases carded her face-back on the packaging. This is a design based on a bootleg figure with Star Wars Rystall's body, General Grievous' mask for a face, and hair I honestly don't immediately recognize. This is nightmare fuel - the hoofed feet have been replaced by sensible shoes, and the sculpting is about on par for this size of figure. There's not a ton of intricate detail here, but it's unmistakably inspired by one of Jabba's dancers from the Special Edition of Return of the Jedi. As a figure it's certainly a fascinating subject, although I cannot be sure if I will go another day of life without her haunting my dreams. The head of this figure is truly disturbing stuff when examined up close, so go ahead and flip her around so you can avoid your eyes melting in terror.
Rounding out the set is Gay Empire, clearly the most famous of his creations in many circles and also updated quite a bit. The original release was a pink Stormtrooper, but this one looks like a M.U.S.C.L.E. figure got a Stormtrooper helmet and pants. With a massive codpiece. The Chippendale-inspired wrestler/warrior/figure even has a bowtie under his helmet - look carefully, you might miss it. Of the entire set this one is more M.U.S.C.L.E. than anybody else, and along with Ass Wipe was the reason I just had to have the set. When it comes to art and satire and creativity I have a hard time second-guessing the intent of the inventors at times, so to avoid coming off like a total putz I'll just say that I dig it and the sculpt is right on the money. I wish I had lots more figures just like this, and if there was a painted release I'd buy it too. It's delightfully bizarre and a fun twist on the Stormtrooper format, of which I have many around the office.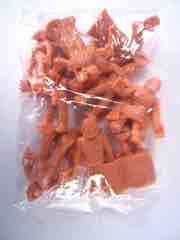 Go ahead and snag a set of these if you can find them. Kickstarter supporters paid $20 for the set of 10, or about $40 for a grand total of 40 figures - some clear, some glow. We'll look at those soon. But for now, scroll down for more pictures and if the chance comes up, go ahead and get these. They're really weird, sort of ugly, and probably the single most amusing thing we'll see for Star Wars collectors for the next couple of months. If a store near you doesn't have one, here's a choice quote regarding the figure set from its own Kickstarter page: "Congratulations on buying this one. It'll be the most flippable on eBay."
--Adam Pawlus
Additional Images

See more Suckadelic figures in Figure of the Day:
Day 68: Suckadelic Glyos-Compatible Sucklord Grey Helmet Head
Day 850: Suckadelic S.U.C.K.L.E. Series 1 Flesh Mini-Figures
Day 910: Suckadelic S.U.C.K.L.E. Series 1 Glow in the Dark Mini-Figures
Day 1,412: Suckadelic S.U.C.K.L.E. Series 1.5 Flesh Mini-Figures
Day 1,519: Suckadelic S.U.C.K.L.E. Series 2.5 Flesh Mini-Figures
Day 2,034: Suckadelic S.U.C.K.L.E. Series 2 Flesh Mini-Figures