S.U.C.K.L.E. Series 2 Flesh Mini-Figures
Sorry Unfulfilled Collectors Keep Losing Everything

S.U.C.K.L.E. Mini-Figures
Item No.: n/a
Manufacturer: Suckadelic
Includes: 10 figures
Action Feature: n/a
Retail: $25
Availability: September 2015?
Other: Back in Flesh

PREVIOUS
RSS
NEXT

I'm a sucker for mini-figures, and Kickstarters like this S.U.C.K.L.E. Series 2 Flesh Mini-Figures were easy to grab. Clear figures, glow figures, flesh figures, and other colors were sold at Comic-Con over the years. I pick them up. I can't help it. The figures are a pastiche of toy and game parts, nodding to and ripping from popular culture like Star Wars and Transformers, while "Douchebot" is clearly a downsized droid from Galaxy Laser Team. I liked the first batch a little more, but it's still a worthwhile set if you're in to keshi collecting. And who isn't? Probably not you. Most people don't even know what that is - "kinkeshi" is thrown about for Kinnikuman Keshigomu figures (rubbery eraser-like M.U.S.C.L.E. figures in Japan.) Little one-color figures are frequently called "keshi" by some American toy fans.
Each figure is just under 2-inches tall, sized a hair larger than the classic Mattel M.U.S.C.L.E. figures and a smidgen shorter than the seemingly and woefully defunct O.M.F.G.. We looked at stretch goal S.U.C.K.L.E. Series 2.5 Flesh Mini-Figures [FOTD #1,519] a long time ago, and these came in the same box - so let's look at them. We haven't had a new series since, and this format has seemingly lost popularity save for an attempt to do a run based on Kaiju Big Battel late this summer. (Hey, I pledged.)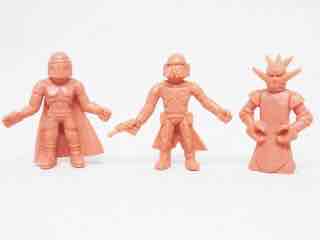 Most of these figures are based on "bootleg" "art" "figures" by the Super Sucklord and his entourage. They're usually recast or tweaked figures in goofy packaging, and I can't say exactly what they're supposed to be telling me. I'm a toy dork, so I enjoy the superficial zany Sucklord 75, which is a Stormtrooper body with a Boba Fett helmet and Hoth Rebel pants. And a cape. Removed from context, this figure and his brethren are not unlike fake pink wrestling toys of the 1980s - it looks kind of like a licensed thing, but it isn't. It'll show up in a collection of figures, and since it's unmarked odds are most people won't know what is.
A similar Sucklord 61 takes Commander Bacara's helmet and legs, adding Boba Fett's chest armor with Imperial Stormtrooper arms and a small blaster. Not much else to say here - it's wacky. Star Chump is based on Star Chumps Steve, which seems to have a Supreme Chanceller Palpatine body, original Getter Robo G Getter Dragon/Shogun Warriors Dragun [correction January 4, 2019] head, and Brainoid-inspired limbs. It reminds me more than a little of the aborted Mongo Beefhead Tribesman figure, and if you know what I'm referring to we need to be pals.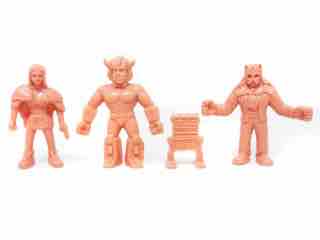 The distinctive Marie Paper$ is not a figure I recognize - she has big shoulders and a cape with a symbol that reminds me of the Cobra sigil. The original figrure seemed to be inspired by Slave Leia, Micronauts, and the Joes - also I read she is fly and ruthless. Sure, why not. Gay Energon is a Chippendales body with Bumblebee's head and robotic hands and feet - it's a companion to Gay Empire from Series 1. (I have both in hot pink flanking a dinosaur on my desk.) Gay Energon has a little bow tie and kind of amazes me that I haven't seen this as a costume somewhere yet. Goodness knows we've seen tons of photos of scantily clad women in Stormtrooper helmets. Or I have. Don't judge me.
Little Douchebot is based on the aforementioned Galaxy Laser Team of Processed Plastic/TimMee fame. The boxy robot was a ripoff of Kenner's R2-D2, which might be an instance of two wrongs making a right? Maybe not. It's pretty much a micro 9/10-inch version of that toy, complete with flat back and Kenner-ish detailing. It feels like an art student trying to do a cubist interpretation of a Star Wars toy, hit with a shrink ray. He stands next to Crystal Pharaoh, a Darth Vader-King Tut helmet with a body wearing normal clothes and Vader's chest panel worn like jewelry. Striking.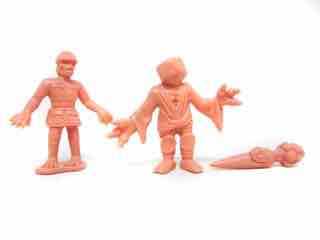 I just can't deny the appeal of Wrecked Souls of Forgotten War. A traditional "army man" figure was the inspiration for the outfit and display base, with Creature from the Black Lagoon Gill Man as the origin for the limbs and head. It's a fish trooper. What more could you ask for? Chronos was another "bootleg" figure, with a d-20 on top of a mishmash of not easily recognized body parts. It's a robed monster, with warty, scaly limbs and weird greaves.
The joke is on you with Bionic Carrot, "The SixDollar Produce Man. The original toy was essentially a Little People body with some tech glued on it and a green stem out top. The mini-figure is a full carrot based on that premise, meaning it can't stand since it has no feet or other flat element. It just lays there, and makes you sad you can't do anything with it other than use it as an accessory with other, bigger figures. The sculpting is good - it's just not a lot you can enjoy beyond letting it flop on a lat surface.
These sets came in various colors and I hold out hope we may see more series of figures like this. Since the loss of the October Toys forums it's been a little tougher to easily discover new series of this kind of figure as there's no easy outreach. Big toy companies are getting more into "trend collectibles" this year with Lost Kitties and other non-articulated figures, but these one-color oddities remain in the realm of the indie toy world (and Super7's Keshi Surprise.)
One last thing - as a Kickstarter, they had a campaign video for these that must be seen in terms of its general zaniness and apparently understanding of its customer for this kind of products. Do check it out if it's still there.
--Adam Pawlus
Additional Images

See more Suckadelic figures in Figure of the Day:
Day 68: Suckadelic Glyos-Compatible Sucklord Grey Helmet Head
Day 850: Suckadelic S.U.C.K.L.E. Series 1 Flesh Mini-Figures
Day 910: Suckadelic S.U.C.K.L.E. Series 1 Glow in the Dark Mini-Figures
Day 1,412: Suckadelic S.U.C.K.L.E. Series 1.5 Flesh Mini-Figures
Day 1,519: Suckadelic S.U.C.K.L.E. Series 2.5 Flesh Mini-Figures
Day 2,034: Suckadelic S.U.C.K.L.E. Series 2 Flesh Mini-Figures