S.U.C.K.L.E. Series 1 Glow-in-the-Dark Mini-Figures
Simply Unimportant Collectable Kitschy Little Eyesores

S.U.C.K.L.E. Mini-Figures
Item No.: n/a
Manufacturer: Suckadelic
Includes: 15 figures, plus bonus figures depending on what you ordered
Action Feature: n/a
Retail: $40, give or take
Availability: January 2014
Other: First 15 glow-in-the-dark figures

PREVIOUS
RSS
NEXT


If some are good, more are better. We looked at the flesh-colored series one figures a couple of months back, so let's look at S.U.C.K.L.E. Series 1 Glow-in-the-Dark Mini-Figures. If you supported the line on Kickstarter, you got first crack at five new (and currently exclusive) figures that weren't in the regular flesh set - right now, they're only available in glow-in-the-dark and clear colorless. Both sets were included with the $40 Kickstarter package, as well as the first 10 flesh-colored figures, making the set quite the deal. ($40 for 40 figures? Bargain.) As a shameless sucker for glowing toys I jumped on these - although I think I would rather have started with getting those five new figures in flesh first.
Each figure is roughly 2-inches tall, sized a hair larger than the classic Mattel M.U.S.C.L.E. figures and a smidgen shorter than O.M.F.G., a sibling to this line as they were also largely overseen and/or sculpted by the great George Gaspar. (Don't know about George? Look him up.) Let's kick things off with the 5 new guys, and then review the main 10.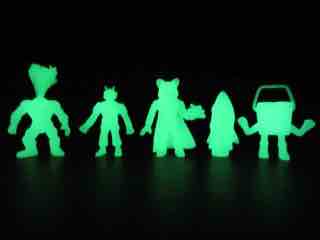 The five figures which started life exclusive to Kickstarter are based on other art projects (or bootlegs) by the Sucklord, otherwise known as Morgan Phillips IV. Several of them are based on existing toys like the highly amusing Carrator, which is basically a Masters of the Universe body with a carrot top for a head. This makes him similar to O.M.F.G. Pugnacious, except that the left arm's wrist armor looks more like that of He-Man while the legs are closer to those of Trap Jaw or Roboto. Giant muscles, a tiny waist, and a nice fist make up this 2 1/3-inch figure, the tallest in the line.
Next up is Karate Chump, which is effectively a vintage Kenner Greedo head on a body I can't quite place. The original figure was available in a variety of colors, and with different heads - this one sports the faux-Rodian head with a gi you might see here on Earth. The wrists are posed in a rather non-threatening manner, with arms bent out from the torso. The 1 3/4-inch figure is one of the smaller releases in the line, but the mash-up of kung fu and Star Wars is a match made in 1979 heaven.
Luke Chueh's Sad... Broken... Alone... is the bear-like creation up next. The head resembles a Be@rbrick, with a 1995 Stormtrooper body, 1995 Boba Fett arms, Hoth-based legs, and a big meaty hand I can't quite place. There's a vinyl figure based on this design as well as a "bootleg," so the mini-figure is right at home with the other toys in that it vaguely resembles its original components while staying completely true to the concept. The "rangefinder" bump is still present, and the cape would be at home on Princess Leia or other 1990s action figures. It's weird, but that makes it fun.
Confusing and simple, the Suck Shark is just that - a shark that kind of sucks. The glowing figure is about half of a shark, with a cork in the back end of the torso. The oeuvre of the Sucklord is not one I know particularly well, so I can just say that if you like sharks, this is cute. You'll dig it. It stands well, and the design looks a lot like a figural representation of the Jaws movie poster. What's not to like? Solid!
Rounding out the exclusive quintet is Chop Suey. It's sort of genius that someone said "I'm going to put arms and legs on Chinese take-out and charge some schmuck $100 for it." The inspiration was a piece that was just a painted take-out container filled with garbage - well, resin toy parts deemed unworthy of selling any other way. It's sort of brilliant, and this piece takes the concept and adds the Sucklord helmet with the conical hat often associated with parts of Asia. (I've got one hanging in my basement.) The front reads "Cop Suey" and "100% Pure Rejects," while the back has the same logo plus the word "Suckadelic." It's probably the simplest figure in the batch, but it's certainly eye-catching and stands out nicely. It would be right at home with your Japanese keshi collection.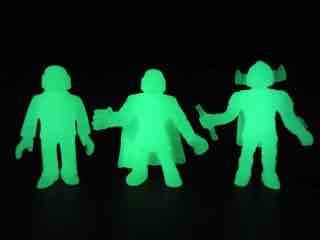 And now the old guys! Sucklord 16, Sucklord 43, and Sucklord 66 are all figures with Sucklord helmets on other bodies - a guy in a suit, a Count Dooku body, and a sort of a mishmash. Each is pretty charming - you can refer back to the previous review for more details on these. I give it the standard "what's not to love?" commentary - they're fun! Buy them.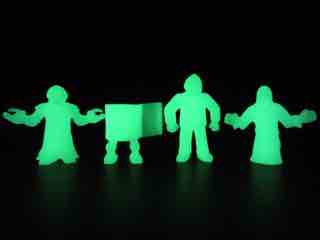 Galactic Jerkbag, Ass Wipe, Ira Tyranusberg, and The Necromancer are next - and stand out nicely. Ira looks appropriately M.U.S.C.L.E.-esque, while the others are more unique - a roll of toilet paper is the kind of thing you won't see elsewhere, and is based on a toilet paper project sold previously. The others are based on Darth Sidious and Charon figures with new parts... some more salacious than others.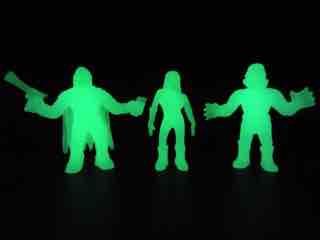 Vectar the Intolerable, Another Bitch and the legendary Gay Empire round out the set. Gay Empire is based on a pink bootleg Stormtrooper that has been going around for ages, and is probably how most toy people got to know of the work of the Sucklord. This version is more like a Chippenale's dancer, with a bare chest and a bow tie hidden under the helmet. Another Bitch as a combination of Rystall and General Grievous Star Wars figures with some new hair, looking fine from behind but less so from the front. Vectar is just generally neat - he's got a gun, a mask, and a cape. It's neat.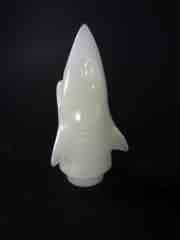 Unlike the flesh set, these came bagged with header cards - just like mid-line Glyos or O.M.F.G. exclusives. If your toy collection includes customs, bootlegs, Keshi, or general weirdness this is a can't-miss prospect for you - it's toy fan service, made cheap, and it glows in the dark. Sets on eBay are pretty cheap at $20-$25, arguably a good deal for what you get. I won't be collecting every color released, but given the chance I'll pick up the new 5 in flesh down the road when they're available. The figures glow quite nicely too, so be sure to add them to your glow-in-the-dark toy shelf in your closet. Also, add a shelf of glow-in-the-dark toys in your closet, it's fun.
--Adam Pawlus
Additional Images

See more Suckadelic figures in Figure of the Day:
Day 68: Suckadelic Glyos-Compatible Sucklord Grey Helmet Head
Day 850: Suckadelic S.U.C.K.L.E. Series 1 Flesh Mini-Figures
Day 910: Suckadelic S.U.C.K.L.E. Series 1 Glow in the Dark Mini-Figures
Day 1,412: Suckadelic S.U.C.K.L.E. Series 1.5 Flesh Mini-Figures
Day 1,519: Suckadelic S.U.C.K.L.E. Series 2.5 Flesh Mini-Figures
Day 2,034: Suckadelic S.U.C.K.L.E. Series 2 Flesh Mini-Figures